The first thought is, without a doubt, it was SO GOOD to be back at an airshow! The heat, noise, and throngs of people were great.  Well, OK the heat wasn't so great but fortunately, there was lots of cold water to stay hydrated.  It is quite amazing how quickly one forgets the amount of walking at an airshow.  This was not a "business" show like Farnborough or Paris.  But the physical effort of moving around the show in 90+ degree heat and 90%+ humidity was a reminder of what shows entail.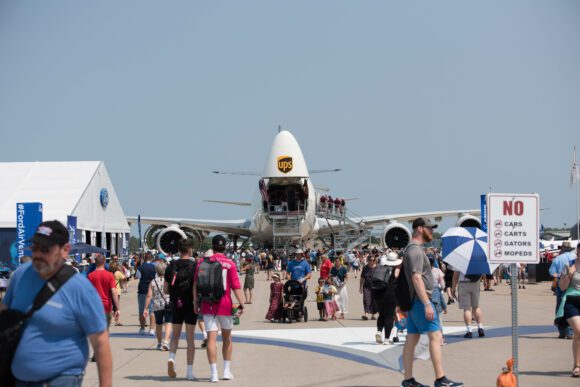 The second thought is how marvelous it is to see old friends. It is special to see familiar faces across a room break out into huge smiles.  Nobody hugged, but at least there were warm handshakes.  It was especially wonderful to see Canadians who've been under lockdown.  But people we had planned to see from France could not get out.  Embraer didn't have a presence and was missed. 
Industry readers probably have a sense of what this is like.  The sudden cutoff in travel, the tremendous industry damage, and then here we are – seeing friends who made it through to the other side of the pandemic.
A third and key thought: EAA is the place to see innovation.  The place where literally somebody has been tinkering with novel ideas.  Like this one, which honestly doesn't look like it could fly.  But it did.  Maybe not the most attractive item at the show, but undoubtedly disruptive.  A great example of function over form and it works.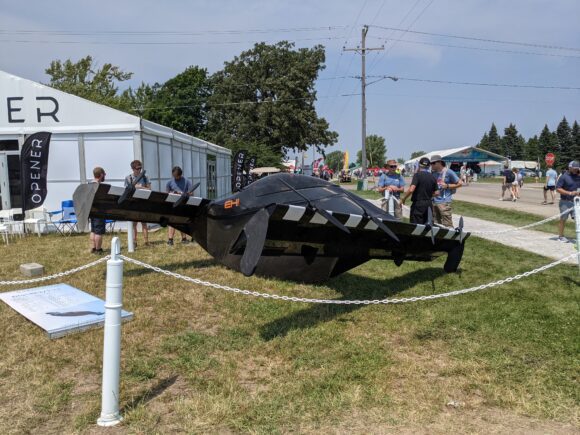 EAA is where aviation's new ideas get shown off.  Right alongside warbirds and new-builds that are classics.  Take a look at this Waco.  It could be straight out of the 1930s, but it is brand new and spectacular.  With a spanking 300HP seven-cylinder radial engine. How could you not want one?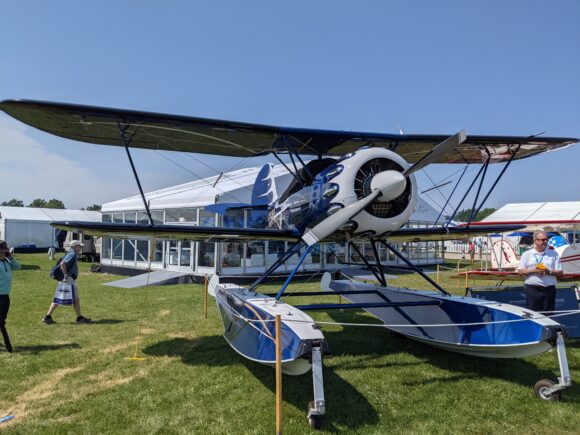 There was no fabulous Brazilian paint job on an Embraer this year, but Honda allowed its paint team to get creative.  This Elite S was sold on Sunday. Watch a Honda pilot talk about this aircraft with us here.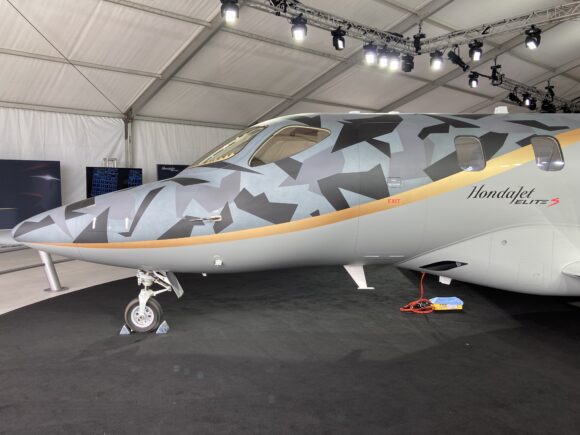 Speaking of sharp-looking airplanes, take a look at this stunner. The Epic has a curved fuselage that hints at the Connie. It looks like a jet and it is blazingly fast.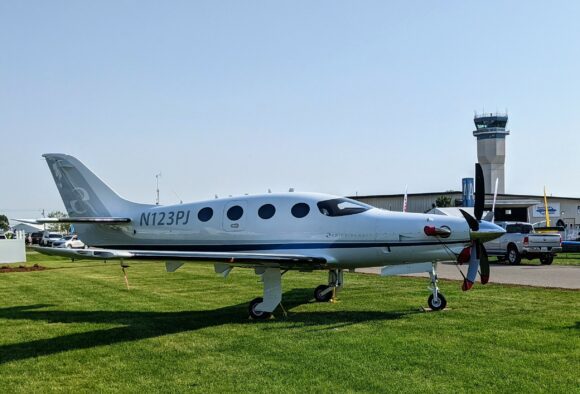 In conclusion, what came across as the next big thing this year? In our view, the most important item from this year's event is the embracing of a greener future for aviation.  Remember this is the US we are talking about. The push for green has been distinctly slower in the US.  But it's here.  As our three interviews with Pratt & Whitney Canada, Airbus, and GE demonstrate, bigger companies with the vision and capital are moving away from fossil fuels. SAF is the first step, but that is not going to be enough.  SAF though is the stepping stone before we get to hybrid power.
And here we want to show and mention an important new engine. The picture below is GE's new Catalyst which powers the Denali.  It has all the features you'd expect from a state-of-the-art turboprop engine.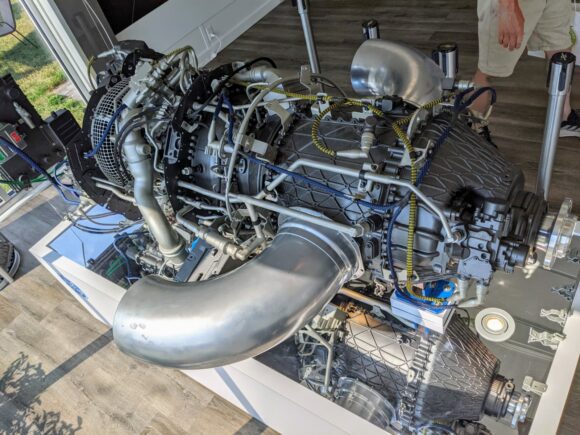 But there is quite a bit more.  GE has taken lessons from its big aero-engines and put them into this small package.  The Catalyst even has variable and cooled blades in the hot section.  It runs on SAF and it is also able to be part of a 1Mw hybrid solution.  What GE has not yet spoken about, but should, is its exceptional pedigree in hybrid power solutions.  GE is credited with commercially producing the very first diesel-electric locomotive in 1918! GE benefits from a deep bench of talent and IP to ensure its Catalyst is a step down the path to SAF and hybrid power.
Airbus and PWC are both focused on moving to a greener future.  Airbus has gone public with hydrogen for the future, but that path first goes through SAF.   PWC has long been the leader in turboprops and has no intention of losing its lead.  It is starting a project in Canada on hybrid power in conjunction with DHC.  But this is an extension of its own earlier work and will combine the IP of Collins to deliver a workable solution before the end of the decade. Airbus believes it may have firmed up new aircraft designs within the next few years.  There is a lot of innovation going on among the industry's largest firms as well.

The concern for the OEM side of the industry is not technology.  It is public policy (and virtue signaling by politicians) getting ahead of what is possible that keeps people awake at night.  EAA has again shown that it remains a hotbed of innovation even as its annual event loves to look back with warbirds and classic aircraft.
Finally enjoy 4:25 of video snippets from this year's event. We hope to see you at an event soon too!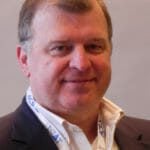 Co-Founder AirInsight. My previous life includes stints at Shell South Africa, CIC Research, and PA Consulting. Got bitten by the aviation bug and ended up an Avgeek. Then the data bug got me, making me a curious Avgeek seeking data-driven logic. Also, I appreciate conversations with smart people from whom I learn so much. Summary: I am very fortunate to work with and converse with great people.