Pratt & Whitney Canada
The first delivery of the Dassault Falcon 8X was made this week in Mérignac, France. The aircraft's entry into service is with Athens based Amjet Executive. The delivery came only two years after the inception of the project. The $58 million list price Falcon 8X is a stretch derivative of the 7X and was certified by both EASA and the FAA in June.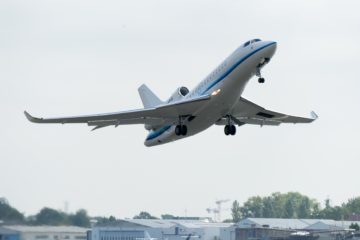 The Falcon 8X has a larger cabin than the 7X and can fly 6,450 nautical miles non-stop. With a service ceiling of 51,000 feet and a cruising speed of 529 knots, the 8X is also faster than the 7X by 43 knots. It is now the flagship of the Dassault Falcon Jet product line. The aircraft is powered by three Pratt & Whitney Canada PW307D turbofan engines.
The launch customer, Amjet is a business aircraft management and charter company that also offers MRO services and operates a… Continue reading →
Daher today announced the completion of its 800th TBM fast turboprop business aircraft, which rolled out from the company's final assembly line at France's Tarbes-Lourdes-Pyrenees Airport. (This airport is home to an interesting location)
Continue reading →
A mission to bring a sick worker at the Amudsen-Scott South Pole Station back from Antarctica for medical treatment was successful concluded. That patient, and another patient that while not in as serious condition was also evacuated to mitigate risk, arrived safely in Chile for medical treatment unavailable at the research station.
The aircraft used to complete this risky flight were DeHavilland Twin Otters, which are powered by the legendary Pratt & Whitney Canada PT6 turboprop engines. The aircraft were fitted with skis to land on the unimproved runway, where special precautions were taken during the long South Pole winter that provides complete darkness from March to September, and temperatures can reach 70 degrees below zero.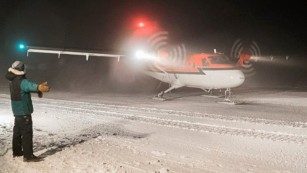 One Twin Otter remained at the Rothera British base 1,500 miles away from the pole on the Antarctic peninsula while the other flew the rescue mission. The reserve aircraft was there in case it… Continue reading →