Embraer and Pratt & Whitney have successfully completed a 70-minutes flight test with 100-percent sustainable aviation fuel (SAF) on one of the PW-1900G engines. P&W GTF completes pure SAF test on Embraer E195-E2.

After two days of ground runs, the flight test was done on Monday, June 27, out of and to Vero Beach near Fort Lauderdale (Florida). Embraer offered its E195-E2 test aircraft with tech livery for the test, which has been in North America for some time for demonstration flights to Canada's Porter Airlines.

The aircraft, which is registered PR-ZIQ, used Hydroprocessed Esters and Faty Acids (HEFA) with Synthetic Paraffinic Kerosene (SPK) sourced from World Energy. The aircraft flew a track off coast of Florida, reaching FL390 in the final stage of the one hour, ten minutes flight.

Although only one engine used the pure SAF, the test was to demonstrate that the P&W Geared Turboban can fly safely with unblended SAF on both engines. This will reduce CO2 emissions by 85 percent. SAFs are a key part of Embraer's roadmap to getting to net-zero in 2050, which includes the Energia concepts. A 50 percent blend is the maximum allowed under current regulations. "This test demonstrates that the E2 is ready for 100 percent SAF certification and operation once the industry finalizes standards", says Rodrigo Silva e Souza, Embraer's Vice President of Strategy and Sustainability.

P&W started testing the GTF with pure SAF in March, using the test rig in West Palm Beach (Florida). The GTF Advantage, the updated and uprated version that is being developed for the Airbus A320neo family and notably the A321XLR, will be certified for 100-percent SAF in 2024.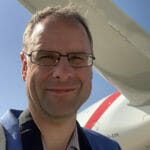 Active as a journalist since 1987, with a background in newspapers, magazines, and a regional news station, Richard has been covering commercial aviation on a freelance basis since late 2016.
Richard is contributing to AirInsight since December 2018. He also writes for Airliner World, Aviation News, Piloot & Vliegtuig, and Luchtvaartnieuws Magazine. Twitter: @rschuur_aero.