Pratt & Whitney has been selected by NASA to participate in the Sustainable Flight National Partnership (FSNP) program. The OEM will develop advanced high-pressure turbine technologies for use in the next generation of single-aisle commercial aircraft. P&W joins NASA's efficient engine technologies program.
Whereas General Electric (GE Aviation) and MagniX were selected recently to develop hybrid-electric propulsion technology under a different sub-program of SFNP, P&W's contribution is part of the Hybrid Thermally Efficient Core (HyTEC) program. NASA launched it in early 2020 and targets a five to ten percent fuel burn improvement over 2020 best-in-class engines, reduce core size, increase the bypass ratio, and facilitate hybridization. A HyTEC engine should also achieve up to twenty percent power extraction at altitude, which is two to four times better than current engines.
P&W together with Raytheon Technologies will develop the next generation of ceramic matrix composites (CMC) that will allow the engine to operate at higher temperatures than current CMC's used in commercial engine programs. Also studied are better barrier coatings and advanced cooling, which together will improve the thermal efficiency of the new engine. P&W's recently opened new CMC center of excellence in Carlsbad (California) will play a vital role in the HyTEC program.
In its FY22 budget, NASA has included a number of initiatives. One of these is the Advanced Air Vehicles Program to develop key subsonic technologies, including hybrid thermally efficient core engines and high rate composite manufacturing that can be produced four to six times faster than now.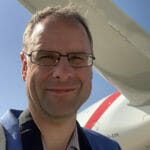 Active as a journalist since 1987, with a background in newspapers, magazines, and a regional news station, Richard has been covering commercial aviation on a freelance basis since late 2016.
Richard is contributing to AirInsight since December 2018. He also writes for Airliner World, Aviation News, Piloot & Vliegtuig, and Luchtvaartnieuws Magazine. Twitter: @rschuur_aero.