NASA has awarded two contracts to GE Aviation and MagniX to develop electric propulsion systems for use on future commercial aircraft programs. The agency said on September 30 that the two have been selected to join the Electric Powertrain Flight Demonstration (EPFD) program.
In its budget proposal for 2022, NASA said in May that it would award two contracts this year to develop electrified aircraft propulsion (EAP). EPFD is part of the Sustainable Flight National Partnership (SFNP), in which NASA seeks collaboration with OEM's, institutes, and others to develop the next generation of sustainable airliners to become available by the mid-2030s. This is seen as an attempt to eventually launch a successor to the Boeing 737.
Back in May, NASA said it planned "to award at least two contracts to demonstrate in-flight one-megawatt class electric powertrain systems necessary to achieve hybrid-electric propulsion systems for use in the design of large propulsion systems for single-aisle transports. These first-generation hybrid-electric propulsion systems can increase propulsion efficiency by five percent while also substantially reducing maintenance costs."
In a press release, it said on September 30: "NASA seeks to introduce EAP technologies to US aviation fleets no later than 2035, supporting short-range and regional commercial air travel, as well as single-aisle seat transports."
Under the fixed-price/cost-share contract, GE Aviation has been granted $179 million and MagniX $74.3 million. They will have to develop and demonstrate electric propulsion concepts no later than five years from now when the funding ends. The program includes ground and flight tests. Both companies will work together with other NASA projects and share data.
"GE Aviation and MagniX will perform integrated megawatt-class powertrain system ground and flight demonstrations to validate their concepts and project benefits for future EAP aircraft configurations," said Gaudy Bezos-O'Connor. The EPFD project manager at NASA's Langley Research Center (Virginia) adds: "These demonstrations will identify and retire technical barriers and integration risks. It will also help inform the development of standards and regulations for future EAP systems."
"By taking these concepts to flight, NASA and its partners will accelerate the transition of EAP technologies into commercial products and be a catalyst for economic growth," said Robert Pearce, associate administrator for the Aeronautics Research Mission Directorate at NASA Headquarters in Washington.
MagniX already develops propulsion system for Eviation
Everett-based MagniX is already developing electric propulsion systems and is a supplier to Eviation Aircraft's Alice. The nine-seater aircraft, of which a revised design was presented in July, is powered by two 640kW electric engines. This week, the FAA released the special conditions for two variants of the MagniX engines that will establish regulations for this whole new set of propulsion systems. The first MagniX 650 engine is expected to be tested in flight soon. In 2019, AirInsight discussed electric propulsion with MagniX' Roei Ganzarski.
Magnix also developing the 'plug-in' hydrogen system for Universal Hydrogen that can be integrated as a retrofit in the De Havilland Canada Dash 8-300. Earlier, it converted a DHC Beaver and Cessna Caravan for electric propulsion.

GE to test integrated system
GE Aviation has been working on various electric propulsion systems and components for years. In 2019, it demonstrated a 1MW motor/generator at simulated altitude conditions of 36.000 feet.
The EAP project will bring together individual components in an integrated hybrid electrical powertrain that will be tested on a modified Saab 340B and CT7-9B turboshaft engine. The electric technology is compatible with sustainable aviation fuels and hydrogen. It will be developed too for the RISE technology demonstrator program that was announced in June.
In September, GE was awarded funding by the FAA to develop various new technologies, including electric and hybrid-electric systems, under the CLEEN III program.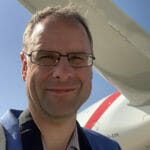 Active as a journalist since 1987, with a background in newspapers, magazines, and a regional news station, Richard has been covering commercial aviation on a freelance basis since late 2016.
Richard is contributing to AirInsight since December 2018. He also writes for Airliner World, Aviation News, Piloot & Vliegtuig, and Luchtvaartnieuws Magazine. Twitter: @rschuur_aero.