ZeroAvia and Mitsubishi Heavy Industries RJ Aviation Group (MHIRJ) will cooperate in developing hydrogen-electric propulsion systems for use in regional jet aircraft, potentially for a new aircraft design but also as a retrofit to existing RJ-models. US-based ZeroAvia, which is also based in the UK, and Canada-based MHI RJ announced a Memorandum of Understanding on October 25. Mitsubishi and ZeroAvia team up on hydrogen technology.
In the last two years, ZeroAvia has been busy developing a hydrogen-electric power system based on fuel cell technology. In this, hydrogen and oxygen are led through a fuel cell to produce electricity to power the engines. ZeroAvia successfully tested the concept on a Piper Malibu in 2019 until the prototype aircraft was damaged beyond repair in a landing in April this year. The company will commence a new phase of flight testing in 2023, using two converted Dornier Do-228s with two 600 kW electric engines, with certification planned in 2024. ZeroAvia plans to develop a 50-60 seater based on hydrogen by 2026 and have a regional jet available around 2028.
Mitsubishi bought the regional jet program from Bombardier last year and offers technical support to CRJ operators. MHIRJ CEO Hiro Yamamoto told AirInsight in July that his company through its Canadian branch wants to gain experience in the regional jet business, something it had hoped to have done by now with its own SpaceJet program. SpaceJet was put in hibernation last year and despite announcing it will reassess the program, it is still undecided if MHI will restart the program.
The partnership with ZeroAvia opens a whole new option for the Japanese. Hydrogen is 'hot' in Japan, with MHI itself participating in a program to ramp up LH2 production for industrial purposes. The supercold liquid is also seen as the best option to get commercial aviation to net-zero carbon emissions in 2050, but developing the technology and production infrastructure will need lots of time, money, and effort.
Mitsubishi wants to be at the forefront of technology. That's why MHIRJ is offering its engineering expertise to certify ZeroAvia's electric engines to Part 33 of FAA regulations. It will also look at options to retrofit hydrogen systems into existing aircraft, something that Universal Hydrogen is developing for the ATR 72 and De Havilland Canada Dash 8. "This marks a crucial step in ZeroAvia's progress and entry into a wider market", it says in a media statement.
CEO Val Miftakhov says: "This collaboration with MHIRJ is a significant milestone for us and the aviation industry as a whole. We are honored to work with MHIRJ to introduce hydrogen-electric propulsion technology into the regional jet segment and demonstrate the myriad of cost and emissions benefits airlines can derive from hydrogen-fueled flight."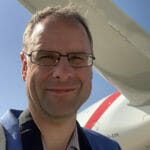 Active as a journalist since 1987, with a background in newspapers, magazines, and a regional news station, Richard has been covering commercial aviation on a freelance basis since late 2016.
Richard is contributing to AirInsight since December 2018. He also writes for Airliner World, Aviation News, Piloot & Vliegtuig, and Luchtvaartnieuws Magazine. Twitter: @rschuur_aero.