SAS is facing a crucial month of September as the airline is seekings bondholder and shareholder approval for its SEK 14.25 billion recapitalization plan. With support from the Swedish and Danish governments and major shareholder Knut and Alice Wallenberg Foundation, CEO Rickard Gustafson hopes to convince others to do the same.
SAS announced its Q3 FY2019-2020 results on August 25, which confirmed the difficult position the Scandinavian airline is in. Income before tax was SEK -2.071 billion, down from a SEK 1.490 billion profit last year. The operating loss was SEK -2.709 billion. Revenues were SEK 2.507 billion, down from SEK 13.401 billion. Passenger numbers were doen -86 percent.
Over the first nine months between November and July, income before tax was SEK -6.880 billion compared to a 302 million profit. Revenues almost halved to SEK 17.478 billion 32.677 billion.
The reduction in costs was unable to keep pace with the reduction in revenues. SAS reduced its monthly cash burn to SEK 320 million. A stronger Swedish krona against the US Dollar partly offset the lower income but the airline had to make a SEK 1.040 billion write down on part of its older fleet.
SAS continues its restructuring ahead of finalizing the recapitalization plan. Some 4.000 redundancies out of 5.000 announced earlier will be effectuated by the end of September. Ground handling at Gothenburg and Malmo has been outsourced. Discussions with unions and suppliers continue about productivity improvements and reduced costs.
Deliveries renegotiated
The airline succesfully renegotiated deliveries for ten aircraft with Airbus, with four A320neo's deferred from FY22 to FY24, four from FY23 to FY25, and two A350-900s from FY21 to FY22, reducing Capex. SAS will take delivery of two A320neo's and one A321LR this year, three A320neo's, one LR and four A350's in 2021, twelve A320neo's and one LR in 2022, seventeen A320neo's in 2023 and six in 2024. Despite the deferrals, SAS will meet its target to have a single-type Neo-fleet by 2023. It did a sale and leaseback of one A320neo and one A350.
At the end of Q3, SAS had SEK 6.2 billion in net cash which includes 3.3 billion drawn down under a credit facility guranteed by Sweden and Denmark.
To bolster its financial position, SAS has been working on the recapitalization plan since June. After opposition from hybrid notes and bondholders, the plan was amended on August 7. It includes raising SEK 2.25 billion through a bond conversion, SEK 1.5 billion through a hybrid conversion, and SEK 6.0 billion through the placement of state hybrid notes. A rights issue which has been subscribed by its sharholders will raise SEK 4.0 billion, an issue of common shares SEK 2.0 billion. This totals SEK 14.25 billion and will increase liquidity by SEK 12 billion.
Gustafson warned two weeks ago that objection to the plan could put the existence of SAS at risk and result in the need to file for bankruptcy, but the pressure seems off since the European Commission has approved it last week. Hybrid and bondholders have to decide on September 2, with an extraordinar shareholders meeting scheduled for September 22. So far, 35.6 percent is supporting the plan. With the rights issue planned for October, SAS hopes to have new funding in place by early November.
SAS is happy with the results of the capacity ramp-up so far in Q3, with domestic services driving results. In July, it had 53 aircraft back in service compared to just seventeen in May, serving 83 destinations and flying 705.000 passengers. Capacity is expected to reach 30-40 percent by the end of Q4 but this all depends on how Covid-19 develops. "Our current expectation is that the ramp-up phase for the airline industry may last until 2022 before demand can reach more normalized levels, with a return to pre Covid-19 levels a few years thereafter", Gustafson said.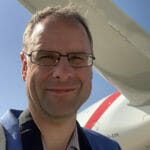 Active as a journalist since 1987, with a background in newspapers, magazines, and a regional news station, Richard has been covering commercial aviation on a freelance basis since late 2016.
Richard is contributing to AirInsight since December 2018. He also writes for Airliner World, Aviation News, Piloot & Vliegtuig, and Luchtvaartnieuws Magazine. Twitter: @rschuur_aero.