One of the industry intrigues is which markets this yet to be officially named airline might serve when it launches.
Moxy is a new airline led by David Neeleman, one of the most innovative airline entrepreneurs and founder of JetBlue Airways. In addition to JetBlue, Neeleman also founded Azul Brazilian Airlines and is the controlling investor in the revitalization of TAP Air Portugal.
Neeleman and his team are tight-lipped (as expected) so as not to give the Big Four anything to target and stymie plans.
What do we know?  Publicly Neeleman said at the Farnborough show last year: "The A220-300 is the right airplane for a new airline that will be focused on passenger service and satisfaction," said Neeleman. "With a low cost of operation and spacious cabin, the A220 will allow us to provide passengers with lower fares and a high quality, comfortable flying experience. The A220's ability to operate profitably in thin, underserved markets across a broad spectrum of ranges is unique."
Key items then are: thin and underserved markets
The A220-300 has transcon range, making it capable of disruptive action connecting places that have been overlooked or perhaps even abandoned markets. Being relatively light, the aircraft can serve smaller airports i.e. secondary airports close to big centers, and Newburgh, NY is an obvious example.
Since that is about all anyone knows publicly about Moxy, we were intrigued to see if we could develop a model that allows people to run scenarios. Below is our offering for your scenarios. The data behind the model is 2017 traffic, the last complete twelve-month dataset. By 2020, when Moxy comes to market, traffic could be 16% higher than in 2017. Bear that in mind as you select the numbers driving the model.
We estimate that the A220-300 needs a market of 40,000 people per year to justify one leg per day. You may have other numbers – the Min and Max traffic boxes allow you to enter the numbers you want to work with.  Bear in mind you should have an upper limit – certainly for Moxy to avoid the Big Four.
Once you select the traffic ranges, the model will react – the map will highlight the centers that fall within the ranges selected.  You can drill into the map to see what the circles have to show – they will show you O&D markets for each location.
The chart at the bottom will show, in descending order, the markets from the ranges you entered.  Consider that Moxy will take delivery of 60 A220-300s.  That is a lot of lift for secondary markets.  We think this model offers those also intrigued by the Moxy concept some ideas and also some fun.
One last thing – use the double arrow on the bottom right of the gray bar to maximize the model for your screen size. Finally, we'd like to hear what you think of this concept.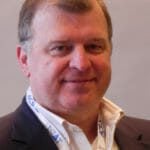 Co-Founder AirInsight. My previous life includes stints at Shell South Africa, CIC Research, and PA Consulting. Got bitten by the aviation bug and ended up an Avgeek. Then the data bug got me, making me a curious Avgeek seeking data-driven logic. Also, I appreciate conversations with smart people from whom I learn so much. Summary: I am very fortunate to work with and converse with great people.