A320 NEO
We have been waiting for a while to see if there was anyway we could get a comparison of the A320neo with both engines and the 737 MAX compared for engine noise. The most objective way to do this is use videos from the first flight events. One has to also avoid OEM videos, some of which have music and other dubbing to prevent the real noise levels to be heard.
Bear in mind as you watch these videos, the weather was different for each first flight. The distances from the aircraft to camera microphone were different. Even the cameras were different. There is a lot of variation that make a comparison difficult. But absent any equal comparison, what else can you do? Continue reading →
The A320neo program continues its development, and we continue to update A320neo flight test hours. As the first aircraft readies for delivery, albeit a few weeks late, it is an appropriate time to see where the program stands as of year-end.
The chart below illustrates Airbus' ongoing flight test program hours through year end. Some of the test fleet with the GTF continues to operate and build more hours, despite full certification in place. We expect to see rising hours, especially for CFM LEAP powered version, as it goes through a similar regime that the P&W GTF endured for its certification.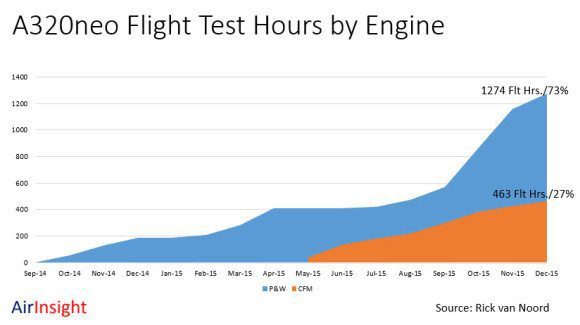 P&W has firmly stated their engine is ready for delivery and meets specifications as guaranteed for fuel efficiency, noise, emissions and weight. There are a few items that need to be addressed, but they are known and minor, and more in line with what you'd expect in an… Continue reading →
Airbus announced that its first A320neo will now be delivered in 2016. We understand this will likely occur now before the end of January. The A320neo program progressed very well through its test flights even with an engine hiccup. Airbus decided to delay the handover to launch customer Lufthansa in agreement with Pratt & Whitney.