CFM International
The first A321neo, equipped with CFM International LEAP-1A engines, completed its maiden flight on today in Hamburg, Germany. The aircraft, registered D-AVXB, was flown by Test Pilots Martin Scheuermann and Bernardo Saez Benito Hernandez. Accompanying them in the cockpit was Test-Flight Engineer Gérard Leskerpit and monitoring the flight's progress were Flight-Test Engineers Sandra Bour Schaeffer and Emiliano Requena Esteban.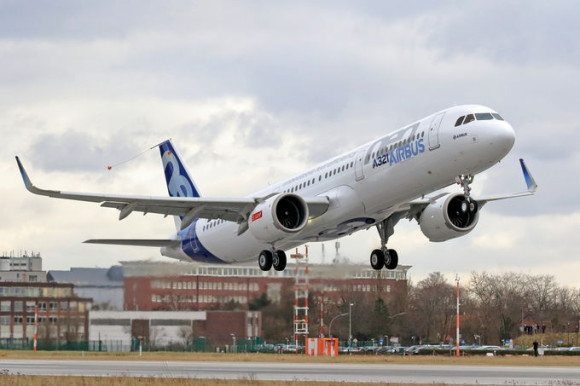 The flight lasted five hours and 29 minutes during which tests were performed on the engine speed variation (low/high), systems behavior and to validate the aircraft's flight envelope. The A321neo will join the NEO flight test fleet and perform a partial flight test program to validate the impact on handling qualities, performance and systems. The first A321neo will be delivered at the end of 2016.
The A320neo program continues its development, and we continue to update A320neo flight test hours. As the first aircraft readies for delivery, albeit a few weeks late, it is an appropriate time to see where the program stands as of year-end.
The chart below illustrates Airbus' ongoing flight test program hours through year end. Some of the test fleet with the GTF continues to operate and build more hours, despite full certification in place. We expect to see rising hours, especially for CFM LEAP powered version, as it goes through a similar regime that the P&W GTF endured for its certification.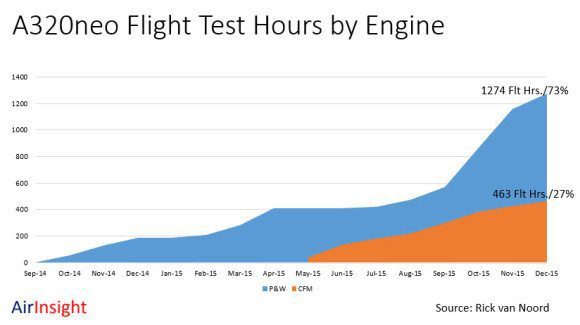 P&W has firmly stated their engine is ready for delivery and meets specifications as guaranteed for fuel efficiency, noise, emissions and weight. There are a few items that need to be addressed, but they are known and minor, and more in line with what you'd expect in an… Continue reading →
From the unique and fascinating world of aviation patents, provided by Aeropatent.com, it appears that UTC (parent of Pratt & Whitney) is offering a path to convert engines to a geared fan configuration.
As Aeropatent observes: "We've seen a batch of new patent applications publish from United Technologies Corporation over the past week for geared turbofan engine systems. This particular concept involves a rather neat process to convert a conventional gas turbine engine from direct drive to geared drive, allowing for a wider fan rotor and greater bypass ratio. The low spool (low pressure compressor rotor and low pressure turbine rotor) is modified in the conversion process. Gear reduction is introduced between the fan rotor and low pressure turbine rotor shaft. One or more stages of the high pressure compressor rotor may be eliminated, with the remaining stages re-engineered." Continue reading →
GE Aviation has announced that it is investing more than $200m to set up factories adjacent to its existing plants in Huntsville, Alabama to mass produce silicon carbide (SiC) materials used for the manufacture of components ceramic matrix composites (CMC) for jet engines and gas turbines.
The construction of the two plants will begin mid-2016, and production will begin in 2018. When the factories are operational they are expected to employ up to 300 people.
"Establishing new GE plants in Alabama", said Sanjay Correa, VP CMC Program at GE Aviation – "is a very significant step in the development of the supply chain we need to produce CMC components in large quantities."
Each plant will produce silicon carbide ceramic fiber. It will be the first such operation in the United States. Today, the only factory with large scale worldwide SiC production is NGS Advanced Fibers Japan, which is a affiliated… Continue reading →