Mainly thanks to cost-cutting measures and debt restructuring, Thai Airways has reduced its losses during the first six months and even reported a Baht 11.125 billion profit again. The carrier hopes to further improve its results in Q3 as it tries to generate more traffic to Phuket, the country's important tourist region. However, the auditors remain worried and have withheld their opinion of the HY1-results. Thai's results improve but worries continue.
The Baht 11.125 billion profit compares to a Baht 28.016 billion loss for the same period last year. It still recorded a Baht 14.335 billion operating loss compared to Baht -18.305 billion in 2020. Total revenues were down by 74.8 percent to Baht 10.220 billion. Although down by 24.4 percent to Baht 3.842 billion, revenues from cargo and freight were double that from passengers carried which totaled Baht 1.188 billion (-93.9 percent). Thai carried only 720.000 passengers compared to 4.57 million between January and June last year. Available Seat Kilometers or capacity was down by 80.6 percent.
While 2020 was already bad, Thai's 2021 second quarter from April was heavily impacted by rising Covid-cases in Thailand. This affected domestic airline Thai Smiles, which only resumed some services in June again. It also hurt bookings from foreign tourists, although they were allowed to enter the country on semi-commercial flights to Phuket. As a result, Thai currently is earning the most revenues on international cargo flights.
The rehabilitation plan includes 600 projects
Since the approval of Thai's rehabilitation plan on June 15, two administrators have identified 600 projects to reform Thai's business and reorganize its structure. Through a leave without pay and mutual separation plan, some 10.700 employees have (temporary) left the airline. This has saved Thai Baht 3.5 billion in net personnel expenses. Operating costs have also been slashed, while debt restructuring produced a one-off benefit of Baht 8.675 billion. It gained Baht 2.099 billion from the sale of Nok Air and Bangkok Aviation Fuel Services. Cash and cash equivalents amounted to Baht 6.730 billion, with total liabilities of Baht 285 billion compared to 337 billion in December.
Thai has prepared a letter of intent with lessors about the restructuring of financial and operating leases of part of its fleet. While its HY1-results include a Baht 18.345 billion impairment on 34 aircraft "mainly due to the reduction in the value of the new right of use by the conditions in the letter of intent (LOI)", the impairment has actually been reversed. The aircraft involved are twelve Airbus A350-900, fourteen Boeing B777-300ER, six Boeing B787-8, and two B787-9 aircraft.
Thai and Thai Smile operated 103 aircraft, while thirteen have been decommissioned and for sale, including three A340-500s, seven -600s, and three 737-400s. The financial statements don't mention the six A380s which have also been offered for sale in the past months.
Auditors: material uncertainty to continue as going concern
The rehabilitation plan should produce more benefits and bring back Thai on the road to generating sustained profit margins. Thai's results have improved but worries continue. Given that there is much uncertainty, Thai's auditors have withheld an opinion on the HY1 results. Due to the lack of liquidity and default of debt payment and the uncertainties around the pandemic and the successful completion of the rehabilitation plan "have an impact on and are inter-related reflecting the material uncertainty to the ability to continue as going concern of the Group and the Company which may affect valuation of significant assets and liabilities in the consolidated and separate interim financial information for the six-month period ended June 30, 2021."
In its outlook for Q3 and Q4, Thai Airways expects a recovery in international traffic as it launches flights to Phuket for fully vaccinated travelers from London, Paris, Frankfurt, Copenhagen, and Zurich. Wherever it is possible, the carrier will resume passenger services again.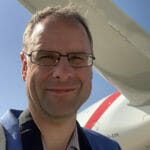 Active as a journalist since 1987, with a background in newspapers, magazines, and a regional news station, Richard has been covering commercial aviation on a freelance basis since late 2016.
Richard is contributing to AirInsight since December 2018. He also writes for Airliner World, Aviation News, Piloot & Vliegtuig, and Luchtvaartnieuws Magazine. Twitter: @rschuur_aero.