Reports come in more frequently that the MAX is getting closer to being re-introduced to service.  It has been a long dark period for Boeing with the MAX being grounded.  The grounding was, arguably, the greatest brand damage Boeing has suffered in its 100-year history.  Add to that the KC-46 and 787 quality issues plus the 777X delay – it has truly been an awful period for Boeing's people to endure. 
If the MAX gets the green light to re-enter service by year-end, the timing will be awkward.  The reason airlines wanted the MAX was record traffic growth, the need to lower fuel burn, and fly "greener".  Well, all that is basically gone.  Traffic has shrunk to levels last seen about a decade ago.  Fuel prices are at very low levels – so much so, that JetA is being blended into fuel for ships. Being "greener" is now more nice than necessary.
What does the cost of operating a 737 for US airlines look like?  The following chart uses Form 41 data to illustrate this, on a per flight hour basis. Pilots and fuel costs form the plurality of the costs. As fuel costs have declined, pilot costs have grown.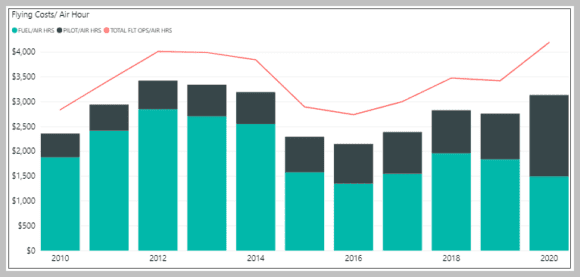 For context, the next table lays out the fuel cost/seat hour for US airlines from 2010 through 1H20. Form 41 is the source for these data. It is especially useful to consider the 737-800 in 1H20 is offering fuel burn costs only ~3% higher than the last MAX8 data reported. For the 737-900ER to MAX9, the 900ER is over 12% lower!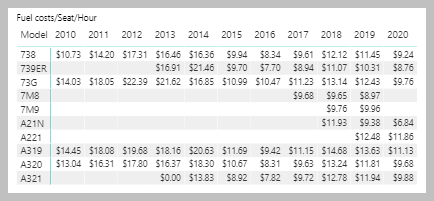 One could argue the MAX data is too thin to provide any fair benchmark.  Perhaps, but the world is entirely different now.
Airlines are not making strategic decisions these days. It's all about cutting cash burn and, frankly, the case for MAX deliveries looks thin.  Airlines that already have MAXs parked will deploy them to allow their NGs to receive much-needed maintenance or see them parked if they are of an age and don't warrant maintenance. In other words, the previously parked MAXs offer value by being still under warranty.  If the MAX offers improved fuel burn over the NG that is helpful – during 1H20 fuel costs averaged 36% of flying operations while pilots were at 39%.  Airlines may be better off raiding their NG fleets for parts to keep the existing fleet flying rather than scramble for a new MAX.  Sticking with NGs also means no new training costs for rapidly slimming pilot pools.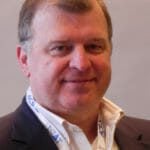 Co-Founder AirInsight. My previous life includes stints at Shell South Africa, CIC Research, and PA Consulting. Got bitten by the aviation bug and ended up an Avgeek. Then the data bug got me, making me a curious Avgeek seeking data-driven logic. Also, I appreciate conversations with smart people from whom I learn so much. Summary: I am very fortunate to work with and converse with great people.