Turkish Airlines surprised with a $2.7 billion net profit for 2022, one of the highest seen within the industry so far and not even matched by the three US carriers. The carrier is citing strong revenue development that saw last year outpace 2019 at every level. Performing especially strongly is its European market, which includes Russia. 
The net profit of $2.725 billion compares to $959 million in 2021. Revenues grew to $18.246 billion from $10.686 billion, of which $14.291 was from passengers and $3.735 billion came from cargo. It carried 71.8 million passengers with a domestic load factor of 85.8 percent and an international load factor of 80.1 percent.
Expenses increased to $15.710 billion from $9.411 billion in the previous year. The fuel bill hit $6.467 billion, up from $2.756 billion as it was hedged for 36 percent. EBITDAR was $5.377 billion (2021: $3.744 billion), and the operating profit was $3.193 billion ($1.689 billion). The financial statements include $2.218 billion in deferred tax liabilities and just $214 million in actual tax expenses. Net debt stood at $9.124 billion, cash and cash equivalents at $4.075 billion. 
"In spite of the inflation pressures on the global scale, the flag carrier maintained its effective cost management in 2022 by lowering its unit expenses excluding fuel by two percent compared to 2019. As a result, EBITAR, which demonstrates the cash generation potential of the company, realized as $5.4 billion," the airline says in a media statement.
Unit revenues strongest in Europe/Russia
Passenger unit revenues were back in the green for all geographic regions to on average $7.08 from $5.00 in 2021. Compared to 2019, the change in percentages was the highest in Europe at +27.3 percent for the full year and +40.4 percent in Q4. Europe includes Russia and it is no secret that Turkish has benefitted from an influx of Russians that went to Turkey for leisure or business reasons after the war. This might also explain the strong revenues on routes to the Middle East (+24.8 percent) and Africa (+19 percent). Unit revenues to the Far East (+16.8 percent) even outpaced those to the Americas (+10.9 percent), despite capacity in available seat kilometers (ASK) at -16.5 percent to Asia compared to 2019 and to the Americas at +65.1 percent.
Turkish Airlines likes to compare its 2022 results with those of 2019, the last year before the Covid-crisis. Back then, the net profit was $788 million, total revenues $13.229 billion, expenses $10.928 billion, EBITDAR $3.107 billion, and the operating profit $1.047 billion. Passenger revenues were up 28 percent, and cargo revenues by 121 percent.
The fourth quarter paints another picture. Turkish reported a $473 million net profit, which is more than double that of the same quarter in 2021 but down on the $1.515 billion produced in Q3. Revenues totaled $4.772 billion in Q4 2022, $3.309 billion the year before, and $6.068 billion in Q3. The operating profit of $615 million compares to $554 million in Q 2021 and to $1.437 billion in Q3.
Market share
Turkish notes that together with Ryanair and Qatar Airways, it is one of the few airlines that has consistently grown global market share over the past decade. It now stands at 2.7 percent, up 1.7 percent since 2010 and on par with Qatar. While American Airlines sets the benchmark at 4.9 percent, Turkish says it has some big names in the rearview mirror like Air France-KLM, Lufthansa, and British Airways. Subsidiary AnadoluJet has also grown its market share, from 13.3 percent in 2019 to 64.5 percent last year. Market share in cargo has quadrupled in the last ten years.
Turkish Airlines ended 2022 with a fleet of 394 aircraft, up twenty year on year. It took delivery of thirteen Airbus A321neo's and three A320neo's, six (ex-Aeroflot) A350-900s, eight Boeing MAX 8s, and one 787-9. AnadoluJet's fleet stood at 64. The airline will take fifteen new aircraft in 2023. Turkish has contracts for eighty aircraft to be delivered this year through 2028 plus five options.
The presentation was overshadowed by the grief for the victims of the devastating earthquakes that hit the East of Turkey on February 6. Since then, Turkish has flown over 2.400 flights to ferry rescue workers and materials to the affected area.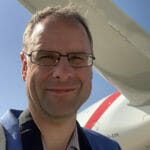 Active as a journalist since 1987, with a background in newspapers, magazines, and a regional news station, Richard has been covering commercial aviation on a freelance basis since late 2016.
Richard is contributing to AirInsight since December 2018. He also writes for Airliner World, Aviation News, Piloot & Vliegtuig, and Luchtvaartnieuws Magazine. Twitter: @rschuur_aero.