In between the announcement of a deeper first-quarter loss, there was some bright news for Embraer. The Brazilian airframer has signed a firm order for 30 E195-E2, set for delivery from 2022. Valued at $2.2 billion at list prices, the undisclosed order is a boost for Embraer.
The order, signed on April 23 and to be included in the Q2 backlog, pushes firm orders for the largest E2-version to 183, with a backlog of 164. The total backlog of Commercial Aviation now stands at 302, of which five are E190-E2s, 130 E175s, and three E190s. CEO Arjan Meijer told Airinsight that he is unable to share more details until a later date, so we can only speculate at the moment on the identity of the undisclosed customer. Lufthansa said in February it has an interest in the type as it considers replacement of its E190s for Cityline, but during the carriers Q1-results presentation earlier on April 29 no fleet updates were announced.
Embraer also announced that the E175-E2 will not become available until 2024, a year later than previously announced. Which already is later than originally planned. The prototype made its first flight back in December 2019 and while certification flights have continued almost unnoticed, it is evident that the smallest E2-jet lacks customer appeal. No airline or lessor has placed an order yet, although Embraer's sales team continues to offer the type.
Q1 loss of 89.7 million
The company from Sao Jose dos Campos reported a first-quarter loss of $-89.7 million, an improvement from $-292.2 million in the same period last year. Adjusted EBIT was $18 million, down from $64.9 million in 2020. Group revenues improved to $807 million from $633.8 million in Q1 last year thanks to higher revenues especially from higher deliveries at Commercial Aviation (nine versus five last year), but weaker compared to $1.841 billion in the final quarter of 2020.
By segment, revenues of Commercial Aviation were up by 95.8 percent to $272.2 million, by 17.5 percent at Executive Jets to $152.1 million, by 25.6 percent to $128.5 million at Defense and Security, while Services & Support suffered from reduced maintenance and repairs at $250.6 million (-4.3 percent). Executive Jets delivered thirteen aircraft, ten Phenoms, and three Praetors.
Adjusted free cash flow also slipped back to negative at $-226.6 million after a positive $725.1 million in Q4, reflecting higher working capital. This pushed up net debt to $1.9 billion from $1.6 in December. Embraer ended the quarter with $2.46 billion in net cash, almost identical to a year ago. Total debt stood at $4.365 billion.
The airframer continued its restructuring plan that was announced last September, spending $3.5 million on this and on the re-integration of Commercial Aviation. Remember Embraer spent $59.2 million in separation costs in Q1 last year just before Boeing pulled the plug on the joint-venture at Commercial. In the first quarter, the company also spent $24.5 million on product improvements, especially that of the E2-jets.  
Backlog 14.2 billion
Embraer has a total backlog of $14.2 billion, down $0.2 billion in Q4 last year. It is optimistic about demand for business jets, which should reach high single-digit growth this year. As the recovery of air travel is led by smaller and new-technology aircraft, the Brazilians hope to get a slice of the cake of new orders once this continues. The latest E195-E2 order is a first and welcome boost indeed.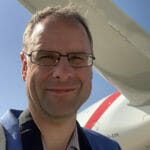 Active as a journalist since 1987, with a background in newspapers, magazines, and a regional news station, Richard has been covering commercial aviation on a freelance basis since late 2016.
Richard is contributing to AirInsight since December 2018. He also writes for Airliner World, Aviation News, Piloot & Vliegtuig, and Luchtvaartnieuws Magazine. Twitter: @rschuur_aero.