American has been taking delivery of new aircraft at a good pace. This is due, in part, to retiring it MD-80s.  As a merged airline the current fleet has the legacy American fleet plus the America West/ US Airways fleet.  American Airlines has the world's largest Airbus fleet, a role it picked up from America West and then US Airways.
Take a look at how the fleet has evolved in terms of activity – the video shows numbers of domestic departures from 2010 through November 2018.
Now, look at the fleet by domestic passenger volume from 2010 through November last year.
Note just how much traffic was being moved by the MD-80. Note also the changing impact of the 757-200, which was used by both American and US Airways. The latter was an early adopter of the A321 and that model shows up well in the presentation.
In 2013 the A321 carried 16.8M passengers and by November 2018, this had risen to 35.3M. The 737-800 in 2013 carried 24.2M passengers and by November 2018 carried 40M passengers.  The following chart shows how the A321 has started to grow at the airline.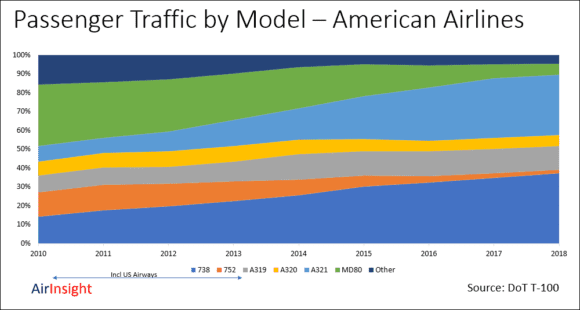 When we compare the load factors on the two primary workhorses for the airline we find the following.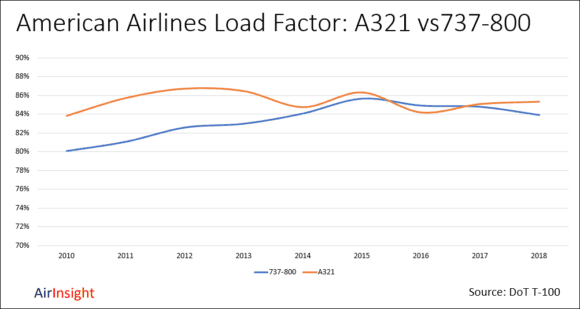 American Airlines has the largest US-based A321 fleet. It appears the A321 has become not only the 757 replacement, but it is also proving to be an aircraft that is highly effective.  Indeed looking at the 2018 November YTD traffic these are the top ten American routes the A321 has been working.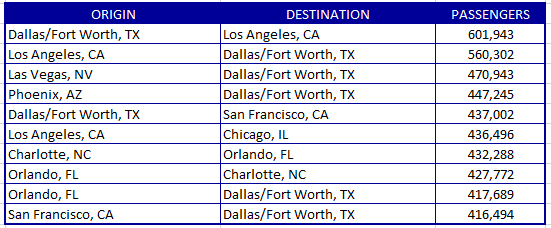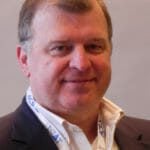 Co-Founder AirInsight. My previous life includes stints at Shell South Africa, CIC Research, and PA Consulting. Got bitten by the aviation bug and ended up an Avgeek. Then the data bug got me, making me a curious Avgeek seeking data-driven logic. Also, I appreciate conversations with smart people from whom I learn so much. Summary: I am very fortunate to work with and converse with great people.