Trade tensions involving commercial and military aircraft are about to enter a new level after the US government announced higher tariffs on EU-build (Airbus) aircraft while considering new measures that could affect China's Comac. Let's have a look at the two cases.
Airbus:
On February 14, the US Trade Representative (USTR) revised its tariffs on EU-build aircraft imported to the United States from 10 to 15 percent from March 18. USTR issued the 10 percent-tariff on October 18 last year, following the ruling of the World Trade Organization (WTO) in the long-standing dispute over subsidies by European governments to Airbus. Back then, WTO confirmed that A380 and A350 development programs had benefitted from state subsidies and that US-trade (Boeing) by $7.5 billion.
In December, WTO rejected additional claims from the European Union which said it complied with the rules. This spurred USTR into a review of its October sanctions of which the outcome is now an adjustment with a 5 percent higher import tariff. At the same time, 25 percent-tariffs on prune juice, yogurt, cheese, and knives amongst others have been reduced. The US government is still open to negotiations with the EU, but time is short until March 18.
In a response to the news, Airbus says it deeply regrets the decision as USTR's decision "further escalates trade tensions between the US and the EU, thereby creating more instability for US airliners that are already suffering from a shortage of aircraft." A clear hint here to the troubles Boeing is in thanks to the MAX-saga.
Airbus also says the latest decision ignores submissions made by various US Airbus-operators (like Delta) that it isn't Airbus but them who will suffer most from import tariffs, as it is the airlines that have to pay more for EU-build aircraft. It is the US flying public that will "ultimately have to pay these tariffs." Airbus aircraft build in Mobile (Alabama) are spared from tariffs, even when fuselage parts and wings are imported from Europe, the US government said last December.
The dispute might not end here, as Airbus CEO Guillaume Faury said on February 13 at the presentation of the annual results: "Basically what is important for us are the next steps and the next WTO decision that will potentially give the EU the right to apply tariffs on US-goods coming into Europe." This could mean a tit-for-tat situation with the US and Boeing in which both OEM's will be losers. Airbus expects a WTO decision on unfair subsidizing of the 737 MAX, 777(X), and 787 programs in May or June.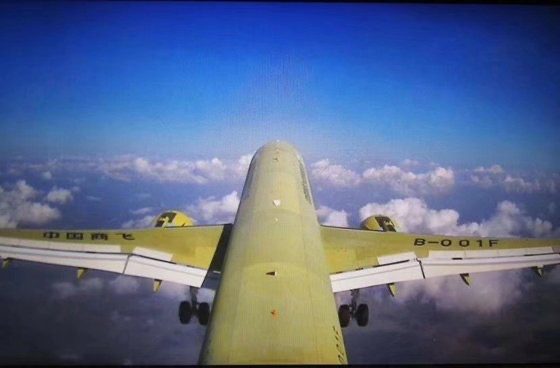 The first flight of the 5th C919 in October 2019. Under the wings are two LEAP 1C-engines. (Comac)
Comac
Of a different order are potential restrictions to Chinese plane-maker Comac. Despite signing a new US-China trade agreement only last January, the Trump government is considering export restrictions on US-technology to China. According to media reports on February 16, the restrictions are to be discussed in the coming weeks at cabinet level.
If imposed, the restrictions are likely to impact companies that supply technology and products to the Comac C919 airliner. Some of them: General Electric (GE) and Honeywell but Collins Aerospace and Parker Aerospace are on the supplier list.
GE is a shareholder in CFM International and together with French company Safran builds the LEAP-1C for the C919, the third application for this engine. Honeywell is a supplier of control systems for the digital fly-by-wire airliner.
The C919 is China's latest commercial airliner. It made its first flight on May 5, 2017, and since then has had a slow test program, with no specific date for certification or first delivery is given. Currently, there are six test aircraft in the flight test program. Comac claims to have 305 firm orders and 703 provisional purchase agreements for the type.
Without the support of CFM, the C919 would be in an impossible situation and could face long delays if a replacement powerplant must be sourced from a supplier that is not affected by US restrictions. Unlike the Russian Irkut MC-21 with two powerplant options (Pratt & Whitney GTF and Russia's Aviadvigatel PD-14), the Chinese airliner has no fallback option.
Comac and Russia's United Aircraft Corporation (UAC) have planned a Chino-Russian powerplant option for its joint CR929-widebody that is expected to enter service in the second half of this decade. GE is also in the hunt for this airliner but a non-US engine could be a smarter option for the CR929 if the Trump government imposes restrictions and is elected for a second term.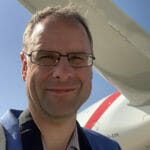 Active as a journalist since 1987, with a background in newspapers, magazines, and a regional news station, Richard has been covering commercial aviation on a freelance basis since late 2016.
Richard is contributing to AirInsight since December 2018. He also writes for Airliner World, Aviation News, Piloot & Vliegtuig, and Luchtvaartnieuws Magazine. Twitter: @rschuur_aero.