Virgin Australia will grow its Boeing MAX 8 fleet next year by adding another four aircraft to the fleet, which doubles the number of MAX 8s to eight. The new aircraft come in to support the airline's growth program and sustainability strategy. Virgin Australia is in love again with the MAX 8.
The four aircraft will be delivered in the second half of 2023. Virgin Australia doesn't specify if they will be leased or are on direct order. In April, it also ordered four MAX 8s for delivery from February 2023 but also failed to identify how they will be sourced.
The commitment to the MAX 8 means a return of the type in Virgin's strategy. The carrier first ordered 23 of the model at the 2012 Farnborough Airshow. It converted ten of them into MAX 10s in August 2018 but later said it still had 23 MAX 8s and 25 MAX 10s on order. Following the pandemic and the restructuring of Virgin Australia (which was sold to Bain Capital), the carrier revised its order in December 2020. Out went all MAX 8s, while the -10s were retained for delivery in mid-2023. The MAX 10s are still in the backlog, but deliveries depend entirely on when the type will be certified and if it needs a redesign of its cockpit systems if a December 31 deadline is missed.
Before VA canceled the MAX 8 order in 2020, it had planned to take delivery of them from February 2025. The April 2022 order tentatively schedules this as February, but this is dependent on supply chain issues that have frequently interrupted production in Renton.  
Fleet to grow to 92 aircraft next year
Virgin Australia's active fleet currently consists of 73 Boeing 737-800s, two -700s, and eight Fokker 100s, but it will phase out the Fokkers until early 2023 and induct more 737-700s. Together with the eight MAX 8s, the fleet will count 92 aircraft next year.
To make sure that it has the pilots to fly the Boeing 737NGs, Virgin Australia has secured "priority access" to a CAE flight simulator in Jandakot near Perth. This increases pilot training capacity by 25 percent for some 200 pilots in Western Australia and should guarantee that the carrier is adequately staffed.
The airline hasn't shared any financial results for the year, but according to CEO Jayne Hrdlicka, Virgin Australia is in good shape. "Despite the challenges faced by our industry, demand for travel remains strong and we're responding with a focus on the long-term by increasing the efficiency and sustainability of our fleet with four additional Boeing MAX 8s joining our fleet from 2023," Hrdlicka says in a media statement. Already in May 2021, Virgin Australia announced its growth plans.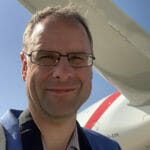 Active as a journalist since 1987, with a background in newspapers, magazines, and a regional news station, Richard has been covering commercial aviation on a freelance basis since late 2016.
Richard is contributing to AirInsight since December 2018. He also writes for Airliner World, Aviation News, Piloot & Vliegtuig, and Luchtvaartnieuws Magazine. Twitter: @rschuur_aero.