Now that the domestic market in Australia is experiencing a strong recovery, Virgin Australia is determined not to be left behind its rivals Qantas and Jetstar. The carrier has ambitious plans for growth and on May 21 announced a new round of recruitment of 250 additional jobs and 700 extra flights. So it is clear: Virgin Australia is on a rapid growth strategy.
A year ago, Virgin Australia entered voluntary receivership after it was hit hard by the effects of the Covid-crisis and its shareholders were unwilling to further invest. After a selection process – which wasn't undisputed -, the administrators selected Bain Capital as the new owner. Virgin ditched its ambitions for maintaining an extensive international long-haul network and instead decided to focus on the domestic and short-haul international markets, it said last August in a strategy update. The resized and restructured Virgin Australia reduced its workforce by 3.000 out of 9.000 jobs but promised to rehire staff if the recovery allowed.
Already in mid-April, the carrier announced it would rehire 220 cabin crew that were laid off when the international services, ATR regional, and Tigerair Australia were discontinued. The carrier also re-activated ten Boeing 737-800s as it planned to grow its capacity to over eight percent by mid-June and schedule from 850 weekly services to around 1.100.
Recruitment of 250 extra staff
It also assessed the re-hiring of another 150 cabin crew, but today said that on top of these 370 crew hired so far it has started recruitment of another 250 new roles. These include operational and corporate functions like pilots, baggage handlers, and IT specialists.
Virgin's rapid growth strategy is confirmed by the network getting a boost. The carrier will add 700 extra return flights by October as frequencies to Queensland are increased by forty percent and to Tasmania by 38 percent. Flights between Brisbane, Melbourne, and Sydney will see thirty percent more frequencies or on average 100 each day.
Also, five new routes will be opened, like Sydney to Darwin, Sydney-Townsville, Melbourne-Townsville, Adelaide-Cairns, and Cairns-Perth.
International network will remain low
Virgin's short-haul international network will remain at a low level after the Australian government said that the re-opening of borders will be suspended until mid-2022. The carrier will only offer limited services from Brisbane and Sydney to Queenstown (New Zealand) from September 18, with Melbourne-Queenstown to follow on December 21. Plans to restart services to Fiji and Indonesia have been postponed until at least December.
Comments on the deferred reopening of international air travel from CEO Jayne Hrdlicka caused a stir in Australia earlier in May, as they were interpreted as being selfish and disrespectful to the hundred of Covid-victims.
In a May 17 statement, the airline responded by saying: "We agree with State and Federal leaders that eradication of Covid-19 cannot be the goal for our country. The question is not if, but when we will be sufficiently vaccinated to protect our people and our hospital system to open our international borders. We must learn to live with COVID-19 in the community in a way that protects the health and safety of our people but also opens Australia up to the rest of the world."
On the latest recruitment and growth plans, Hrdlicka said today: "Growing confidence in the community, thanks to the vaccination rollout and domestic borders staying largely open, means the time is right for us to bring back jobs and put more aircraft in the skies." She added: "Importantly, Virgin Australia is supporting over 6,000 jobs, which is something we flagged in August last year as the baseline number of jobs we hoped to support as the domestic market recovered."
VA's fleet currently comprised 61 737-800s and two -700s, of which six -800s are in storage. The carrier also will partner with Alliance Airlines after the Australian Competition and Consumer Commission approved the partnership in April. Alliance also partners with Qantas and has recently commenced services with its newly purchased Embraer E190s on behalf of the airline.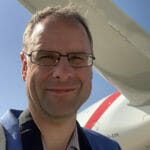 Active as a journalist since 1987, with a background in newspapers, magazines, and a regional news station, Richard has been covering commercial aviation on a freelance basis since late 2016.
Richard is contributing to AirInsight since December 2018. He also writes for Airliner World, Aviation News, Piloot & Vliegtuig, and Luchtvaartnieuws Magazine. Twitter: @rschuur_aero.