Michel Merluzeau, Director Market Analysis at AIR, and Ernie Arvai, President of AirInsight Group will discuss COMAC and UAC and the scenarios likely to unfold for the two companies in changing trade and geopolitical environments.
With COMAC working on completing the C919 flight testing next year and UAC's MC-21 reported impressive test performance, what is the market outlook for these two designs?

China: what opportunities remain for western suppliers as made in China 2025 approaches? Russia: what are some of the likely effects of the US sanctions on the MC-21 development?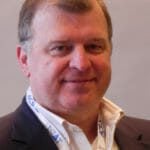 Co-Founder AirInsight. My previous life includes stints at Shell South Africa, CIC Research, and PA Consulting. Got bitten by the aviation bug and ended up an Avgeek. Then the data bug got me, making me a curious Avgeek seeking data-driven logic. Also, I appreciate conversations with smart people from whom I learn so much. Summary: I am very fortunate to work with and converse with great people.