Mitsubishi has been castigated for its MRJ and SpaceJet program. However, take a look at what it accomplished by doing the CRJ deal with Bombardier. Not only did the lawsuit go away (remember that?), but Mitsubishi now has a huge customer base. From zero.
Looking at the largest market that Mitsubishi is focused on, here's what they now own. From zero, Mitsubishi now has relationships with some of the biggest airlines in the world. Even though these relationships may, to an extent, be indirect because operations are undertaken by regional airlines, there is brand affiliation.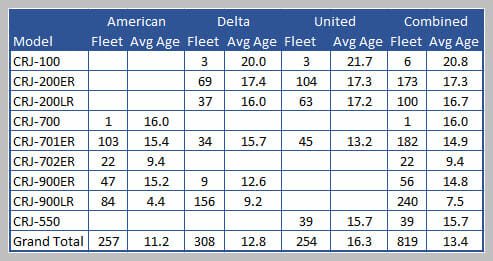 Moreover, Mitsubishi now has a US-based fleet of over 800 aircraft. Discount the 279 CRJ-100 and -200s (279) and they have 540 regional jets to support. Why is this important? The short answer: How long would it take for Mitsubishi to achieve that fleet size with their SpaceJet? The OEM also has the people and facilities to provide program support across the globe. As we have seen (i.e. SSJ and ARJ) any weakness in fleet support hobbles a program fast.
To keep Mitsubishi sharp, it faces a tough competitor in Embraer. Embraer has built a reputation for its product support – both to regionals and far more exacting mainline customers. Here is what the current US-based Embraer fleet looks like.
The Embraer fleet larger, and it is also, on average, 26% younger. This is because over the past few years it has outsold the CRJ line handily. A clue to this success might be when one looks at the models. Embraer's E-175 was tweaked to provide customers what they needed. The E-170 was improved to the E-175. Now the E-175 has a successor in the E175-E2. Even if that model cannot be deployed among the US regional airlines at present, customers know that Embraer keeps updating its products. The CRJ line suffered from this because of resource limits caused by the C Series development costs.
With the slightly older fleet, Mitsubishi has some opportunities. First, it can now devote resources to ensure this fleet is given the resources to provide customers with a level of support it has been talking about with the SpaceJet. This would generate a lot of goodwill and reduce CRJ uncertainty. Remember airlines want a competitive product to Embraer. Second, CRJ updates and upgrades that were shelved can be dusted off. For instance, the CRJ-550 is an excellent place to start. That program opens opportunities for airlines to offer a superior cabin to what is regarded as normal for regional jets. Since regional jets are going to play a much more prominent role as air travel recovers, a better cabin experience is more important than ever.
The Mitsubishi acquisition of the CRJ program ends up being good news for regional airlines. It is also good news for Embraer. With a better-funded competitor, Embraer now has a competitor that will help to keep the regional jet market active. This benefits regional airlines that need help (especially in the US) and that envigorated market will end up helping network carriers, too.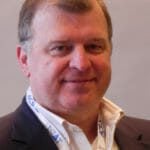 Co-Founder AirInsight. My previous life includes stints at Shell South Africa, CIC Research, and PA Consulting. Got bitten by the aviation bug and ended up an Avgeek. Then the data bug got me, making me a curious Avgeek seeking data-driven logic. Also, I appreciate conversations with smart people from whom I learn so much. Summary: I am very fortunate to work with and converse with great people.