Despite having its own extensive maintenance facilities in Dubai, Emirates recently dispatched one of its Airbus A380s to Airbus in Toulouse for "maintenance", as it told AirInsight. But as Aviation Week reports, this maintenance has actually to do with checks and repairs of the outer wing spars for cracks. While known for three years, the issue is affecting operators now. Wing cracks continue to haunt Airbus A380 operators.
Emirates sent A380 with registration A6-EDQ to Toulouse on December 4. "This is due to our own hangar facilities in Dubai being at full capacity, with the ramp-up in flight operations and the start of our aircraft retrofit and cabin upgrade program", a spokesperson replied to a question from AirInsight.
Indeed, Emirates started the cabin makeover on the first of 67 A380s on November 1 to install a fresh interior and Premium Economy. This program will take until early 2024 when 53 Boeing 777-300ERs will follow. The first A380 to enter refurbishment was still there today, so the work is taking up much longer than the sixteen days per aircraft that Emirates said it would take.
But the hangars of Emirates are also occupied with A380s that require inspection and repairs of the wings. According to Aviation Week, Airbus has a team of sixty engineers on site to assist the airline with this work, but there was no space left for EDQ. So she was sent to Toulouse.
Known problem since 2019
As noted in an updated EASA Airworthiness Directive dated August 31, 2022, Airbus has been aware since July 2019 of cracks forming in the wing's outer rear spar (ORS) top and bottom flanges between ribs 33 and 79, on the outer inner front spar (OIFS) between ribs 8 and 14, and on the outer front spar (OFS) between ribs 38 and 49. The cracks could reduce the structural integrity of the wing.
Back then, Airbus issued a service bulletin for technical adaptations that covered only 25 A380s but since then it has been determined that the crack issue could be more profound on aircraft that have not received a pre-modification. "Since that AD was issued, it has been determined that additional areas may be affected by the same unsafe condition, and that all MSN must be inspected. Consequently, Airbus issued the Airbus instructions, as defined in this AD, providing applicable instructions."
But the most significant change is that EASA has reduced the threshold for inspections from fifteen years (180 months) to 12.5 years (150 months), as cracks were identified on younger A380s as well. "That threshold might be further amended upon completion of the currently ongoing analysis." Unrepaired areas need an inspection every 36 months.
The result is that all A380 operators need to review if their A380s need to be checked and repaired. This additional work is slowing down the re-entry into service of aircraft that have been in storage during the pandemic and is taking out capacity of aircraft in service, Emirates' President and CEO Tim Clark told Aviation Week.
According to other sources, Emirates has brought back 92 A380s out of storage but has eight of them in maintenance and cabin overhaul. EDQ is the oldest and was delivered in October 2011, but only five of the first batch of A380s have been re-activated. Nineteen aircraft are from the latest batch with EV series of registration, twenty of the EO series are active, 24 of the EU series, and 24 of the EE series.
The oldest A380 in service right now is Qantas VH-OQB, which was delivered in December 2008. The Australian carrier is bringing more older A380s out of storage, but each aircraft gets a thorough check before one will return into service. One aircraft (OQG) left checks in Abu Dhabi on Saturday, while another (OQL) arrived on Sunday after two years of storage at Victorville near Los Angeles. Other A380 operators will also have to inspect their aircraft. Korean Air and Singapore Airlines have A380s in service that are now eleven years old.
Unrelated to the previous issue
The latest wing issue is unrelated to the one that caused headaches in 2012-2013 and forced Airbus into a multimillion repair program. This problem had to do with cracks in the so-called wing rib feet, which are tiny brackets that are part of the wing ribs. Operators were forced to check and repair the wing rib feet, which took some five weeks for each aircraft. In November 2013, cracks were found in a frame at the bottom of the wing box.
The A380 frequently is the topic of further ADs, like the one earlier this month for the inspection of door switches after corrosion was found. Other recent ADs cover belly fairing, engine pylons, landing gear, or pneumatic systems.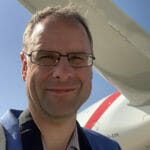 Active as a journalist since 1987, with a background in newspapers, magazines, and a regional news station, Richard has been covering commercial aviation on a freelance basis since late 2016.
Richard is contributing to AirInsight since December 2018. He also writes for Airliner World, Aviation News, Piloot & Vliegtuig, and Luchtvaartnieuws Magazine. Twitter: @rschuur_aero.