US start-up ZeroAvia will soon enter the next phase of development of a hydrogen-electric aircraft. It has secured two Dornier 228 19-seaters that will be modified and enter flight testing in the US and UK in 2023, leading to certification and commercial offering in 2024, the company announced on June 29. ZeroAvia upsizes hydrogen fleet with Dorniers.
ZeroAvia has sourced the two Dornier 228s from Guernsey-based regional carrier Aurigny and from AMC Aviation in Morrisville (North Carolina). The twin-turboprop high-wing aircraft was produced by the German manufacturer between 1981 and 1998. With their 19-seat capacity, the Dorniers are ideally suited for ZeroAvia's HiFlyer II program that specifically targets aircraft of this size.
For HiFlyer I, two Piper Malibu series 6-seaters were used to demonstrate a 250 kW electric engine powered by energy from a fuel cell that runs on hydrogen. The aircraft has a range of 460 kilometers. The Piper successfully completed three test campaigns from 2019 to early this year. It flew all-electric for the first time in the US in 2019. The second prototype in the UK copied that in June 2020. This was followed by the world's first hydrogen-electric flight in September.
On April 29, the aircraft was involved in a landing incident at Cranfield airport in the UK. The Piper landed outside the airport perimeter and was damaged beyond repair, although the hydrogen tanks remained intact.
At the time, ZeroAvia said that the unfortunate end of the test campaign would have no effect on HyFlyer II. For this second phase, the Hollister (California) and Kemble (UK)-based company has been granted £12.3 million ($16.3 million) from the UK government under the Aerospace Technology Institute (ATI) program, the Department for Business Energy & Industrial Strategy (BEIS), and Innovate UK program. Support for the development of the hydrogen infrastructure at Cranfield and Orkney (Scotland) airport will come from the European Marine Energy Centre (EMEC), while Aeristech offers its knowledge on air compressor solutions.
Dorniers will be extensively modified
While ZeroAvia upsizes the hydrogen fleet with the two Dorniers, but first, they will have to be extensively modified before they can enter the flight test campaign, which will be done from Raleigh-Durham International Airport near the Hollister HQ and at a new facility at Kemble Airport. Off will go the Honeywell/Garrett TPE331 turboprops as they are to be replaced by two 600 kW electric engines. Fuel tanks with a capacity of 100 kilograms of hydrogen will be accommodated in the fuselage. The electricity generated by fuel cells is enough to give the aircraft a range of some 920 kilometers. The maximum take-off weight will be around 6.000 kilograms, which is some 500 kilograms less than the conventional Do-228.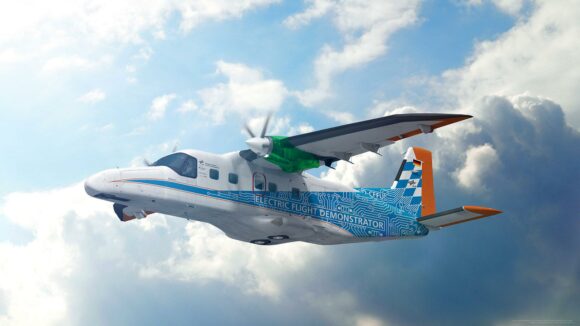 Artist impression of the DLR/MTU hydrogen-electric Dornier 228 that is set to fly in 2026. (DLR)
ZeroAvia is not the first to select the Dornier as the ideal platform for a hydrogen-based aircraft. In August 2020, the German Aerospace Center (DLR) and MTU Aero Engines announced that they will develop a hydrogen fuel-cell powertrain to be tested on a Do-228 in 2026. DLR will provide one of its two Dornier aircraft, which have been used for multiple test campaigns over the past years, including aircraft systems and precision navigation systems. DLR is developing an electric engine with a power output of at least 500 kW.
Next is a 2 MW engine for a 50-seater
The next phase in ZeroAvia's plans is the development of a 2MW electric engine that will power a 50+ seater. The company said on June 29 that it has secured additional financial backing for this program. London-based venture capital fund AP Ventures has invested $13 million in this program, which is additional to the $24.3 million that has been raised in March.
The high-capacity program has now got backing from a range of investors, including Alumni Ventures Group, SGH Capital, Agartha Fund LP, as well as Amazon's Climate Pledge Fund. In December, IAG/British Airways announced backing under its Hangar 51 Accelerator program. Together with Horizons Ventures, it led the $24.3 million Series A funding that was also supported by Breakthrough Energy Ventures, Summa Equity, Shell Ventures, SYSTEMIQ, and Ecosystem Integrity Fund. ZeroAvia has now raised $66 million in private investments or over $87 million since its inception.
By 2030, ZeroAvia hopes to have developed a hydrogen-electric engine for a single-aisle 100-seat airliner with a range of some 3.700 kilometers. The company's plans foresee a 200+ seater from 2035 with a range of 5.500 kilometers, but that is still far in the future.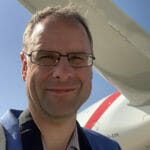 Active as a journalist since 1987, with a background in newspapers, magazines, and a regional news station, Richard has been covering commercial aviation on a freelance basis since late 2016.
Richard is contributing to AirInsight since December 2018. He also writes for Airliner World, Aviation News, Piloot & Vliegtuig, and Luchtvaartnieuws Magazine. Twitter: @rschuur_aero.