UPDATED STORY – After weeks of rumors about a triple-digit aircraft order of a size not seen since 2017, United Airlines confirms plans for 270 aircraft on June 29. It has placed orders for 200 Boeing MAX and 70 Airbus A321neo's. Not for fleet growth, but as a replacement for some 75 older mainline aircraft and at least 200 regional aircraft to improve efficiency, reduce costs, and improve emissions. But United's order is for more than planes. It is a key ingredient of the airline's new strategy called United Next.
United's order with Boeing is for 50 MAX 8s and 150 MAX 10s, of which it was already the biggest customer since the 2017 Paris Airshow when it placed a new order and revised earlier ones. Until today, United had placed orders for 180 MAX. Deliveries of the 8s will begin already this summer, which indicates that Boeing has had time to prepare them some time ago. The 10s will join United in 2023 when the biggest version of the MAX is expected to be certified. It has just started its flight test campaign on June 18.
The carrier has also ordered 70 Airbus A321neo's, which are added to the 50 A321XLRs that were ordered in December 2019. The standard neo's will be delivered in 2023, the XLRs in 2024 with entry into international service a year later. A significant part of the aircraft will be assembled in Mobile (Alabama), although the XLR will be exclusively produced in Hamburg.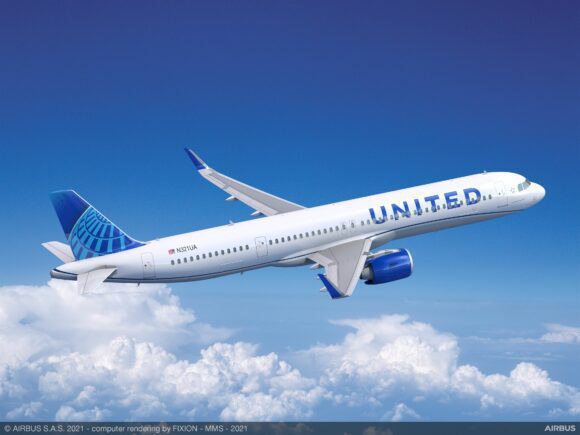 The standard A321neo will join United in 2023. (Airbus)
The new order means that United will be in for a few very busy years, with a new single-aisle aircraft joining the airline every three days in 2023. The delivery schedule includes 40 aircraft (all MAX) in 2022, 138 in 2023, and 354 in 2024 and beyond. At the same time, up to 275 older and regional aircraft will leave the fleet between 2023 and 2026.
This will reduce fuel efficiency by 11 percent and carbon emissions by 17-20 percent. Maintenance costs will also drop significantly as United renews its fleet. But keep in mind that United has said that it will add fifteen ex-easyjet Airbus A319s this year and in 2022, as well as seven 737-700s.
United has no need for replacement of its wide-bodies nor is it planning incremental orders, saying it has "more than a few" for its business. It is still happy with the performance of the 767s.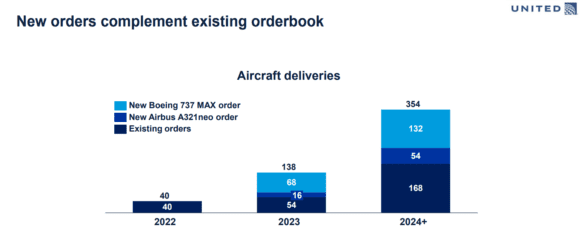 Together with the aircraft order, United has announced a vast cabin upgrade program. The new aircraft will have the signature interior that will also be retrofitted to all single-aisle mainline aircraft that will remain in the fleet. The signature cabin has inflight entertainment as standard in every seat, larger overhead bins, fast WiFi, and new lighting. The retrofit on the existing fleet will take until 2025. The first MAX 8 with signature was delivered right today.
United Next should make United more attractive
The fleet renewal and cabin update are part of a strategy called United Next that should dramatically improve the airlines' performance on its US domestic network while at the same time unlocking the full potential of its hubs and global gateways. On the domestic and medium-haul network, United Next will grow the share of large narrow-body aircraft with over 181 seats from four percent in 2019 to 33 in 2026. This will correct a large problem within the fleet that United is relying too much on aircraft that are too small, said Chief Commercial Officer Andrew Nocella.  
While they have served the airline well, Nocella said that 50-seater regional jets like the CRJ 200s have restricted United from realizing its full potential on domestic routes. "We fly these tiny little aircraft up against aircraft that are bigger and have better user economics", he said. Unit costs have been poor, the product is not ideal, and regional jets spill demand and are suboptimal compared to larger airplanes. That's why the carrier wants to reduce the share of regional jet departures from 33 to 10 percent by replacing the RJs at a rapid pace.
At a midcontinent hub like Chicago O'Hare, 42 percent of all United departures are by regional aircraft compared to American's 28 percent. Under United Next, this will be revised to four percent to get the full potential out of these hubs. Bigger aircraft help to tackle the problem of small 'gauge', says Nocella. And at capacity-constrained coastal hubs like New York, Washington, Los Angeles, and San Francisco, they should feed more passengers into the long-haul network, which already is United's strong point at these airports. Frequencies will increase by on average ten percent.
At the same time and thanks to the cabin upgrade, United will be able to offer 75 percent more First Class and Economy Plus premium seats (from 31 to 53 per aircraft) compared to 2019. Adding more MAX and the A321neo's to the fleet will have an effect on United's operations. Offering new and bigger aircraft with on average thirty extra seats per departure (from 104 to 134) should make the United product more attractive to customers, especially as new domestic routes are added.
Yet, smaller aircraft will certainly remain part of United. For example, at New York Newark, the new MAX will be based together with the newer Mitsubishi CRJ 550 with its 50-seat dual-class cabin that is ideal for smaller, competitive markets. The MAX 10 and A321neo will also take over from the 757 but their extra range offers opportunities for new destinations. United still has 61 757s in the fleet.
New plan will drive profitability
United Next will finally align the fleet, network, and products to the hub it flies to and realize the full potential of the airline, Andrew Nocella said. The better product should be 'turbocharging' the net promotor scores from customers. And it will also improve the airline's financial situation and drive profitability.
Bigger aircraft and higher load factors should reduce cost per seat mile by eight percent in 2026 compared to 2019. Chief Financial Officer Gerry Laderman added that this includes $2.0 billion in structural savings from workforce efficiency and non-labor costs that have already been agreed on. Nocella and Laderman stressed time and again the importance of gauge, which will improve by 30 percent. Efficient growth with improved productivity reduces average labor cost, Laderman said.
Capital expenditures will increase from $4.5 billion this year to $8.5 billion in 2023, which will be the peak year. Direct aircraft purchases make up $3.3 billion of that this year and even $7.0 billion in 2023. While this will have an impact on adjusted free cash flow, Laderman sees a significant improvement coming in 2026 with adjusted EBITDA margins also up.
United says that the new aircraft order will create jobs for 25.000 'well-paid, unionized' pilots by 2026. The priority is given to pilots from regional operations through the airlines' Aviate program.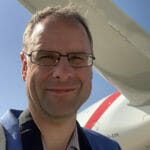 Active as a journalist since 1987, with a background in newspapers, magazines, and a regional news station, Richard has been covering commercial aviation on a freelance basis since late 2016.
Richard is contributing to AirInsight since December 2018. He also writes for Airliner World, Aviation News, Piloot & Vliegtuig, and Luchtvaartnieuws Magazine. Twitter: @rschuur_aero.