Boeing
One of today's best panels was titled the "Fleet Managers" and moderated by Helane Becker from Cowen & Co. On the panel were Nathaniel Pieper from Delta, Jude Bricker from Allegiant and Jose Yunda from Avianca.
Mr Pieper started off by telling the audience that Delta is still interested in used aircraft. (He joked that Delta and Allegiant together accounted for the world's biggest used airplane buyers).  Used aircraft offered excellent ROI and ensured a strong balance sheet. (It helped Delta's results reported today were so good)  Low fuel costs have offered further support to the decision by Delta not to buy new aircraft at the same level as other airlines.  This strategy will continue to play at Delta.  The airline's fleet plan is driven by matching aircraft to routes. He used the 717 as an example – Delta frequently makes use of the 717 to… Continue reading →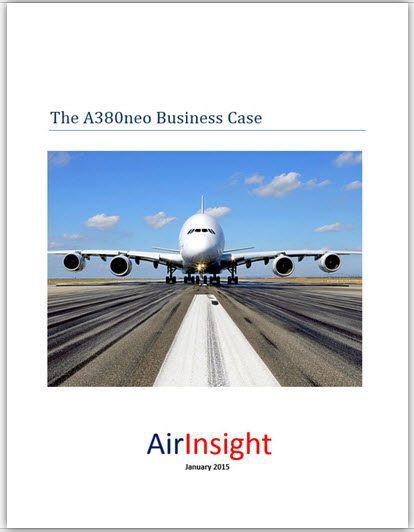 AirInsight's newest report is will be available Friday, January 16th.
The report consists of 46 pages with 23 tables and charts.
The report discusses potential engine options, the market for very large aircraft, frequencies, capacities, and constraints, and competitive economics, in reaching our conclusion regarding the business case for an A380neo.
Our report is available for pre-order at $495.
[Typically our Premium stories are subscriber access only.  We are opening this one as a sample.]
The issue of an A380neo reappeared again at the recent A350XWB first delivery event in Toulouse. While the question wasn't directly related to the A350XWB, Qatar did have its fourth A380 outside the Airbus delivery center and clearly it is an item on the mind of not only Airbus and Emirates, but also Qatar's CEO. Mr. Al-Baker deftly parried the question and expressed confidence in the aircraft as it is.
This does not mean Airbus can avoid the inevitable A380neo – it is not a matter of "if", it is a matter of "when".
We expect that both Airbus and Emirates will want an engine competition. This ensures an honest outcome for them. Other A380 operators will also benefit.
Looking at the A380 program today, there is no doubt that the economic rationale… Continue reading →