COMAC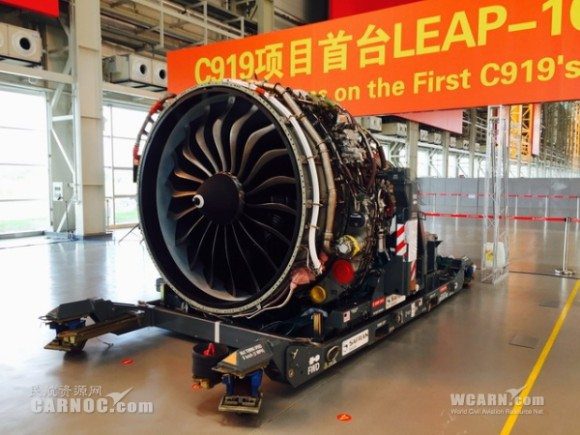 COMAC and CFM International celebrated delivery of the first LEAP-1C engine for the C919 prototype yesterday.  The second Leap-1C engine is expected to be delivered to COMAC in August.
The first C919 prototype is in final assembly in Shanghai. The fuselage has been completed and mobile systems are being installed.  But first flight had been postponed to 1H16. Deliveries are scheduled for 2018 but we anticipate slipping to closer to 2020.
Take a look at this chart of the 2014 in service passenger airliner fleet.  In our view this provides a very useful breakdown of the OEMs by seat segment.  It also highlights some opportunities for new business. Continue reading →
The much delayed ARJ has started test flights for launch customer Chengdu Airlines. The first two deliveries are set occur in April or May. This will be the first Chinese attempt at offering a regional airliner.
So how does their offering compare to competitive products that exist today?

The Chinese have publicly stated that they did not expect to produce a world-beating aircraft out of the box, and that the ARJ-21 was to be a learning experience. But they did expect to make an aircraft that could be competitive, given the capital cost differential, for Chinese airlines, which they have done.
The table above shows the seating is virtually identical in a typical two-class configuration. But then the other numbers come into play – the ARJ is much heavier; 16% more than the CRJ and 14.4% heavier than the E-175. This causes an interesting requirement – all three use various… Continue reading →
COMAC has nearly completed the basic assembly of its C919 prototype, Chinese media are reporting. This picture released by Pudong Times shows the C919 prototype on the final assembly line.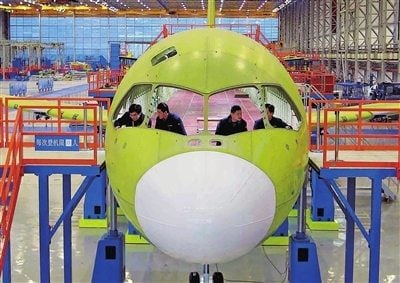 The engines, avionics, flight control and hydraulics systems have yet to be installed. COMAC started final assembly of its C919 prototype in September 2014 and believes its on track to complete final assembly in the second half of 2015.
The C919 will accommodate up to 160 passengers and make its maiden flight by the end of this year, with delivery scheduled in 2017 COMAC has said.  To date, COMAC has secured 450 orders for the C919 from 18 customers.