COMAC
Frequently industry analysts get caught up in the vast amount of minutiae this industry generates.  We decided to step back and take a 50,000 foot look at the industry and came up a few charts we find illustrative and interesting.
Taking the global fleet and breaking it down by regions gives us the first chart.  Three markets are clearly crucial and make up 75% of the market.  Numbers in the columns represent the fleet type size.  The bold numbers indicate how much of the global fleet is based in the region.
The smaller markets are rather similar in extent.  Turboprops represent 9.8% of the market, narrow body aircraft are 71.5% and wide body aircraft make up 18.8%. Continue reading →
The first production ARJ-21, serial number 105, has taken its first test flight in Shanghai.  The aircraft is destined for launch customer Chengdu Airlines early next year, which has 30 on order.  The ARJ-21-700 will seat between 70-95 passengers, depending on configuration.  The aircraft uses GE CF-34-10 engines, similar to the CRJ-700/900 and EJets, and incorporates components from 19 Western suppliers.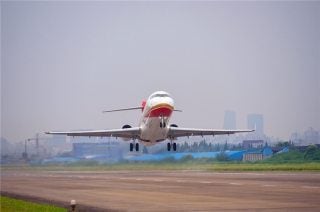 Continue reading →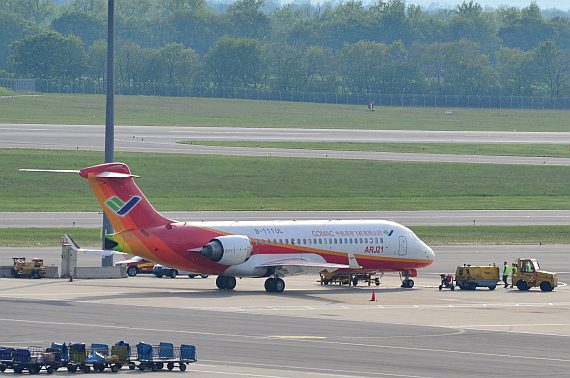 [UPDATE - see this link]
Yesterday this ARJ21 was spotted in Vienna.  The aircraft is B-1110L and apparently doing test flights outside China.   The aircraft has been doing tests in the UK and has also been spotted in Oslo.  From Vienna it is reported the aircraft was headed to Ankara.
Prior to the EU flights we noted this report from January 24th.  This was followed by cold tests on January 27th.  In early April B-1110L was in Windsor, Canada for more tests.
The ARJ program is running very late (initial deliveries were planned for 2007).  That said, it appears to be coming along or COMAC would not risk flying it outside China as it has been.  There is scant information on the aircraft's performance or economics.  We suspect the aircraft is overweight and therefore has relatively inefficient economics.  But… Continue reading →
Iran has been under sanctions on commercial aviation since 1995.  Its airlines fly old aircraft and safety has been compromised frequently.  The national fleet averages 22 years old.  One report suggests that 100 grounded aircraft could come back into service once parts can be bought.
For the fleet still operational, Iran has had to suffer service disruptions of all sorts. In the EU, fuel supply has been a frequent problem.  During sanctions an estimated 1,700 people have died in Iranian aircraft crashes.
Take a look at this 727 doing an emergency landing in 2011 without an operational nose wheel. It is a remarkable flying skill that nobody got hurt – there were 94 passengers and 19 crew on this flight. Continue reading →