Being on the small side of the airline business is tough.  This is an industry that favors volume and critical mass.  The bigger the airline the more easily it weathers the multitudinous shocks this industry has to deal with.
On the small side of the business, where an airline has a unique franchise, it should be able to do well – indeed thrive.  A classic example of this kind of airline is US-based Cape Air.  Its primary footprint is in the New England area.  It operates under the radar at most other places it flies.  Its customers know it well whereas as most air travelers have not heard of it.  But there is growing competition from high-speed ferries.
The airline has 81 Cessna 402s (the largest of this aircraft worldwide) and four Britten-Norman Islanders. It attracted some attention with an order of 112 Tecnam P2012 Travellers, the first of which is expected to be delivered in mid-September.  Cape Air also attracted attention at the recent Paris airshow when Eviation announced that Cape Air was adding their electric aircraft to its fleet.
Even though the airline is small by US standards, it is forward-thinking and is highly respected within the industry.  We did a podcast with the airline some months ago discussing its approach to the pilot shortage. As one would expect from this airline the ideas and solutions are novel.
So far so good, right?
Well looking at data from the US DoT, we see trends that are less rosy. The data we have is through May 2019. Our data source is "T1: U.S. Air Carrier Traffic And Capacity Summary by Service Class".  Some key metrics in the table below bear some attention. Traffic has been softening for some time.  The number of flights has also softened.  Load factor is off a bit in 2019.  But look at the average stage flown – this is up 34% between 201 and 2019.  The airline is flying at similar speeds.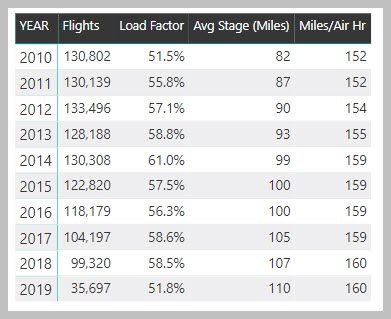 What we are seeing is a substantial change in the airline's business.  Specifically, away from short hops in New England, increasing average stage length.  In May 2018 Cape Air stopped operating flights in Micronesia using ATR42s.
This switch means moving away from markets where tickets are around $35 to markets where tickets start at $159.  Indeed, the airline advises that average fares are up 41% over the past two years as it makes the switch in its business model.
One new market that bears consideration is the planned Boston Harbor to Manhattan service using Cessna 208 floatplanes.  This service is aimed at the financial market traveler – with a "door to door" time of about 75 minutes compared to much longer on the train or airline shuttle. Plus, there's no TSA.  It is not hard to think that such a service will come at a premium price – using Amtrak and Shuttle fares as a benchmark.
Consequently, the decline in loads and flights are the outcome of flying a different type of traffic.  Longer legs mean fewer daily departures.  But these departures come with higher fares and lower costs.  For the same performance, the airline's fleet is becoming steadily more profitable.
An example of the changes underway is the impact of moving to the Tecnam.  The P2012 is the first purpose-built commuter aircraft developed in 40 years and comes with associated state of the art technology.  The Tecnam impact can be seen in the airline's Rutland bid.  In 2017 the airline anticipated a subsidy of $153 per passenger. The 2019 bid is down to $148 per passenger.  Cape Air's 2019 bid anticipates a higher load factor for a planned three flights/day from Rutland to Boston.
Cape Air shows a change in costs as they switch to the Tecnam – exchanging ownership and increased fuel consumption for maintenance savings, offering net cost savings.  Because the Tecnam is certificated for single-pilot operation but has nine passenger seats plus two pilot seats, Cape Air is effectively increasing Rutland capacity by 12.5% compared with the legacy Cessna 402 fleet which to fly with a non-required first officer blocks one of the nine-passenger seats which otherwise would have been out for sale.
In summary, Cape Air is amid a series of changes that should see profitability rise as it carves a new niche outside New England.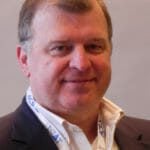 Co-Founder AirInsight. My previous life includes stints at Shell South Africa, CIC Research, and PA Consulting. Got bitten by the aviation bug and ended up an Avgeek. Then the data bug got me, making me a curious Avgeek seeking data-driven logic. Also, I appreciate conversations with smart people from whom I learn so much. Summary: I am very fortunate to work with and converse with great people.