Aerolíneas Argentinas announced adding a dozen Embraer E195-E2 jets to its fleet. The agreement states deliveries start in 2024 and extend through 2026. The new jets replace the airline's E190s, with the airline noting the increase in capacity from 136 seats to 96 per aircraft.
"With this agreement, we managed to modernize our fleet, increase productivity and reduce the cost per seat. Having a partner like Embraer that supports us and accompanies us on this path of growth is a very important boost," explained Pablo Ceriani, president of Aerolíneas Argentinas.
An Embraer spokesperson tells AirInsight that the airline intends to lease the aircraft and is in negotiations with lessors about securing a deal. 
Martyn Holmes, commercial director of Embraer, said: "We are delighted that Aerolíneas has selected the E195-E2 as a replacement for its E190-E1. The E2 is recognized as the quietest, most fuel-efficient single-aisle aircraft available, cheapest to maintain and with the lowest travel cost in the narrowbody segment, with seat costs similar to those of the most narrowbody aircraft. big. The performance of the plane, its reduced environmental impact and the comfort of the 2×2 seats on the plane, without center seats and with huge internal luggage compartments, will be a significant change for Airlines and their guests."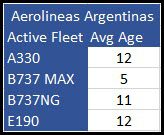 Aerolíneas' Embraer active fleet consists of a dozen E190s. The upsizing decision is consistent with industry trends.  Even though the E190s are only halfway through their useful life, the improved fuel efficiency is likely worth the switch. This is an excellent win for Embraer and came on the same day LuxAir announced it also selected the E195-E2.  Given the tight backlogs, Embraer will win deals no matter what because it has the quickest delivery capabilities.  It helps, too, that Embraer has an excellent reputation as a supplier.

We reported on the airline's 2023 outlook earlier this year. 
Argentina seems to be in a perennial crisis.  Airlines need as much certainty as possible, and moving to a newer fleet helps with that in other ways, like maintenance. Moreover, for Embraer, these E190s are likely excellent candidates for the P2F program.  And some might even come back to Aerolineas as freighters.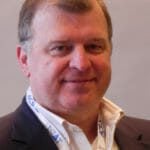 Co-Founder AirInsight. My previous life includes stints at Shell South Africa, CIC Research, and PA Consulting. Got bitten by the aviation bug and ended up an Avgeek. Then the data bug got me, making me a curious Avgeek seeking data-driven logic. Also, I appreciate conversations with smart people from whom I learn so much. Summary: I am very fortunate to work with and converse with great people.