According to stats provided by the Government and airlines, the Mexican aviation industry hit a bump in its recovery during January and February. Nevertheless, there are good signs that the recovery is gaining track again, despite the still high number of COVID-19 infections and the low vaccination levels throughout the country.
January and February lower levels
In December, the airlines, both domestic and international, by operating flights on Mexican soil carried 5.24 million passengers. After a year of uncertainty due to the COVID-19 crisis, Mexico finished only ten percent below the passenger traffic it had in March, for example. Still, the country was 36 percent below the numbers it had in December 2019, mainly due to the lack of international traffic and the unofficial cease of operations of Interjet. 
Nevertheless, the airline industry in Mexico finished 2020 with one of the best recoveries worldwide. January and February are, historically, the low-season in the country, and even more so during pandemic times. In January, the decrease wasn't as severe: a total of 4.60 million passengers traveled in the country, a twelve percent month-to-month decrease. But by February, only 3.51 million passengers traveled in Mexico. These numbers were similar to the ones back in August but 33 percent down on those in December. 
Mexican airlines have adjusted accordingly to the lower number of passengers. Volaris and Grupo Aeromexico performed better in this regard, faring better against travelers' decrease, while Viva Aerobus took the largest month-to-month hit. 
Did new US travel requirements hit Mexican recovery?
On January 26, the US Government introduced new travel requirements for international visitors. These measures impacted the transborder market with Mexico, which was performing extremely well due to the prior lack of air travel restrictions between both countries. Currently, most of the international traffic from Mexican carriers is going to the US. Volaris and Viva Aerobus's international networks are mainly to this country, and Grupo Aeromexico's route map outside of Mexico and the US remains relatively depressed. 
By December, the Mexican airlines carried 608,539 passengers on scheduled international services. Meanwhile, the US carriers operating in the country carried 1.30 million. In January, the numbers remained relatively stable: 553,394 and 1.13 million, respectively. But in February, after the introduction of the travel requirements, there was an important decrease. Mexican airlines carried 300,750 passengers on scheduled international services, while American carriers transported 836,425 travelers.
Why are there signs of a recovery?
On March 8, Volaris stated: "Recently, Volaris has seen an increase in the number of future reservations, and, as a result, is increasing its average capacity for the first quarter of 2021, to 85 percent of the pre-pandemic capacity." 
Additionally, the Easter holidays have started today and will last until April 11. Despite the rising number of COVID-19 cases in Mexico, travelers are packing Mexican airports, eager to travel after months of lockdown. 
Mexico City Airport will have 5.700 air operations during the next two weeks, with over 900.000 seats offered by 17 airlines, according to data provided by Cirium. On Saturday 27, this hub had 321 operations, compared to the 286 it had on Saturday 13. M eanwhile, Cancun will have up to 3.005 operations during the next two weeks, with Aeromexico offering up to 220 flights, Volaris 186, and Viva Aerobus 166, between Mexico City and the Caribbean city. 
From the US, American Airlines will be the largest operator to Cancun in the next two weeks. The airline will fly 113 times between Dallas Fort-Worth and Cancun, offering nearly 21.000 seats.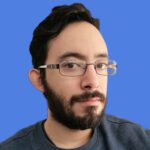 Daniel Martínez Garbuno is a Mexican journalist. He has specialized in the air industry working mainly for A21, a Mexican media outlet focused entirely on the aviation world. He has also published on other sites like Simple Flying, Roads & Kingdoms, Proceso, El Economista, Buzos de la Noticia, Contenido, and Notimex.