Air New Zealand expects to remain a predominantly domestic airline for the foreseeable future and return to long-haul flying only long-term as travel restrictions caused by Covid-19 dictate its operations. This means that 40 percent of ANZ's long-haul international business continues to be absent for the next years, the airline said on August 27 at its fiscal year 2020 results presentation.
New Zealand intended to relax travel restrictions, initially with Australia. But after new cases of corona in both countries emerged in recent weeks, borders remain closed for international passenger traffic until further notice.
Covid-19 did wipe out 74 percent of passenger revenues between April and June, the last quarter in its fiscal year which had been strong until then. June and July have seen a strong recovery of domestic leisure traffic, which was back at 70 percent compared to pre-Covid levels. It has slowed down again with the emergence of new cases.
First loss in eighteen years
The airline ended FY20 with a $-87 million loss before taxation and significant items, down from a $387 million profit last year. After a "profitability waterfall", this is the first loss for Air New Zealand in eighteen years. Net loss after taxation was $-454 million on $4.836 billion in revenues, down 16.4 percent.
Only cargo recorded positive results, with revenues up by fifteen percent to $449 million.
Statutory loss including special items was $-628 million, including $-541 million in special items. ANZ made a $-453 million write down in non-cash significant items, including a $-338 million impairment on the grounding of its eight Boeing 777-200ERs.
A $-140 million charge was done on reorganization costs as the airline has reduced its staff by thirty percent or 4.000 to prepare for lower demand until 2023. They have left through voluntary exit, furlough, or redundancy. Another $150 million in labor cost savings has started in June with the second phase of the program.
Capex will be reduced by $700 million until 2022 by savings and deferral of all non-essential spending. This includes the acceptance of new aircraft, with five Airbus A321neo's having been deferred: one from FY21 to FY22, two from FY22 to FY23, one delayed within 2023, and one from FY23 to FY24. A single ATR 72-600 has also been pushed into FY21.
All remaining seven Boeing 777-300ERs will remain grounded for the rest of this year, with the 787s operating on domestic and cargo-only routes.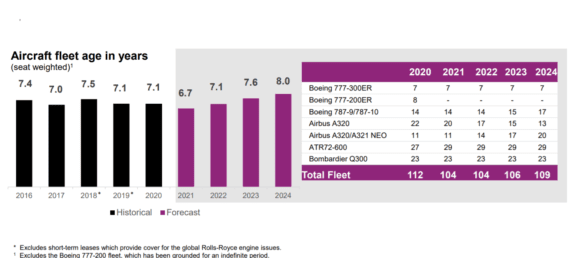 Looking at the fleet plan until 2024, ANZ will reduce its fleet from 112 this year to 109. Out go the 777-200ERs, but the number of 787-9s will grow from fourteen to fifteen in 2023 and to seventeen in 2024. The schedule of five -10s on order from 2025 remains unchanged.
Nine A320ceo's will leave the fleet, while the number of A320/A321neo's will increase from eleven now to twenty in FY24. Three aircraft are to be delivered each year from 2022-2024.
The ATR-fleet will grow by two next year to 29 and remain static after that, just as the number of De Havilland Dash 8-300s will remain flat at 23.
1.1 billion in short-term liquidity
Stringent cost reductions have resulted in the monthly cash burn to have gone down from $175 million between April and June to $85 million in July and potentially $65-85 million for the coming months.
Air New Zealand has $1.1 billion in short-term liquidity available, including $900 million from a standby loan facility guaranteed by the government which is expected to be drawn down for the first time in the coming days. The airline will continue to look at its capital structure and assess all options available with the help of the government, which has confirmed its commitment to remain a major shareholder.
In the current circumstances, ANZ has foregone on the payment of dividends.
It used $115 million from the government as a wage subsidy and benefitted from an $80 million tax relief.
Air New Zealand expects to deliver another loss in FY21. Passenger demand will most likely not return to 2019-levels before 2023. Medium-term, it aims to build back a profitable network that might include international services to the Tasman and Pacific Islands. It also intends to strengthen its position on the cargo market. Long-term, ANZ like most other airlines will have to right-size to be prepared for the post-Covid era.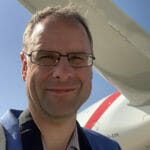 Active as a journalist since 1987, with a background in newspapers, magazines, and a regional news station, Richard has been covering commercial aviation on a freelance basis since late 2016.
Richard is contributing to AirInsight since December 2018. He also writes for Airliner World, Aviation News, Piloot & Vliegtuig, and Luchtvaartnieuws Magazine. Twitter: @rschuur_aero.