Beaten by Boeing this time: that sums up 2018 for Airbus, who released its commercial results on January 9 – one day after Boeing.
The European OEM delivered a record 800 airliners, up from 718 in 2017 but lower than Boeing's 806. It sold 747 aircraft, down from an exceptional 1.109 the previous year but behind 893 listed by the American OEM.
Airbus grew its backlog from 7.265 to 7.577 aircraft.
Airbus president commercial aircraft Guillaume Faury expressed his thanks to his staff for this result, "despite significant operational challenges". Without going into them it is no secret that Faury referred to late deliveries from engine manufacturers Pratt & Whitney and CFM, whose technical and production issues in the early part of the year set back delivery targets at a level that even with a strong December month was impossible to regain. Rolls-Royce Trent 7000 delays hit deliveries of the first A330neo's.
Ramping-up production caused some headaches too. The much automated fourth final assembly line in Hamburg had teething problems that coincided with the transition to the revised fuselage with Cabin Flex layout, leading to delays in A321neo production.
Without these issues, deliveries could have been much higher than 800 flat. They include 20 A220s, up 3 from 2017 when the type was still called Bombardier C Series.
Airbus delivered 626 A320s (558 in 2017), including 284 A320neos and 102 A321neos (up from 187 neos in 2017). Despite delivery and production problems, the rate should go up to 60/month by June/July.
A330 deliveries were down from 67 in 2017 to 49, including the first 3 -900s to TAP Air Portugal and Air Lease Corporation. The lower output reflects a transition from ceo to neo and the Trent 7000 delays.
The A350 was on the up, from 78 to 93 aircraft and meeting the target of 10 aircraft a month. Deliveries included 79 -900s and 14 of the stretched -1000s.
The A380 saw 12 deliveries, with the majority going to Emirates. Production rate will go down to 8/year in 2019 and 6/year in 2020.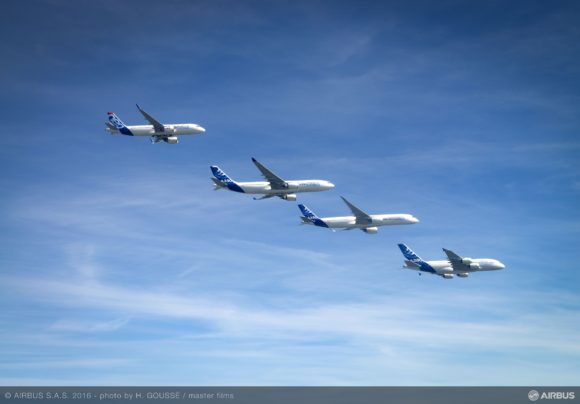 On the order front, Airbus had a year in transition too, with Chief Commercial Officer John Leahy leaving with another follow-on order from Emirates for the A380 that actually saved the program. Leahy was succeeded by Eric Schulz late January, but his spell at Airbus lasted until mid-September when he stepped down for personal reasons.
If Schulz lacked the chemistry within Airbus or with potential customers remains a question unanswered, but the Frenchman's sales team was unable to keep up with Boeing's very effective campaigns that conquered the Farnborough Air Show.
Sealed and signed by late December were deals announced in Farnborough for 60 A220s each from Jetblue and start-up Moxy, while Delta's follow-on order for 15 A220-300s plus conversion of 35 -100s to -300s was done on the last day of the year. This has brought full-year A220 sales to 135.
The A320 net order book grew by 373 A320neos, 136 A321neos, 22 A3109neos, plus 7 A320ceos, 1 A321ceo and 7 A319ceos. The Avolon order for 100 neos did it for December, but 136 A320neos have been ordered by undisclosed customers.
The A330neo gained 18 net new orders, reflecting the difficulties Airbus has in competing with Boeing's 787. It infamously lost an A330-800 order from Hawaiian and the type was saved by Kuwait Airlines' order in October, but the sales team under Christian Scherer has a job to do. Significantly a deal for 34 extra neos from Air Asia X, announced on the last day at Farnborough, hasn't been confirmed yet and neither is Uganda Airlines' order for 2 -800s.
The same applies to the A350 order book, with the Starlux order for 5 -900s and 12 -1000s missing from the 2018 lists. The A350-900 gained 61 orders, lost 22 and ended up with 39 net orders, including 26 from undisclosed customers. The -1000 won just a single order from an undisclosed customer, signed on the last day of the year.
Despite many sales campaigns over recent years, the A380 was happy to get an order for 20 plus 16 options from Emirates, but Airbus finally deleted Virgin Atlantic's order signed in 2000 as well as those of Hong Kong Airlines for 10 announced in 2011.
During its history Airbus has sold 19.430 airliners so far. Unless something dramatic happens, Airbus should clear 20.000 aircraft during 2019.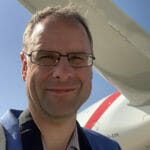 Active as a journalist since 1987, with a background in newspapers, magazines, and a regional news station, Richard has been covering commercial aviation on a freelance basis since late 2016.
Richard is contributing to AirInsight since December 2018. He also writes for Airliner World, Aviation News, Piloot & Vliegtuig, and Luchtvaartnieuws Magazine. Twitter: @rschuur_aero.