Airbus prefers to improve existing aircraft models over investing heavily in clean-sheet types over the next decade, Chief Commercial Officer Christian Scherer confessed on May 21 in Toulouse at Airbus' annual Innovation Days.
Discussing its current aircraft portfolio in a somewhat orchestrated media event, a journalist raised the question what Airbus will do if Boeing gives the green light for its New Mid-market Aircraft (NMA) – something not expected this year as Boeing has other things on its mind.
Scherer – like his predecessors John Leahy and Eric Schulz – explained that Airbus has this market perfectly covered with the A321neo single-aisle and A330neo widebody. When pressed to disclose the upcoming launch of the A321XLR Scherer didn't blink, only indicating in between the lines that 'you can always expect more to come'.
At a gala diner tonight, CEO Guillaume Faury was just as enigmatic when he called the A321LR the longest range single-aisle aircraft, adding: 'for the moment'.
Asked if Airbus would respond with an all-new aircraft he said: "We constantly ask ourselves: are we better of by incrementally improving models or do you need a checkbook to develop a new one? We come to the conclusion that we prefer the incremental way". In short: no new type is on the horizon.
With two mature products at a competitive price Airbus also thinks it gives them the flexibility to beat Boeing on price.
Scherer showed himself very pleased with the A220, which was promoted a few times as a very capable little, new technology aircraft. "It is better and more efficient to design a new aircraft than to downsize a bigger aircraft, which is always heavier per seat". Where this leaves the need for Airbus to continue with the A319neo is unclear.
Airbus announced the A220 has been given an extra 2.3 tonnes Maximum Take-Off Weight, increasing range by 450nm to 3.350nm for the -300 and to 3.400nm for the -100.
The A350 is "running like a Swiss clock", with no surprises for customers. Scherer confirmed that Airbus has offered the A350 to Qantas as its 'Project Sunrise' airliner to fly Sydney-Australia non-stop early next decade. "We have developed some solutions, we are determined to show our ability".
Asked about if Airbus will offer an even bigger A350 with the A350-2000, Scherer said: "The -1000 is now our largest model, with unparalleled economics and flexibility. A 10-abreast Economy configuration will give it unmatched capabilities. Will the market for this size of aircraft grow? Yes, but not immediately, not today. The market is happy with the -900 and -1000".
Airbus says it is on-track on deliveries, with delayed engine deliveries from Pratt & Whitney and CFM mostly behind it and Rolls-Royce catching up. Production of the A321neo with Cabin Flex still needs tweaking to get it up to schedule.
Airinsight will report more on the Innovation Days later on. We have already posted some of the presentations.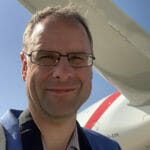 Active as a journalist since 1987, with a background in newspapers, magazines, and a regional news station, Richard has been covering commercial aviation on a freelance basis since late 2016.
Richard is contributing to AirInsight since December 2018. He also writes for Airliner World, Aviation News, Piloot & Vliegtuig, and Luchtvaartnieuws Magazine. Twitter: @rschuur_aero.