UPDATE JULY 30 – To bring you more aviation news, Airinsight introduces News in Brief. During each month from July onwards, we compile a rolling story by date with news that is sometimes too small for a deep analysis but still interesting enough not to be missed.
30 – Canada's Air Transat has recommenced services today after six months of inactivity. The airline had planned to start in June, but these plans had to be postponed. For July 30, it has scheduled three flights, two on a round-trip between Montreal and Punta Cana and one between Montreal and Vancouver. More services are scheduled to the US and Latin America, plus to the UK, France, and Portugal in Europe. New in Canada is Quebec City-Vancouver which complements other domestic services. Air Transat has taken delivery of three more Airbus A321LRs to bring the fleet to ten. Seven more are due by 2023.  
30 – All Nippon Airways (ANA) reported its best quarterly result since the start of the pandemic in March 2020, albeit still a negative one. The Japanese carrier lost ¥51.1 billion in the first quarter of its financial year 2021, which runs from April-June. The loss compares to ¥-108.8 billion for the same period last year. Operating revenues were up by 77.3 percent to ¥198.9 billion. ANA domestic revenues increased by 123.5 percent to ¥50.2 billion, although the quarter was impacted by the state of emergency following rising Covid-cases in Japan. This also affected its low-cost subsidiary Peach, which reported revenues of ¥3.0 billion (+128.5 percent).
International traffic remains suppressed and saw 36.5 percent higher revenues to ¥12.9 billion. International cargo supported revenues by ¥66 billion, up 159.5 percent over last year.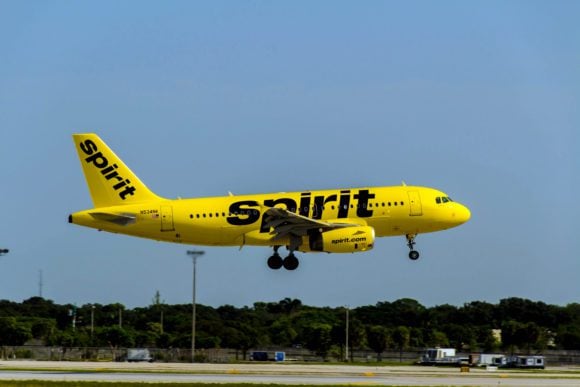 28 – Spirit Airlines reported a $287.9 million loss compared to $144.4 million for the same period last year. This despite much higher revenues of $859.23 million versus $138.5 million last year. The airline says it has been affected by 'numerous bad weather systems' during the quarter, although operational reliability remained high. Yields were at 10 percent lower. The carrier has seen marked improvements in domestic and international bookings.  
28 – Russia's S7 Airlines Group has reportedly sourced 24 Airbus A320neo's, with the first six to eight aircraft set to be operated next summer by a dedicated low-cost subsidiary. The new airline will target the market in Central Russia, which has been lacking the benefits of low-cost airlines so far. The carrier will compete with Pobeda, which is transformed into a low-cost airline within the Aeroflot Group.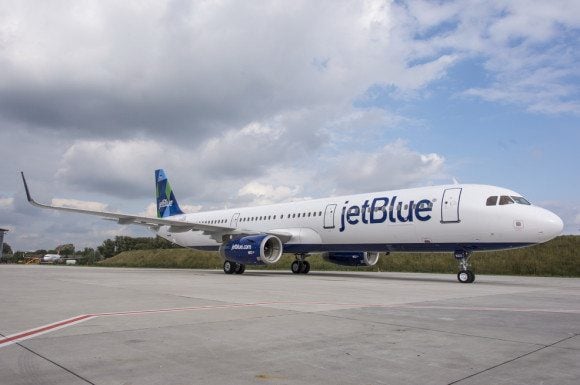 27 – JetBlue reported a $64 million net profit for Q2, an improvement over last year's $320 million quarterly loss. The operating profit was $147 million. and revenues improved by almost 600 percent to $1.499 billion but still 29 percent down on Q2 2019. The quarter produced positive cash flow. For the first six months, JetBlue still reported a $183 million loss ($588 million in 2020), an operating loss of $147 million, and revenues up 23.7 percent to $2.232 billion. The airline expects to operate at an almost identical capacity during Q3.
JetBlue starts services from New York JFK and London Heathrow on August 11 and planned to add London Gatwick from September 29. The launch seemed to be derailed by the reluctance of the US and UK governments to reopen the transatlantic, but this changed on July 28 when the UK said it would allow entry to fully vaccinated US citizens.  JetBlue immediately noticed a doubling in bookings, but as a precautionary measure still has taken twelve flights out of the September schedule.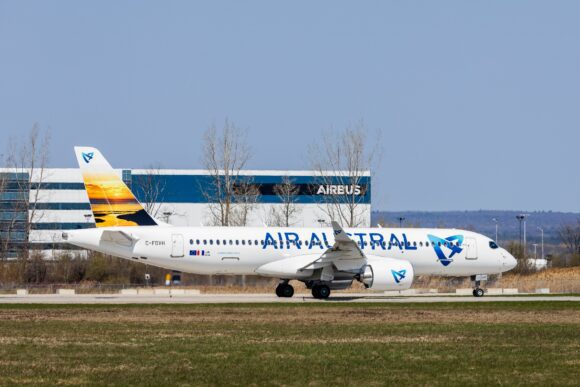 27 – Not Air France but Air Austral has become the first French airline to take delivery of the Airbus A220. The airline, which is based on the island of La Reunion in the Indian Ocean, has received the first of three A220s on July 27. The other two will be delivered over the coming days. The aircraft have been configured with 120 Economy and 12 Business Class seats and operated on routes within the region of La Reunion. Air Austral is a new Airbus customer as it operates ATRs and Boeings (737, 767, 777, 787). It was supposed to become an A380 operator when it ordered two in 2009 and planned to use them with a maximum seat capacity of 840 seats. The airline revised its plan in 2013 and Airbus eventually deleted the order from its book in 2016. It leased the HiFly A380s for e brief spell in 2018.
27 – Delta Airlines' CEO Ed Bastian said that his airline will hire 5.000 extra staff, including 3.000 at Airport Customer Services. They will support airport operations to prevent any issues that have hampered the airline in the past weeks. "The unexpected pace of the return of our customers has resulted in some unforeseen challenges as we ramp up to meet demand and handle a record-breaking level of calls. As you take a much-deserved vacation or travel to reunite with loved ones, friends, and business colleagues, the last thing you want is to experience long hold times when you call reservations or receive a notification that your flight schedule has changed." The reservation team is training 1.300 staff that will be available from September. Other US airlines have also suffered from staff shortages, including American.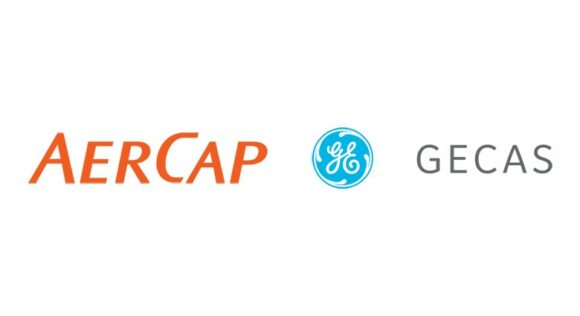 27 – The European Commission has approved the take over by AerCap of rival lessor GECAS. The latter will retain a 46 percent share in the combined company, which will become by far the biggest aircraft lessor in the world with a combined fleet of some 2.600 aircraft. The EC has investigated the effects of the merger on the markets for aircraft and engine leasing and says that "following the transaction, the companies combined market shares will remain modest, and that a sufficient number of competitors will stay on the markets. The transaction is therefore unlikely to give rise to serious competition concerns in the markets for aircraft and aircraft engine leasing."
The Commission also examined the potential of General Electric as an engine manufacturer on the business and concluded "that it is unlikely that GE would use its minority shareholding in AerCap to affect competition for aircraft engines, aircraft leasing or engine leasing. The Commission, therefore, concluded that the transaction would raise no competition concerns given its limited impact on the markets concerned."
27 – The order intake of GE Aviation increased by 47 percent in Q2, to $5.492 billion from $3.739 billion. Commercial Engines booked 555 orders, of which 438 CFM LEAPs. Revenues grew by ten percent to $4.840 billion. GE turned around a second-quarter loss of $687 million into a $176 million profit.
For the first six months, orders were actually two percent down to $10.984 billion. Commercial Engines booked 873 orders including 579 LEAPS. Revenues were down by -13 percent to $9.832 billion. Nevertheless, GE Aviation recorded an $818 million HY1 profit compared to $316 million in the same period last year. Commercial Services was up by fifty percent thanks to higher shipments of spare parts and higher shop visit volumes.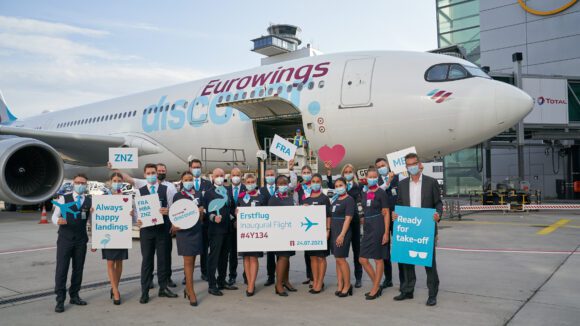 25 – New Lufthansa subsidiary Eurowings Discover operated its first services on July 24/25. The maiden flight took off from Frankfurt to Mombassa for an onward trip to Zanzibar and then back home. The airline's CEO, Wolfgang Raebiger, was in the Captain's seat. As reported on June 21, Discover is dedicated to leisure. The airline will add five long-haul destinations to its summer network and plans to grow this to sixteen over the coming winter, including new short to medium-haul destinations. From next summer. Discover will also operate from Munich.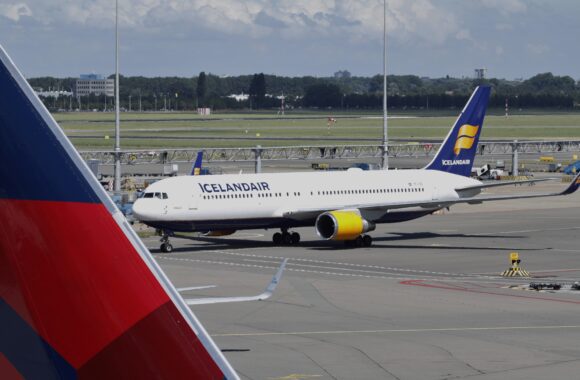 23 – Icelandair reported a $54.9 million Q2 loss, compared to -90.8 million last year. Results were impacted by the costs of ramping up the network as well as investments for the second half of this year. Operating revenues were $77.5 million compared to $60.8 million last year. Cash flow returned positive again during the quarter. The carrier increased capacity by on average fifteen percent or 23 percent in June.
During the first six months, Icelandair reported an $85 million loss versus -331.5 million in 2020. At $134.8 million, total revenues were only half of 2020 levels of $269,8 million. The airline has seen strong bookings in the last weeks for this summer and fall. By the end of June, Icelandair had $362 million in liquidity. During Q4, the carrier will take delivery of one Boeing MAX 8 and onde 9, while another 8 will follow in Q1 2022.
22 – Embraer's Urban Air Mobility platform EVE Urban Air Mobility Solutions has teamed up with Brazil's Flapper Tecnologia to develop the UAM market in Latin America. EVE plans to offer Flapper some 25.000 flight hours per year on its eVTOL aircraft in key Latin American cities like Sao Paolo, Rio de Janeiro, Belo Horizonte, Santiago de Chile, Bogota, and Mexico City. EVE already had signed partnerships with Helisul Aviation to develop the UAM market in Brazil and with Ascent in Singapore for the Asia-Pacific market.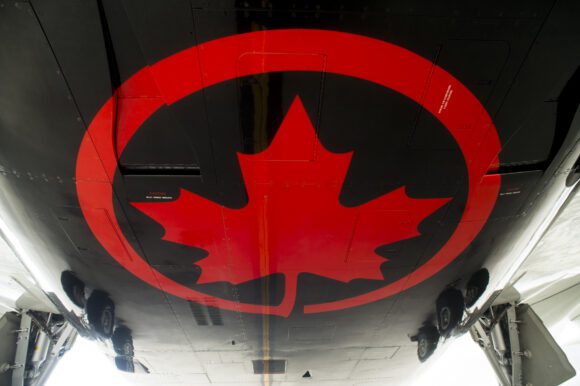 20 – From August 9, Air Canada will offer 220 daily flights again between Canada and the US on 55 routes to 34 destinations. The ramp-up follows the government's decision to open up cross-border traffic to fully-vaccinated Americans for non-essential travel without hotel quarantines. Canadians are allowed short transborder trips for less than 72 hours to do their pre-entry tests in Canada, among other measures to ease restrictions. Other international travelers will be allowed to enter Canada again from September 7.
Air Canada is 'thrilled' by the relaxation and the return of US travelers. For over a year, the airline has been calling for a scientific-based approach to travel restrictions, but consistently this fell on deaf ears in Ottawa. The carrier will operate wide-body aircraft on its transborder services.
19 – The European Commission has re-approved the €3.4 billion state aid package to Royal Dutch Airlines KLM. The Commission says that the package, which includes a direct loan and loan guarantees, is completely in line with EU state aid rules. In May, the European Union's General Court ruled differently in a case brought forward by Ryanair. The Court said that the aid package lacked context, in particular, the position of KLM within Air France-KLM and the potential benefits the Dutch airline would get from cross-funding within the airline group. At the same time, the Court suspended the annulment of its ruling for two months pending a new decision by the EC. The Commission said on July 19 that it has thoroughly assessed the French and Dutch aid measures. "On this basis, the Commission concluded that the measure is necessary, appropriate, and proportionate to remedy a serious disturbance in the economy of a Member State." The EC, therefore, confirms its previous assessment.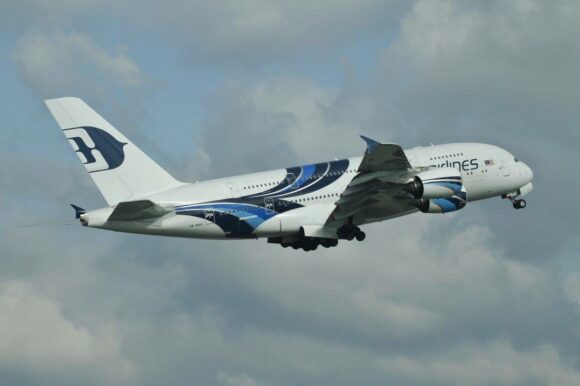 16 – Malaysia Airlines has issued an open tender for the sale of its six Airbus A380s, including components. The carrier has invited interested parties to submit requests until August 12. MAB Pesawat (previously MAS) took delivery of the six aircraft between May 2012 and March 2013 and operated them to Europe (London, Paris, Frankfurt), Japan, and Australia. Following the mysterious disappearance of flight MH370 and later the downing of MH17 in 2014, the airline was on the verge of collapse. It retired the A380s from European services and entered them on dedicated pilgrim flights to Saudi Arabia, but these were discontinued in 2020 following the pandemic. Most of its A380s have been sitting idle at Kuala Lumpur Airport. With many second-hand A380s on offer from Air France, Lufthansa, Singapore Airlines, and Thai Airways, Malaysia will struggle to find new owners for the doubledeckers.
15 – Cathay Pacific's passenger numbers have increased by fifty percent in June but still remain extremely low, at just 40.651. The carrier remains to be affected by travel restrictions and quarantine measures in Hong Kong. Capacity in Available Seat Kilometers is 92.2 percent down on 2019 levels. Cargo was up 17.4 percent to 109.4 tons but is also behind 2019 by a third. Yet, the airline says that June has seen some signs of improvement. June 25 was the busiest day for a long time, with 2.011 passengers. It resumed international services to Guangzhou, Seoul, Brisbane, Frankfurt, Amsterdam, Vancouver, and San Francisco. More flights are planned for the current third quarter and should result in a return of thirty percent capacity by the end of 2021.
Cathay will commence operations with its first Airbus A321neo on August 4 from Hong Kong to Shanghai. Two Boeing 777s will be converted into freighters by removing all seats, bringing the 'preighter'-fleet to six.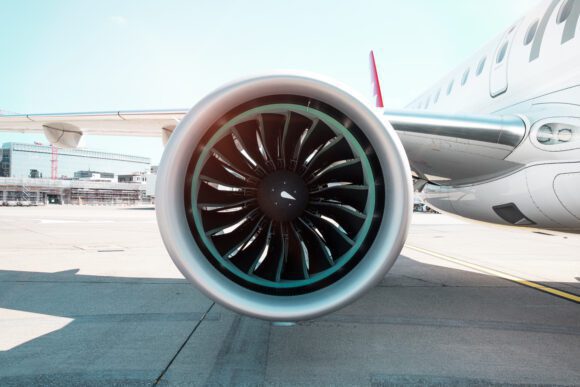 14 – We are just over halfway through 2021, but in the first six months Pratt & Whitney has already sold over 800 Geared Turbofans (GTF). The latest order is from lessor AerCap, which confirmed the GTF as the powerplant for 80 Airbus A320neo and A321neo-aircraft that will be delivered between this year and 2027. Frontier Airlines, Volaris, Air France, and Delta Airlines selected the GTF earlier this year too.
P&W has officially opened a new engineering & development facility in Carlsbad (California) on Tuesday, which is dedicated to the development and low-rate production of ceramic matrix composites (CMC) for aircraft engines. They will be developed for future engine programs or updates. CFM already uses CMC in its LEAP engines that are a direct rival to the GTF.
14 – GKN Aerospace is leading a two-year technical program in Sweden to develop key subsystems for medium-sized gas turbine engines and make them suitable for use of hydrogen. The direct use of liquid hydrogen in turbofans is possible but requires some modifications in the combustor chamber to optimize the combustion process. GKN has been studying hydrogen for engines that will power sub-regional aircraft under its H2GEAR program. It is now leading H2JET, which is a national Swedish program that is supported by the Swedish Energy Agency. Participants include Chalmers University, Lund University, KTH Royal University, University West, and Oxeon.
13 – JetBlue commenced the first of three route-proving flights with the Airbus A321LR between New York JFK and London Heathrow today. The first flight was operated by N4022J and departed JFK at 8.24 pm local time, arriving in London at 7.35 am local time. The flights are used to iron out any operational issues and familiarize the crew with the new aircraft.
The first 'real' service is scheduled for August 11, followed by JFK-London Gatwick on September 29. Services from Boston are scheduled for summer 2022.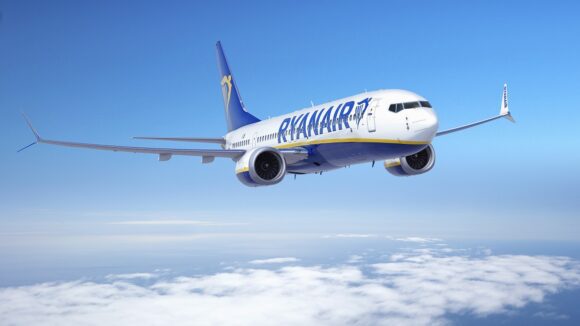 12 – With 210 Boeing MAX 8200s up for delivery until 2024, Ryanair has launched a recruitment campaign for over 2.000 new pilots. As First Officers currently flying on the 737-800 are offered internal promotion to become Captains on the MAX, the airline is mainly looking for new First Officers and cadet pilots. Training at Airline Flight Academy in Dublin will take place this year, so the new crew will be ready for the 2022 summer season which starts in April. Pilots can be based all over Europe with Ryanair and its subsidiaries Air Malta and Buzz (Poland), which will also get the "Gamechanger". The Irish low-cost says it offers "great pay", although it has been criticized in the past for hiring pilots on 0-hour contracts.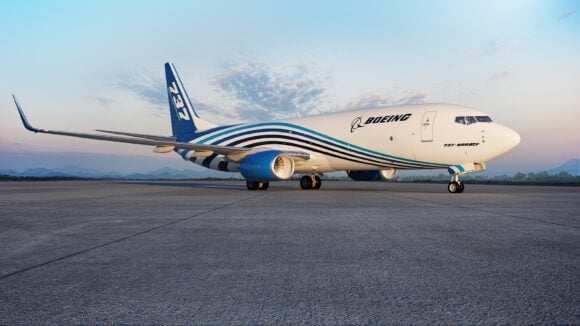 12 – San Francisco-based lessor BBAM has ordered twelve additional Boeing 737-800 Boeing Converted Freighters (BCF). This follows on a previous order in January for six firm and six options and brings the total BCF-fleet to 31. The former passenger aircraft will be converted at COOPESA in Costa Rica, which will open to BCF conversion lines next year.
The BBAM order confirms the trend outlined in our story on July 12, in which IBA consultancy sees a surge in demand for the 737-800BCF. Right now, it is the most popular aircraft offered for conversion. 
12 – Lufthansa will lease four Airbus A350-900s that are returned to the lessors by Philippine Airlines. PAL recently said that it plans to reduce its fleet as part of a restructuring plan. This would include the return of two A350s but actually involves four aircraft. The first aircraft, registered RP-C3504 and owned by Avolon, arrived in Munich on July 10. PAL had five A350s that were leased from Avolon (1), SMBC (2), and Goshawk Aviation (2).
Lufthansa currently operates a fleet of seventeen (owned) A350s. It has another 28 on order with Airbus, including two that were ordered in May. Back then, the carrier announced an order for five but the net order was reduced to two.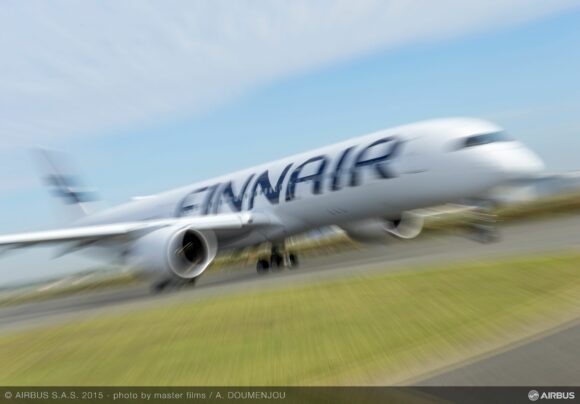 9 – Finnair has done a nice coup by announcing it will base three Airbus A350s in Stockholm this coming winter season, so right at the home of SAS. From October 22, Finnair will launch five services a week between Stockholm Arlanda and Bangkok, increasing the frequency to daily from November 28 until April 22. Stockholm-Phuket will launch on October 24, with additional frequencies added in November. Twice weekly Stockholm-Miami services will be offered from October 23, becoming four from late November. These services are additional to those from Finnair's home base in Helsinki to the same three destinations. The aircraft are operated by Finnair pilots and Airpro cabin crew.

SAS has concentrated most of its international routes at Copenhagen (Denmark) but lists six major US cities out of Stockholm in its schedule, including New York, Washington, Miami, and Los Angeles, as well as Tokyo, and Shanghai. The Swedish/Danish airline announced today that it will resume Stockholm-New York on September 2 and Copenhagen/Stockholm-Miami on October 1. It will also increase frequencies from Copenhagen to LA, Washington, and San Francisco.
The first Airbus A321LR will enter service in September on the Copenhagen-Boston route.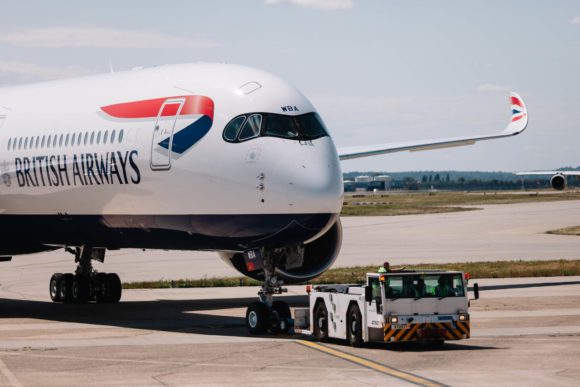 9 – UK airlines have announced significant increases in capacity from July 19, when travel restrictions for fully-vaccinated British citizens will be relaxed. No longer they have to go into quarantine when they return home. British Airways noted an increase of 96 percent of the number of views on its website for flights to popular EU destinations like Palma and Ibiza, but also to Barbados and New York. The airline says it flies 43 destinations that are on the green or amber lists. It also is offering tickets at reduced fares for those who would like to spend their holidays within the UK.
easyjet will add 145.000 extra seats as it has seen an increase of 440 percent in bookings to amber states compared to last week. Spain, Portugal, and Greece are at the top of the list. The airline says it offers five million seats to 85 countries on the amber and green list.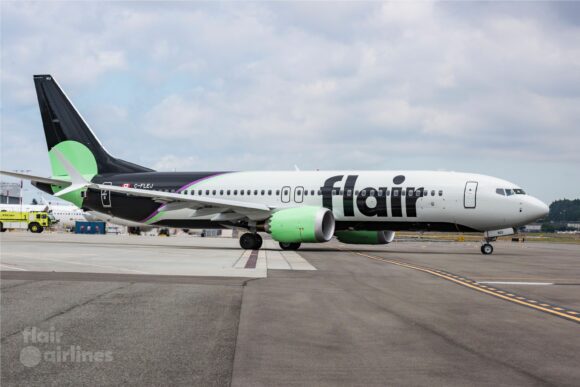 8 – Canadian ultra-low-cost airline Flair is crossing borders to the US, by announcing it will start services from eight Canadian cities to six US destinations from October 31 until March 26. They are Fort Lauderdale, Orlando-Sanford, Phoenix-Mesa, Holywood-Burbank, Palm Springs, and Las Vegas. These destinations will be served from Halifax, Montreal, Kitchener-Waterloo, Toronto, Vancouver, Calgary, Ottawa, and Abbotsford.
Flair says it wants to open up the Canada-US market to the lowest fares as Canadians have been over-paying for years. The carrier is on an ambitious growth strategy and plans to grow its fleet from sixteen in mid-2022 to fifty aircraft in five years. It took delivery of the first Boeing MAX 8 in June with twelve to follow.
8 – Lufthansa has raised €1.0 billion in additional liquidity after successfully issuing a bond. The bond has been placed in two tranches of €500 million, the first maturing in 2024 and the second in 2029. With the placement, Lufthansa Group has now refinanced all its financial liabilities for this year as well as repaid a €1.0 billion loan to KfW ahead of schedule. The loan was part of the €9.0 billion stabilization package that Lufthansa received in 2020. At the end of Q1, €2.5 billion has been used.
Lufthansa says it will continue plans for an additional capital increase, so it can repay the remainder of the aid from the Economic Stabilization Fund. When the capital increase is scheduled, hasn't been decided yet.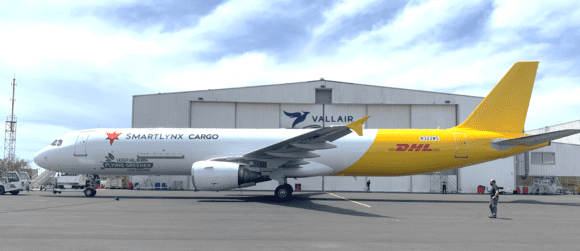 8 – Lufthansa also confirmed that it will have two Airbus A321ceo's converted into full freighters. From early 2022, they will be operated by Lufthansa CityLine on behalf of Lufthansa Cargo. They will be the first P2F narrow-bodies in the cargo fleet and also the first A321s for CityLine, which mostly operates regional aircraft like the Embraer E190, Mitsubishi CRJ 900, and the Airbus A319. The cargo capacity of the A321P2F is 28 tons per aircraft.
SmartLynx Malta will become the first European operator of this type. The aircraft (picture) has been leased by Vallair, which has two more A321Fs in its portfolio. 
8 – More lessors have reported aircraft transactions for the second quarter. AerCap says it has sold twelve aircraft during the quarter, including five Boeing 737NGs, three 757s, and three 767s. It purchased ten aircraft, including ten Airbus A320neo-family, four Boeing MAX, and one Embraer E2. AerCap signed lease agreements for 51 aircraft, of which 39 narrow-bodies and thirteen wide-bodies.
Avolon reported 48 lease transactions in Q2, including new contracts, follow-on contracts, and lease extensions. It sold three aircraft and signed Letters of Intent to sell another twelve. Avolon is happy to report that its credit rating by Moody's and Fitch has been upgraded to 'stable.'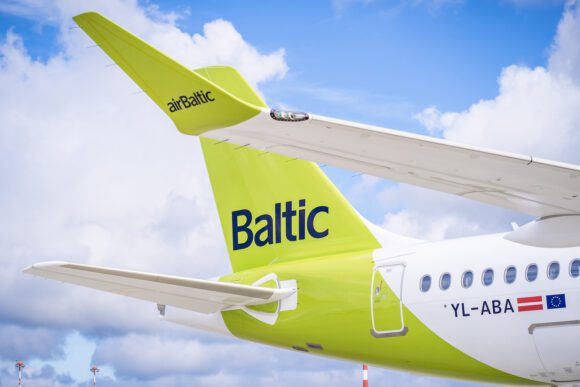 8 – Nordic airlines in Europe have reported significantly higher traffic numbers for June. AirBaltic carried 114.700 passengers during the month, seventy percent more than in June 2020 but still 79 percent down on June 2019. It operated 1.780 flights, some 700 more than a year ago. The airline has announced the reopening of routes or opening of new ones to destinations in the UK, Norway, Greece, Italy, and Spain.
Finnair carried 127.900 passengers in June, 131.5 percent higher than a year earlier and 54.5 percent up compared to May. Most of its 78 daily flights were within Europe, with North America and Asia still affected by travel restrictions.
SAS carried fifty percent more passengers in June or 609.000 compared to May, or 85.6 percent more than in June 2020. As the carrier resumed intercontinental services, the biggest increase (+848.7 percent) was seen here. SAS responded to the uptick in demand by adding thirty percent capacity.
Norwegian carried 113 percent more passengers in June or 225.000. Capacity was even 182 percent higher, which is no surprise as the airline has been inactive for almost a year except for some domestic flying.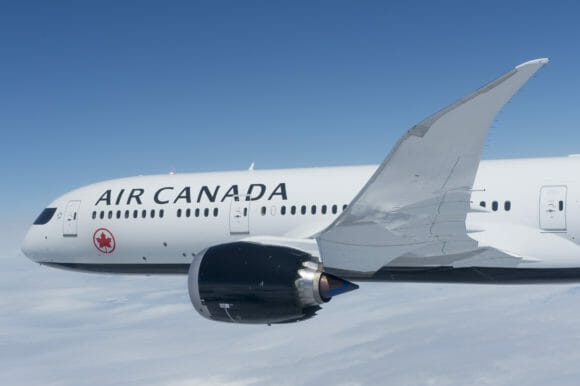 7 – Canada's domestic and international aviation services are getting back to 'normal' again. Air Canada has announced that it will resume services on seventeen routes to eleven destinations in Europe and the Middle East. Toronto-Vienna and Montreal-Geneva will recommence this month on July 21/22, but London, Paris, Dublin, Zurich, and Tel Aviv will restart from August. These destinations will be served from Toronto and Montreal. New from August 1 will be Calgary-Frankfurt.
The services are additional to those that have already been resumed to places like Dubai, Rome, and Athens.
Regional airline Porter Airlines has announced it will recommence services on September 8, eighteen months after suspending flights. Porter will serve destinations like Toronto City Airport, Halifax, Montreal, Ottawa, Moncton, and Quebec City. From September 17, flights to Boston, Chicago, New York, and Washington will follow.
6 – Lessor Dubai Aerospace Enterprise (DAE) has sold nine narrow-body and wide-body aircraft for approximately $500 million. The sale has been done by its leasing division DAE Capital and will be completed this year. DAE hasn't specified the aircraft types. In its HY1-results announced on July 1, the lessor reported that it had acquired sixteen aircraft and sold the same number, of which ten owned and six managed. By late March, DAE had a fleet of 303 owned and 67 managed aircraft, plus seven committed purchases.  

5 – The European Commission has launched an in-depth investigation into the state-aid proposal of the Rumanian government to its airline TAROM. The loss-making carrier has planned an extensive restructuring that includes the streamlining of operations, cost reductions, and the renewal of the aging fleet. The fleet of 46 aircraft includes the Airbus A318, and Boeing 737-700, and the -800, which is the newest type in service. The government intends to support TAROM with €190 million in the form of a capital injection, subsidy, and a debt write-off of €36.7 million. This corresponds with the same amount that TAROM received in February as a temporary aid, which back then was approved by Brussels.
The commission has doubts that the restructuring plan satisfies the conditions of its guidelines on state support.
2 – In another decision on July 2, the European Commission approved the state support package of €39.7 million to Alitalia. The aid had been granted by the Italian government to compensate the carrier for damages it sustained between March 1 and April 30, 2021. The support is in the form of a direct grant. It is the fifth time Brussels approves temporary aid to Alitalia. In September, the airline received €199.5 million, in December €73 million, in March €26.7 million, and in May €12.8 million. EC guidelines state that exceptional interventions by member states linked to the effects of the Covid-crisis are justified. Ryanair has been most vocal in its disapproval of state aid. It recently won three cases at the European General Court in Luxemburg over aid to KLM, TAP, and Condor.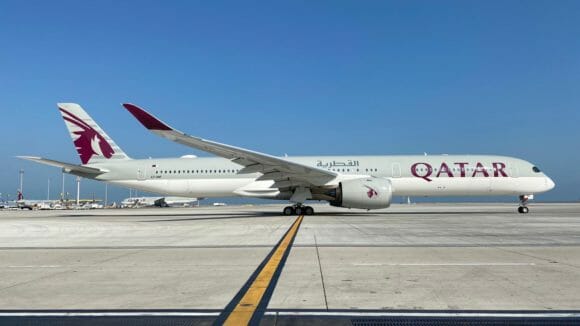 2 – Qatar Airways says it will be the first airline to trail Covid-19 vaccine authentication with IATA's Travel Pass.  Passenger's vaccine credentials will be verified using the pass, which has been tested by some seventy airlines in the past few months. Qatar will start the trial later in July with its cabin crew when they return to Doha from a number of destinations on its network. Their vaccination certificate on the mobile app will be checked and once cleared, they can proceed through customs. According to IATA Director-General Willie Walsh, the Travel Pass has demonstrated that it can efficiently manage Covid test results.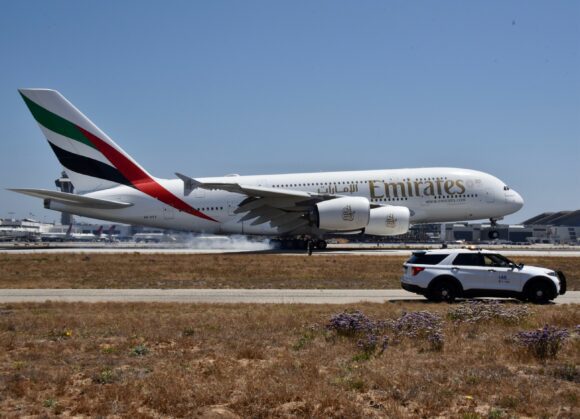 2 – Emirates is operating the highest number of its Airbus A380-fleet since March 23 last year. The airline has resumed A380-services on July 1 to Munich, Zurich, Los Angeles, and Madrid, followed by Toronto on July 2. For the time being, these are temporary services. The Dubai-based carrier already operates the doubledecker to London Heathrow (despite travel restrictions), Paris, Vienna, Frankfurt, New York, Moscow, Amman, Cairo, Jeddah, Bangkok, and Guangzhou. Also back on the schedule is Bahrain, the shortest A380-flight of just 50 minutes. Last week, the carrier operated an A380 to Sydney again for the first time since March 2020. Last month, Emirates said it would operate some thirty A380s during the summer to fifteen destinations and is at 29 now. The picture shows the arrival of an A380 in Los Angeles on July 1 (@flyLAXairport).
2 – The FAA has awarded over $845 million in grants to 388 airports in 49 states for new projects that will mitigate environmental impacts, increase accessibility, and expand capacity. The funding is part of the fourth round of this FY21 Airport Improvement Program, which includes $3.2 billion for 2021. The program includes runway and taxiway modifications, new aprons, and even a new airport to replace outdated facilities, like at Pella (Iowa). Baltimore Washington International will benefit from funding for noise-mitigating measures at 276 residences. The FAA intends to award more than 1.500 grants this year.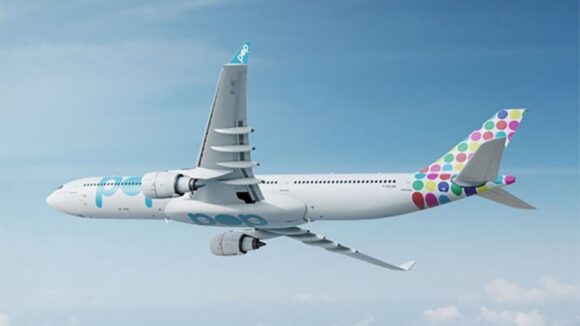 1 – UK start-up flyPOP has confirmed that London Stansted will become its first base in the UK. The long-haul low-cost airline still plans to launch services in October to a number of secondary cities in India but is still in negotiations with the Indian authorities. It expects to confirm its first destinations shortly. CEO Nino Singh Judge has said earlier that it plans to serve cities like Amritsar, Ahmedabad, Calcutta, Pune, Goa, or Cochin. flyPOP will operate Airbus A330s.
1 –  Etihad and El Al have launched their codeshare agreement today, offering sales for the first codeshared flights that will operate from July 18. The Israeli carrier will add its LY-code to Etihad's existing twice-weekly service between Abu Dhabi and Tel Aviv. From August 1, this will be extended to other destinations on Etihad's network in the Middle East, Asia, the Far East, and the Pacific. At a later stage, Etihad will add its EY-code to El Al flights to fourteen destinations in the Middle East, Europe, Asia, and The US. The two airlines signed an MoU on codesharing after the UAE and Israel established formal relations in 2020. Etihad operated its first service to Tel Aviv on April 6 (picture).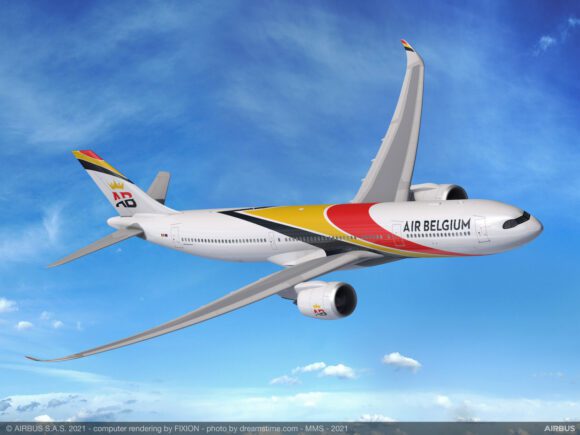 1 – Belgian airline Air Belgium has confirmed that it will lease two Airbus A330-900s. The first aircraft has already been painted in the airline's livery and will enter service on October 15 on the route to Mauritius. The second will arrive in November. The A330neo's with 286 seats are leased from Air Lease Corporation (ALC) and will replace two A340-300s.
CEO Niki Terzakis is "very proud" that the two brand new aircraft will join the fleet. It is a win-win situation for all involved: Air Belgium will renew its fleet with more efficient and economical aircraft, whereas Airbus and ALC will finally see an operator of the two aircraft. Line Numbers 1844 and 1861 were originally destined for Air Berlin, but the airline went bust in late 2017. Rwandair was set to take them over, but this plan has also collapsed.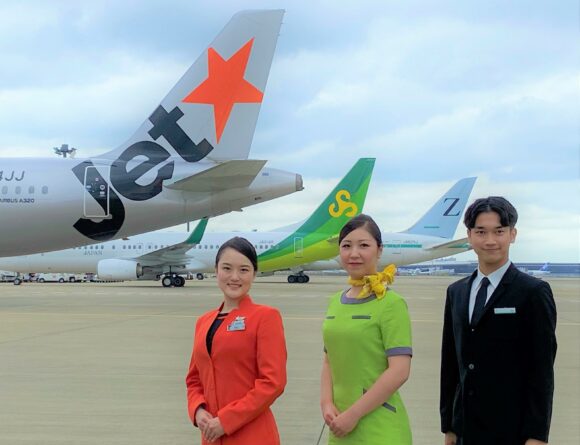 1 – Japan Airlines has announced that it will make further investments in its low-cost subsidiaries Jetstar Japan, and its latest purchase Spring Japan. Together with ZIPAIR, the three airlines plan to strengthen their low-cost network out of Tokyo Narita.
Spring Japan was a subsidiary of the Chinese parent airline. It has seen strong growth on the China-Japan network. JAL plans to expand the network between Narita and destinations that currently aren't served. The extra investment in Jetstar Japan should help it to recover from the Covid-crisis. The airline will continue to work closely with Qantas, the owner of Jetstar Australia.
On July 21, ZIPAIR will return to Honolulu and is preparing for the expansion of its medium and long-haul network to the US West Coast and Asia.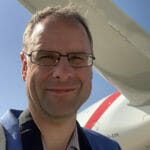 Active as a journalist since 1987, with a background in newspapers, magazines, and a regional news station, Richard has been covering commercial aviation on a freelance basis since late 2016.
Richard is contributing to AirInsight since December 2018. He also writes for Airliner World, Aviation News, Piloot & Vliegtuig, and Luchtvaartnieuws Magazine. Twitter: @rschuur_aero.