Ampaire set a record for the longest non-stop flight every made by a hybrid-electric aircraft on its way to EAA Air Venture 2022. The flight to Oshkkosh included an 1,135 nautical mile segment from Mojave, California to Hays, Kansas, followed by a 660 mile flight the next day to Oshkosh, Wisconsin.

The hybrid-electric EEL demonstrator aircraft is a modified Cessna 337 Skymaster, in which one of the piston engines has been replaced by an independent electric drivetrain. The parallel hybrid EEL demonstrated fuel savings of up to 40% versus a standard Skymaster.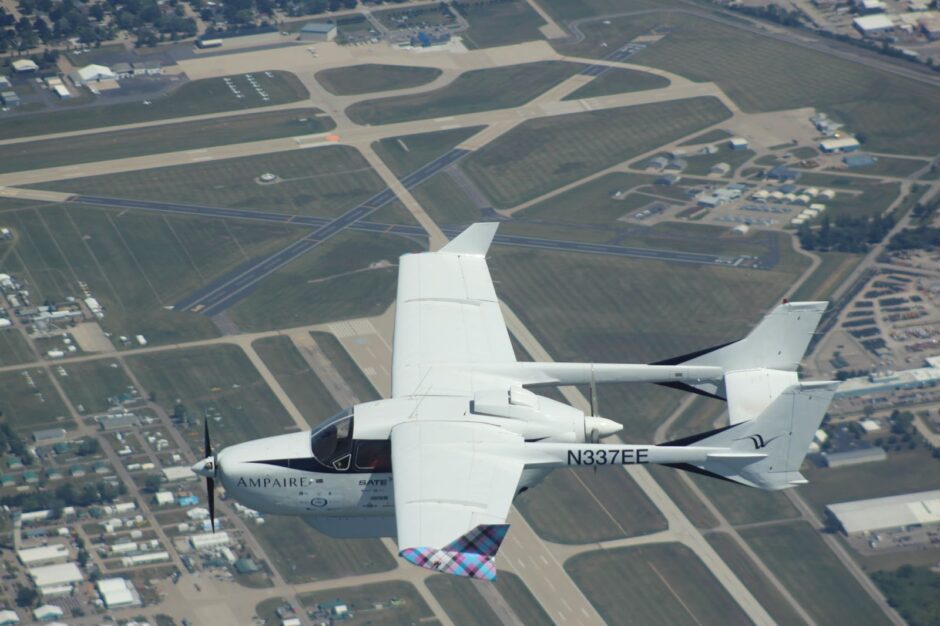 Dr. Susan Ying, Ampaire's SVP of Global Partnerships, stated "By the time the EEL returns to California it will have flown more miles than any hybrid-electric aircraft, over 15,000, including airline demonstration flights in Hawaii and the UK. It is flying with great reliability and demonstrating the workhorse nature of hybrid-electric aircraft."

"We are taking the technology ad expertise developed with the electrical EEL and applying it to our first commercial product, the hybrid-electric nine-seat Eco Caravan regional aircraft, which will make its first flight later this year. That aircraft will demonstrate fuel savings up to 70 percent and emissions reductions up to 100 percent when using sustainable aviation fuel."

The latest flight is one of a series of industry firsts since Ampair set a record with the maiden flight of the Electric EEL technology testbed aircraft in 2019. The demonstrator aircraft has flown from Los Angeles to San Francisco and the length of the UK. In April, Ampaire began ground power runs of the Eco Caravan hybrid-electric upgrade of the Cessna Grand Caravan. That aircraft is slated for certification and EIS in 2024.