Oil prices seem to be steadily creeping up again after a nice dropoff late last year.  This chart from Macrotrends makes the case; 2019 has seen a sharp uptick.  Oil prices are about double what they were about 30 months ago.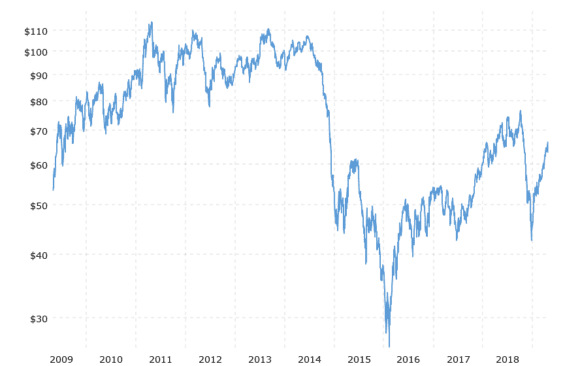 What does this mean for the airline industry?  Not good news for sure.  This chart shows how the US airline industry had a great break from high fuel prices.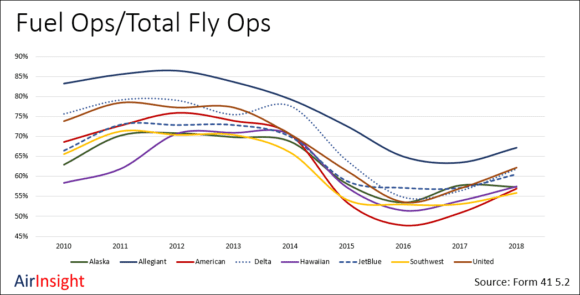 But the happy days are going away.   The chart shows how much fuel costs are as a percent of overall flying operations.  The 2018 data is through September.  This means the chart for 2019 (when that data is available) will show a nasty rise.  Nasty because the curves are likely to be sharply higher.
At the 3Q18 mark, Southwest had the lowest ratio at 55.9% and that was up over 5% in 2017.   Rising fuel costs mean that airlines are going to be chasing fuel efficiencies again.  That means a focus on the latest aircraft with the new engines with the lower fuel burn.  But delivery delays are impacting Airbus neos and the MAX is parked.  These single-aisle aircraft are the workhorses. Which means older planes are going to keep flying and maintenance has to wait.
Meanwhile, US airlines are getting fewer dollars for their tickets.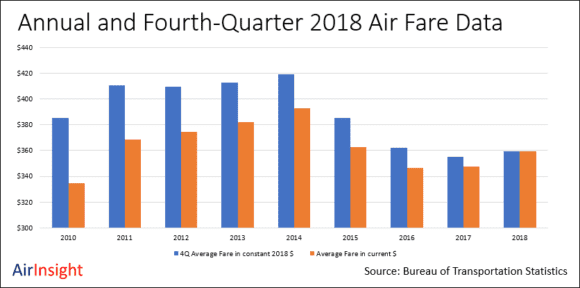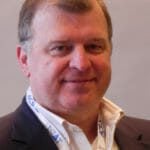 Co-Founder AirInsight. My previous life includes stints at Shell South Africa, CIC Research, and PA Consulting. Got bitten by the aviation bug and ended up an Avgeek. Then the data bug got me, making me a curious Avgeek seeking data-driven logic. Also, I appreciate conversations with smart people from whom I learn so much. Summary: I am very fortunate to work with and converse with great people.