In 2014, Boeing signed an agreement with South Africa's Paramount Group.  The focus of the agreement was on military related projects. At the time there were various Paramount items that attracted attention, but it seemed Boeing was looking at the AHRLAC (Advanced High-Performance Reconnaissance Light Aircraft) with special interest.
It now emerges that Boeing and Paramount will indeed collaborate on this aircraft.  Boeing will provide advanced intelligence, surveillance and reconnaissance capabilities and weapons systems for Paramount's Mwari (the renamed AHRLAC pictured) the companies announced.
"The multi-role aircraft will become a significant player in the global aerospace industry," said Ivor Ichikowitz, the executive chairman of Paramount Group. "We believe in the commercial success of the aircraft and its impact on the future of the African aerospace industry by boosting advanced technologies, job creation and skills development."
The Paramount Group, a privately owned defense and aerospace firm, first flew the this aircraft publicly in 2015. It is billed as Africa's first indigenous military aircraft.  Paramount also produces armored fighting vehicles, such as the Marauder. Its aerospace capabilities range from updated Mirage F1 fighters to modified MIL-17 and  Mil-24s.  It also operates the "Top Gun Pilot Training Academy", the only privately-owned school of its kind in Africa.
The long term implications for this collaboration are very interesting.  Airbus has a strong relationship with South Africa's Denel Aerostructures, which produces parts for the A400M.  Airbus and Boeing appear to be cleverly finding any firm that could play a role in their supply chains.  The reach has now come to South Africa, where its two most capable firms are now tied into the global aerospace combines.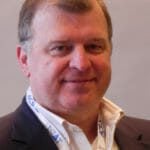 Co-Founder AirInsight. My previous life includes stints at Shell South Africa, CIC Research, and PA Consulting. Got bitten by the aviation bug and ended up an Avgeek. Then the data bug got me, making me a curious Avgeek seeking data-driven logic. Also, I appreciate conversations with smart people from whom I learn so much. Summary: I am very fortunate to work with and converse with great people.