Business Aviation: Europe busier than August last year, US trailing well behind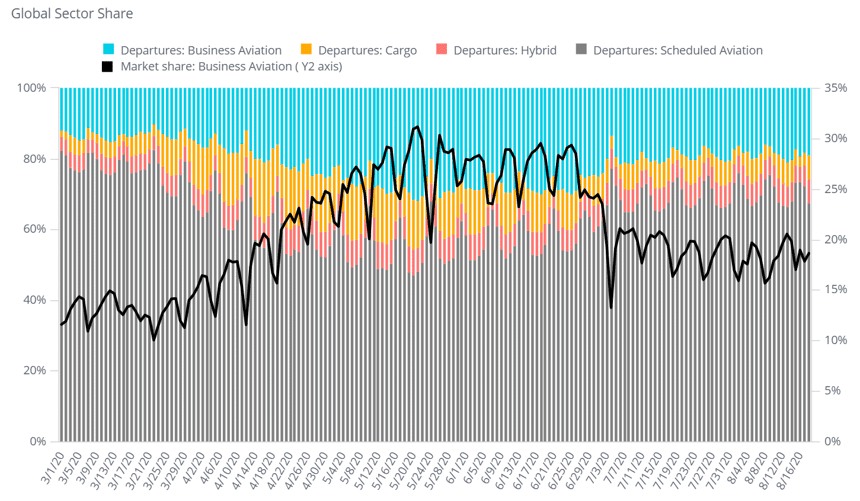 Hamburg, Germany based WINGX issued this press release today:
"Global business aviation activity hit a new post-March high in the last few days, averaging 11,500 sectors a day. In the last 6 months, the sector has lost 844K sectors compared to the same period of 2019, a 37% drop in operations. Comparably, scheduled airlines have flown 9.5M fewer flights, reflecting a drop of 65%. After an initial uptick in the Spring, Cargo operators are down about 10% over the period. As a proportion of global fixed-wing activity, business aviation typically has 12% of the traffic, which rose to 31% in May and is now around 17%, reflecting its ongoing resilience. Comparing the first halves of August in 2020 and 2019, worldwide bizav activity is currently trailing by 16%.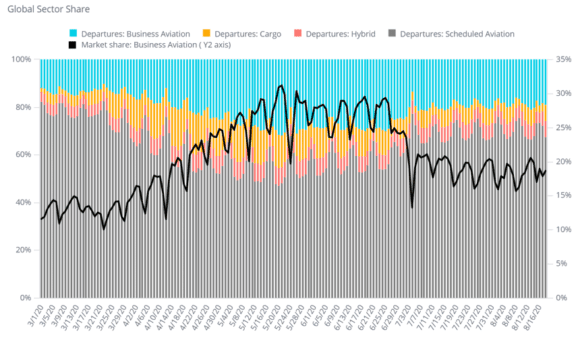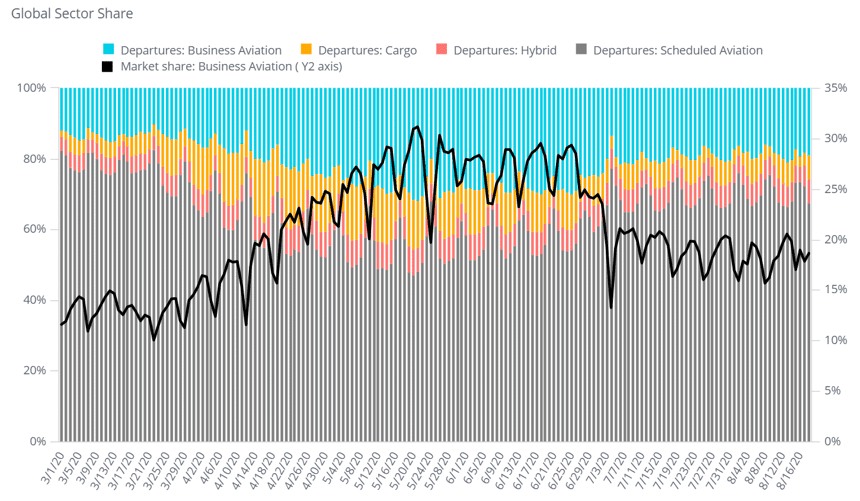 The bounce in business aviation demand in August is down to the European market, with month-to-date sectors surging 2% ahead of the same period last year. Central and Eastern Europe, less affected by renewed travel restrictions, has seen a release of significant pent-up demand. Business jet and turboprop flights from Germany are up by 17% this month, Switzerland up by 21%, Czech Republic, Poland, Ukraine, all with flights up by at least 25%. Croatia is clearly getting a lot of holiday traffic, with arrivals up by almost 50%. A large share comes from Germany, which also has a spike in visitors holidaying to Switzerland, Austria, Belgium, Netherlands.
Virus concerns and renewed restrictions appear to have closed off the summer season in Spain, bizav activity down 8% so far in August, and 20% down from the peak of its recovery in mid-July. Barcelona, 22% behind for the month, managed to get to 90% of normal during the Grand Prix last weekend. And Mallorca seems to have weathered the restrictions, bizav arrivals still up 10% this month compared to last year. Of the other leading markets in Europe, the UK continues to lag but only by 3%, with its recent quarantine on arrivals from France seeing a pre-deadline rush. UK-France connections since then have predictably fallen acutely. For UK travelers, Greece appears to be the current beneficiary of the rolling European quarantines, with UK outbound arrivals up by 80% so far this month.
The US is now well behind the European recovery curve, with a 19% deficit in flights so far in August comparing to a 21% decline in July. That reflects the stagnation in the key US States like California, where flights are still down by 17%, and New York which has been stuck at a third below normal all summer. Texas is starting to pick up, back to 87% of normal activity this month, but Florida is going backward; having been up in June and July, flights so far this month are down 2%. Demand has also slowed in previously buoyant Arizona. In contrast, the more remote US States like Colorado, Wyoming, Idaho, and Utah are getting lots more visitors than normal. As examples, business jet arrivals into Aspen are up 40%, Telluride arrivals up more than 90%, contrast Denver, arrivals still down by 37% this month.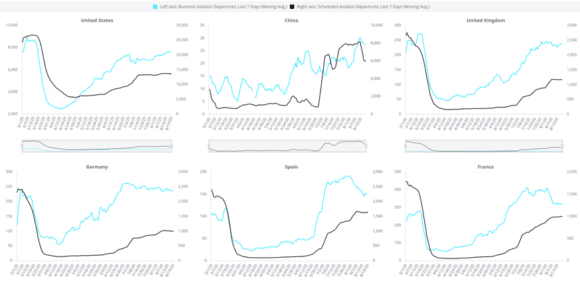 The busiest aircraft in the US is still the PC-12, operating at close to 90% of normal. The workhorse business jet is the Challenger 300, with flights down by 15% this month. A number of smaller business jets are relatively more in demand, with the Hawker Beechcraft 400, including the Nextant, only 3% off normal activity, same for the CJ3. The heavy jets are still much less active than mid and light but recovering, within 25% of normal activity this month. Behind this fleet activity, some operators have found some growth in the market whilst others are trailing heavily. Fractional operations are trailing almost 20% but Flexjet is bucking the trend with strong growth. Charter operators are struggling on the East Coast, but some nationwide operators, like XO Jet, are well above par this month.
Outside the US and Europe, business aviation in Asia is closing in on pre-pandemic levels of activity, with Australia just up, India just down, and business jet flights from and within China up by 16% compared to August last year. Other global growth spots include Brazil and Colombia, where the activity seems to be weathering the virus, Israel, which is now slightly ahead of last year, the UAE, with flights almost 50% ahead of normal, and in Africa, business aviation flight activity is up in South Africa and Nigeria. On the other side of the coin, business aviation demand in Mexico is flatlining at less than half normal activity, with similar low-points for the Bahamas, Singapore, Japan, Argentina.
Richard Koe comments: "The recovery in business aviation activity this summer has turned stop-start in the last month. If the US follows the same pandemic recovery as Europe, there should be a strong pent-up recovery in early Fall. Whereas the comeback to-date in America is still at the remote getaway stage, the year-on-year growth in European activity is setting new records for August. This good news should be taken cautiously because it looks like a concentration of delayed holiday and leisure trips; it's not sustainable and there is still very little sign of a recovery in the corporate customer."
About WINGX
WINGX is a data analytics and consulting company that provides actionable market intelligence to the global aviation industry. WINGX services include Market Insight Reports, Online Dashboards, Customised Research, Strategic Consulting, Market Forecasts, and Surveys. WINGX customers include aircraft operators, airframe, engine and avionics OEMs, airlines, maintenance providers, airports, fixed based operators, Satcom providers, fuel providers, legal advisors, leasing companies, banks, regulators, investors, and private jet users.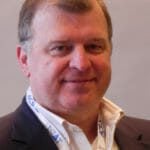 Co-Founder AirInsight. My previous life includes stints at Shell South Africa, CIC Research, and PA Consulting. Got bitten by the aviation bug and ended up an Avgeek. Then the data bug got me, making me a curious Avgeek seeking data-driven logic. Also, I appreciate conversations with smart people from whom I learn so much. Summary: I am very fortunate to work with and converse with great people.