AerCap is encouraged by the uptick in air travel in China in recent weeks but is less positive about how Airbus, Boeing, and Embraer continue to underperform on aircraft deliveries. CEO Aengus Kelly shared this twisted outlook for 2023 in today's 2022 earnings call.
"The growth in domestic flight activity in China since the zero-Covid polity was lifted has been significant, surpassing 12.000 flights per day recently compared to approximately 3.000 at the end of November. Having spent the last two weeks meeting all our customers in China, it is clear when speaking to the leaders of these airlines that they are also optimistic about the future," Kelly said. It brings the recovery of air travel to China, confirming the trend for high demand that AerCap is seeing elsewhere around the world.
At the same time, Kelly expects that the recovery of China will "further exacerbate the supply-demand imbalance between aircraft and engines, pushing lease rates higher. I believe this will be particularly acute on the widebody side as a culmination of severely restricted aircraft production, continued traffic growth, and the retirement and cargo conversion of many widebody aircraft that took place during Covid and puts a premium on aircraft that are available today."
2.540 fewer aircraft deliveries
Kelly has said before and stated again today that aircraft deliveries have fallen short well of projections due to supply chain and regulatory issues. Since 2019, there have been 1.800 fewer narrowbody aircraft deliveries than planned, which is eleven percent of the world's fleet. For widebodies, the number is 740 fewer aircraft of minus fifteen percent.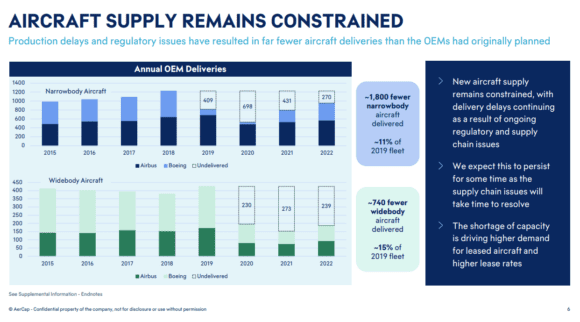 "Airbus long targeted five A330neo's per month in 2019 and delivered less than three per month in 2022. They were targeting ten A350s per month in 2019 and delivered only five per month in 2022. Boeing were targeting fourteen 787s per month in 2019 and delivered less than three a month in 2022, with more than eighty percent of these coming from storage." According to Kelly, the OEMs missed almost two years of full production.  
As the biggest lessor in the world, AerCap is well-positioned to address this opportunity, Kelly added. The lessor did almost 100 widebody transactions since the start of 2022, probably more than the rest of the leasing industry combined. Aercap expects this to continue based on sustained traffic growth and low production rates, which will continue for some years. This is giving upward pressure on lease rates and values for the foreseeable future.
Net loss thanks to Russia and Ukraine
AerCap ended 2022 with a $-726 net loss, the result of the $2.666 billion charge on 113 aircraft and eleven engines in Russia and Ukraine following the war in Ukraine. The Adjusted net income was $2.185 billion. Basic lease rents were $5.892 billion, up from $3.891 billion in 2021. The net gain on sales of 895 assets was $229 million. AerCap ended the year with $18 billion in liquidity, with total debt at $46.5 billion.
In the fourth quarter, the lessor produced a $495 million net profit and an Adjusted net income of $645 million. It gained $47 million in letters of credit proceeds on contracts in Russia. CFO Peter Juhas said that AerCap has received almost all proceeds that were disputed earlier by banks. Basic lease rents were $1.494 billion, maintenance receipts were $140 million. The net gain on the sale of assets was $121 million as it sold 83 assets for $1.0 billion.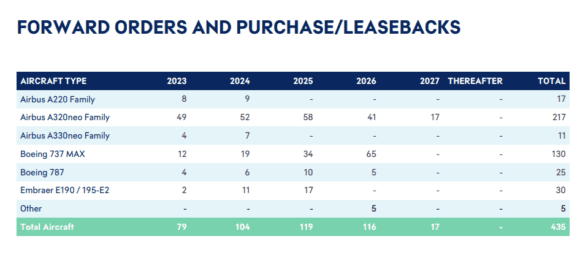 By the end of December, AerCap had 3.532 aircraft, engines, and helicopters as assets. This includes orders for 435 aircraft, of which 217 are Airbus A320neo-family, seventeen A220s, eleven A330-neo's, 130 Boeing MAX, 25 787s, thirty Embraer E-jets, and five 'other' aircraft. The first converted Boeing 777 freighters will be delivered this year, from which AerCap's revenues will benefit as more aircraft come in and are delivered. Fifteen conversions of Airbus A321P2Fs at Elbe Flugzeugwerke are also to start this year and run through 2025.
In its guidance for 2023, AerCap is projecting revenues of around $6.8 billion and a pre-tax income of around $1.3 billion, resulting in an Adjusted earning per share of $7.00 to $7.50 excluding gains on sales. Sales are expected to be around $2.5 billion and Capex $6.8 billion, but that depends on the aircraft deliveries and is a "best estimate." AerCap announced a $500 million share repurchase program today that runs through September 30.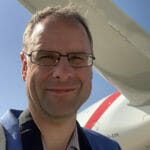 Active as a journalist since 1987, with a background in newspapers, magazines, and a regional news station, Richard has been covering commercial aviation on a freelance basis since late 2016.
Richard is contributing to AirInsight since December 2018. He also writes for Airliner World, Aviation News, Piloot & Vliegtuig, and Luchtvaartnieuws Magazine. Twitter: @rschuur_aero.