De Havilland Canada will resume completion of some Dash 8-400s currently in production after reaching an agreement with union Unifor. This follows a three-month strike since July when DHC's workforce and Unifor members walked out of the Downsview site over uncertainties of their jobs. De Havilland resumes completion of unfinished Dash 8s.
After Longview Capital took over the Dash 8-program from Bombardier in June 2019 and reintroduced it as De Havilland Canada, it has been known that the production facilities in Downsview (Toronto) would be closed. The contract for the site had been terminated in 2018.
When DHC announced earlier this year that it would suspend production of the 8-400 until the market situation would improve, this caused unrest among its workforce. Unifor took a strong position and advised its members to go on strike, affecting the completion work on an unspecified number of aircraft. DHC and Unifor have now buried the ax after ratifying collective agreement extensions on October 26. This means that work will resume. Despite the strike, DHC delivered some aircraft to customers in the past months.
While completing unfinished aircraft, at the same time DHC will begin the process of decommissioning the Downsview site. All manufacturing equipment and tooling will be placed in storage until a new site has been found where production can resume. Longview and DHC are unwilling to say when and where this will be, but AirInsight has learned that Calgary is a likely location. In reality, it could take at least another year until DHC resumes production.
In a media statement, De Havilland Canada repeats that it has every intention to relaunch the Dash 8 when the market recovers from the pandemic. "Our objective is to resume new aircraft production at a new site at the earliest possible time, subject to market demand. We believe that our upcoming pause in production is a responsible and prudent measure that reflects current industry conditions and will limit strain on the market and De Havilland Canada's supply base as the pandemic recovery occurs."
The statement continues to say: "Our leadership and sales teams are in active and ongoing discussions with customers and our commitment to the global community of Dash 8 operators is unchanged. We will be able to offer aircraft from our inventory and we will be proactively seeking new opportunities and investing in new product and service innovations to enhance the Dash 8 aircraft's relevance to existing and new operators. In effect, we are seeking to stimulate the demand for Dash 8 aircraft. This demand is the prerequisite to new aircraft production."
DHC recently promoted a new three-class cabin version for the 8-400, which should appeal to North American operators.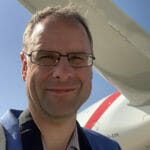 Active as a journalist since 1987, with a background in newspapers, magazines, and a regional news station, Richard has been covering commercial aviation on a freelance basis since late 2016.
Richard is contributing to AirInsight since December 2018. He also writes for Airliner World, Aviation News, Piloot & Vliegtuig, and Luchtvaartnieuws Magazine. Twitter: @rschuur_aero.