CORRECTED – Lower deliveries of commercial and military aircraft partly compensated by higher revenues from services plus one-off costs associated with Eve Air Mobility resulted in a net loss for Embraer. The Brazilian airframer reported a restated $-146.4 million net loss attributable to shareholders, compared to the previously disclosed net profit of $74.2 million and the $87.9 million net profit in the same quarter last year. For HY1 profit, Embraer reported a restated net loss of $-178.1 million compared to a $1.8 million profit in 2021. Embraer margins improve despite fewer deliveries.
Revenues of Commercial Aviation were 23 percent lower in Q2, to $299.9 million from $388.5 million last year, and from $469.1 million to $660.7 million in HY1 versus the same period in 2021. Embraer delivered eleven aircraft in the second quarter (eight E175s to SkyWest and three E195-E2 to Aircastle and ICBC) compared to fourteen last year. In HY1, seventeen E-jets were delivered (twelve E175s and five E195-E2s) versus 23 in 2021 (nine E175s, two E190-E2s, and twelve E195-E2). Embraer said in its Q1 earnings call that it missed a few weeks of deliveries in January when the factory was closed as activities that had been stripped out for the planned joint venture with Boeing were integrated again following the termination of the plan.
Despite the lower deliveries, consolidated gross margins for Commercial Aviation improved to 13.2 percent from 4.5 percent in Q2 last year. Embraer's order book hit 2.000 aircraft at the end of June, of which 1.688 have been delivered and 312 remain in the backlog. Of these, 163 are E195-E2s and 143 E175s, with three E190s and three E190-E2s also to be delivered. Orders exclude those announced at the Farnborough Airshow for twenty E195-E2s from Porter and eight E175s from Alaska Airlines, so the backlog is actually around 340 now.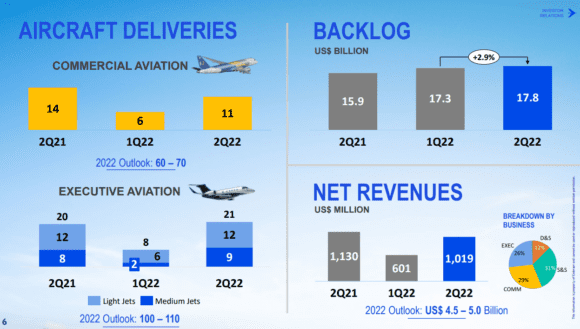 Executive Jets reported revenues almost identical to last year: $266.7 million versus $266.2 million. The gross margin improved to 22.1 percent from 17.5 percent, due to higher prices. In Q2, 21 jets (twelve Phenoms and nine Praetors) were delivered compared to twenty in the same quarter last year. For HY1, the number was 29 executive jets (eighteen Phenoms, eleven Praetors) versus 33 last year. Without specifying, Embraer says that sales this year are exceeding prior-year levels, resulting in a record-high book-to-bill-ratio of 2.5 to 1.
Defense & Security produced lower revenues at $126.2 million versus $174.9 million in Q2 and $194.9 million versus $303.4 million for HY1. The main reason is fewer Super Tucano deliveries, which pushed gross margins down to 28 from 34.6 percent. The C-390 Millennium multirole transporter won a welcome order from the Royal Dutch Airforce.
The only business segment that produced better this year is Services & Support. Revenues increased to $320.1 million from $298 million in Q2, or to $591.3 million from $548.6 million in HY1. This reflects the recovery of air travel with airlines as well as the use of executive jets since the start of the pandemic, with more aircraft requiring maintenance now. The gross margin went up to 31.8 from 28.3 percent.
Adjusted free cash flow improvement
Along with the $-146.4 million net loss (before the restated result reported as a $74.2 million net profit), the Adjusted EBIT for Q2 was $81.2 million compared to $160.7 million, or $54.1 million for HY1. The operating result (EBIT) was $-227.1 million in Q2 (2021: 143.8 million) and $-263.4 million in HY1 ($110.7 million). In Q1, Embraer reported a $-31.7 million net loss.
Q2 revenues totaled $1.019 billion versus $1.131 billion, or for HY1, $1.620 billion compared to $1.938 billion. Adjusted free cash flow doubled in Q2 to $91.2 million from $45.1 million and to $23.4 million in HY1 from $-181.4 million in 2021, so a strong improvement. Embraer ended June with $1.2 billion in net debt versus $1.5 billion by the end of March as a result of cash usage and the payment of all bonds for 2022, plus the repurchase of bonds for 2025, 2027, and 2028. Liquidity stood at $1.96 billion, down from $2.1 billion after the company repaid short-term and long-term debt. The divestment of the Evora facilities in Portugal and sale to Aernnova produced $158.2 million in proceeds.
Capital expenditures in Q2 were $12.6 million, but Embraer invested $26.4 million in the quarter in the new turboprop aircraft that will be launched at the 2023 Paris Airshow. President and CEO of Commercial Aviation, Arjan Meijer, said in Farnborough that Embraer already has Letters of Intent for more than 250 TPs.
After the slow start in 2022, Embraer plans to ramp up deliveries during the coming quarters, as well as reduce production lead times. As work-in-progress increased, so did the inventories to some $500 million, which will fulfill two-thirds of revenues in HY2. This has no impact on its full-year guidance, which remains unchanged with sixty to seventy commercial aircraft deliveries. 100-110 executive jets, revenues of $4.5 to $5.0 billion, and a free cash flow of $50 million or better.
During the earnings call, Group President and CEO Francisco Gomes Neto expressed his concerns about the supply chain, which affected deliveries of four aircraft in HY1. "That's why we are in very close contact with our suppliers and have twenty people on site with the main suppliers. We are also developing other logistic routes and improving internal processes and cycles to reduce part of the challenges. With this scenario, we are cautiously optimistic about the year-end results and about the near-term future of the company." Inflation is also a factor, but Gomes Neto said that Embraer has been able to pass on price increases to customers.
Eve net loss deepens
Embraer spin-off Eve Holding reported its own Q2 results today. The eVTOL start-up posted an $-11.8 million net loss compared to $-2.4 million last year, mostly driven by higher R&D expenses, selling, general, and administrative costs. The HY1 loss was $-21.3 million versus $-4.6 million in the same period last year.  Eve used $13.2 billion of net cash for its activities, up from $5.1 million last year. The company, which was acquired by Zanite in April, has $330.8 million in liquidity and no debt. 
This story has been corrected as Embraer restated its Q2 and HY1 results in November 2022. The biggest change is that the $74.2 million net profit for Q2 has changed into a $-146.4 million net loss attributable to shareholders.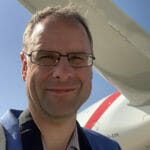 Active as a journalist since 1987, with a background in newspapers, magazines, and a regional news station, Richard has been covering commercial aviation on a freelance basis since late 2016.
Richard is contributing to AirInsight since December 2018. He also writes for Airliner World, Aviation News, Piloot & Vliegtuig, and Luchtvaartnieuws Magazine. Twitter: @rschuur_aero.