Embraer turboprop teaser video - messaging US Regionals?
Embraer published what we could only describe as a teaser video about its forthcoming turboprop. The OEM has been signaling industry interest and there is clearly growing confidence. Are they messaging US Regionals?
Since the zero emissions breakthroughs are coming at the lower end of commercial aviation, Embraer is cementing its role as the industry leader. Its EVE eVTOL is far and away the best seller in the segment. As the only OEM in the space with a track record of certifying and delivering in commercial aerospace, one expects this. 
Embraer is also determined to keep the same spot in the regional airline segment. Already the de facto industry leader in this space, Embraer is signaling that it intends to hold that spot.  Since the regional airline center of gravity is in the USA, more specifically in Utah, is the video – which was also shown in the Embraer chalet during the Farnborough Airshow – a message to the US industry?  That message is your confidence in us is appreciated and we have a solution. 
With seating from 50 to 90, the aircraft is clearly going to hit the Scope Clause limit at the upper end.  Embraer took a bet on the E175-E2 and got burned. It is somewhat surprising to see the 90-seater option.  It might have been better defined as 76 seats.  Perhaps there is hope this model finds demand outside the US.  The dust has yet to settle on what the aircraft will be and we are likely to find out in Paris next year.
Meanwhile, it is clear that Embraer continues to come on stronger than ever, having put the Boeing merger fiasco behind it.  That deep talent pool in San Jose dos Campos is busy defining the future of regional flying.  Their solution can't come fast enough.  US regional airlines are more squeezed than they have ever been and communities continue to lose service.  The current turboprop offerings are, apparently, not attractive enough. Embraer couldn't wish for a better set of circumstances. But watch out for the immovable Scope Clause.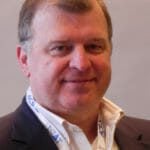 Co-Founder AirInsight. My previous life includes stints at Shell South Africa, CIC Research, and PA Consulting. Got bitten by the aviation bug and ended up an Avgeek. Then the data bug got me, making me a curious Avgeek seeking data-driven logic. Also, I appreciate conversations with smart people from whom I learn so much. Summary: I am very fortunate to work with and converse with great people.