Airbus has confirmed it is 'in discussions' with Emirates 'in relation to its A380 contract', responding to reports from Reuters that the airline wants to swap some double-deckers on order for A350s. If confirmed, this casts serious doubt over the future of the A380.
Emirates currently has a fleet of 109 A380s, with 53 more on order. These include the follow-on order for 20 signed in January 2018 but excludes the 16 options that are part of the same announcement. If correct, Emirates wishes to renegotiate part of the order for 20 plus the options, which means the airline will actually backtrack on its 2018 agreement.
There seem to be two reasons for this. The first is that Emirates still isn't satisfied with the performance of the Rolls-Royce Trent 900s that have powered the A380 from #91. Durability, HPC blade corrosion, and performance have been reported as critical issues. Although president Sir Tim Clark confirmed last October that Emirates would opt for more Trents for the follow-on order, an Emirates spokesperson was unwilling to comment on the status of negotiations to Airinsight.
Engine Alliance has been eager to offer the GP7200 to Emirates and initiated a sales campaign in Dubai last April, but since apparently losing out to Rolls-Royce both General Electric and Pratt & Whitney have been quiet on the future of the turbofan program. We understand that Engine Alliance is now only making spares, no new-build engines are planned.
A second reason that might have changed Emirates' stance towards the A380 is that the airline seems to have too many of them already. Of 109 delivered aircraft there are currently 8 parked at Dubai World Central. This has happened since the April-May low-season in 2018, but since A380's have been parked frequently for on average a month each.
This seems to indicate that the airline is struggling to operate the double-deckers efficiently and profitably, despite its popularity with passengers. Opting for the A350 would mean a major shift away from its marketing strategy, which has been focused around the A380 since its introduction in 2008. Curiously, Emirates ordered 20 A350-1000s back in 2007 and 50 -900s later on, before canceling them altogether in 2014 over expected performance shortfalls. At the Dubai Air Show in November 2017, Emirates surprisingly announced an order for 40 Boeing 787-10s when at the same moment the follow-on order for the A380 was expected.
If Emirates slashes its A380 backlog, this almost certainly means a premature end to the double-decker program which saw the light in 2000. Airbus has only 87 aircraft in its backlog, including 20 for Amedeo that almost certainly will never be delivered. Except for Emirates, only 3 aircraft for All Nippon Airways to be delivered from April this year are realistic orders. Production will already go down to 8 this year and to 6 from 2020, meaning the current backlog will have been delivered around 2025. That's not including any Emirates conversions.
A renewed interest in the A350 could mean Airbus has been offering an ULR-version of the A350-1000 or even the muted -2000 version, which has been discussed for some years. With a slightly longer fuselage, more seats and only two engines, this A350 would make the A380 almost certainly look obsolete.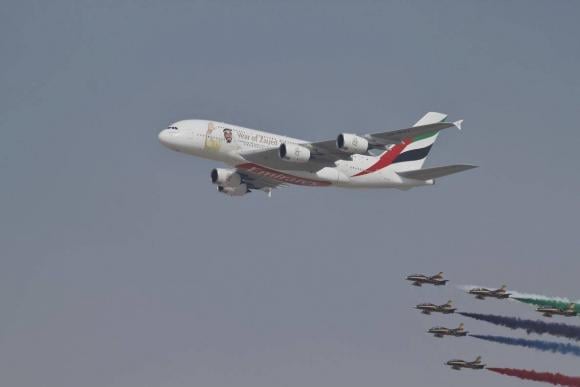 Emirates A380 A6-EUZ performing a flypast during the opening day of the 2017 Dubai Air Show. (Richard Schuurman)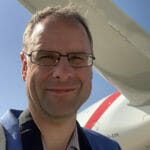 Active as a journalist since 1987, with a background in newspapers, magazines, and a regional news station, Richard has been covering commercial aviation on a freelance basis since late 2016.
Richard is contributing to AirInsight since December 2018. He also writes for Airliner World, Aviation News, Piloot & Vliegtuig, and Luchtvaartnieuws Magazine. Twitter: @rschuur_aero.