Weak first-quarter results haven't only left their marks on aircraft manufacturers and airlines but of course on suppliers too. Last week, we heard some updates from various engine manufacturers and component suppliers that provide some perspective on where the industry is. The verdict of Q1: engine suppliers are still feeling the crisis.
On April 30, Safran Group shared its results. For its civil engines business CFM International (a joint venture with General Electric), the first quarter has been weak. There has been a significant increase in engine flight cycles until mid-April, but they are still on average 42.5 percent lower compared to 2019. The exception is China, showing 12.6 percent more activity over 2019, but the US (-29.5 percent) and especially Europe (-73.6 percent) are lagging behind.
In April, weekly flight cycles of the CFM56 on Boeing 737NGs and Airbus A320ceo-family aircraft were down by 46 percent to 2019 levels compared to -61 percent in February. LEAP cycles are now at 56 percent compared to 29 percent in February. A logical explanation is the return to service of the LEAP-1B powered Boeing MAX since December and a growing presence of A320neo-family aircraft.
The American-French engine maker delivered 214 engines in Q1 compared to 326 last year. Of these, 188 were LEAPS (272 in Q1 last year) and 26 CFM56s (54). Lower demand for spare parts hurt aftermarket revenues by 53.4 percent. General Electric is seeing 25 percent fewer shop visits again this second quarter compared to last year, resulting in 40 percent lower revenues for the commercial services unit. 27 Percent of its worldwide fleet (GE and CFM engines) is currently parked.
GE/CFM lost another 400 LEAP orders in Q1
In Q1, GE Aviation orders (civil and military) were down by 28 percent to $4.992 billion. New commercial orders included those from Singapore Airlines for 22 GE-9X-engines for additional Boeing 777-9s, from Southwest for 100 LEAP-1B-powered Boeing MAX 7s, and from SAS for 35 LEAP-1A-powered Airbus A320neo's. Total Q1 orders stand at 141 LEAPs or 298 commercial engines in total, including business and general aviation. Sales/deliveries were the 188 aforementioned LEAPS or 359 commercial engines in total, 171 fewer than in the same quarter of 2020.

Mind you that since March 2020, GE/CFM have seen their LEAP backlog reduced by 1.900 engines of $13.9 billion as customers canceled MAX orders. That's five percent of GE's total engine backlog. In the first quarter, cancelations included 400 units worth $1.0 billion. The backlog still totals some 9.200 LEAPs.
GE's engine revenues dropped by -26 percent to $5.5 billion. The engine business produced a $0.6 billion profit, -36 percent down on that in the same period last year.
P&W deliveries at the highest level since last year 
Pratt & Whitney (part of Raytheon) delivered 137 large commercial engines in Q1. While this compares to 211 in the same quarter last year, it is still the highest number since then. In Q2 last year, they stood at 92, in Q3 at 114, and in Q4 at 129. P&W Canada delivered 396 engines, down from 466 in Q1 last year.

Sales generated $4.030 billion in revenues, a quarter down in 2020, thanks to $0.5 billion lower engine sales and $0.9 billion from lower aftermarket sales. The Adjusted net profit was $40 million compared to $515 million last year, primarily driven by 35 percent lower aftermarket sales. In line with IATA projections, P&W projects a recovery of air travel and its business not until 2023 or 2024. The company continues its restructuring plans.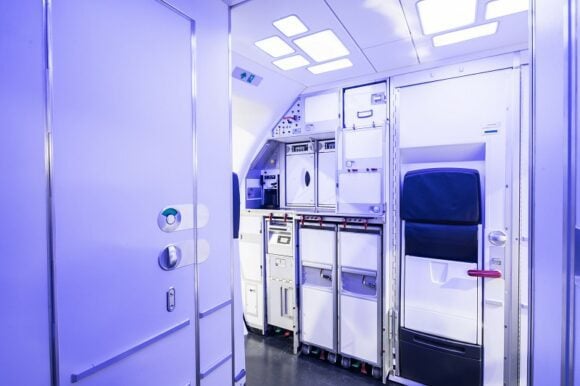 Safran's interior business delivered fewer components, including galleys. (Safran)
Component supplies also down
Raytheon's Collins Aerospace systems business is also feeling the crisis and reported lower sales: 32 percent to $4.370 billion, with an Adjusted net profit of $332 million (-74 percent). Commercial sales were down by 45 percent and the aftermarket by 43 percent, while military sales were slightly better.

Safran's Equipment, Defense, and Aerosystems reported 33.1 percent lower revenues to EUR 1.464 billion as it sold fewer engine nacelles, landing gear, and wiring systems. Revenues of Safran aircraft interiors dropped by 54.9 percent to EUR 313 million, with sales strongly impacted by fewer deliveries of seats, inflight entertainment equipment, galleys, lavatories, and floors. Safran continues to adapt its workforce to market demands and reduced the number of employees by another 2.000 in the first three months of this year while keeping expenditures under control.
Rolls-Royce will present a trading update on May 13.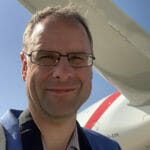 Active as a journalist since 1987, with a background in newspapers, magazines, and a regional news station, Richard has been covering commercial aviation on a freelance basis since late 2016.
Richard is contributing to AirInsight since December 2018. He also writes for Airliner World, Aviation News, Piloot & Vliegtuig, and Luchtvaartnieuws Magazine. Twitter: @rschuur_aero.