Airbus Corporate Jets (ACJ) has sold the first ACJ TwoTwenty to a customer. The identity was revealed during an informal event on Tuesday at the FIVE The Palm hotel in Dubai, as it is founder and CEO of FIVE Holdings, Kabir Mulchandani, who is the buyer. First Airbus ACJ TwoTwenty sold to FIVE hotels boss.
Mulchandani's group runs three luxury hotels in Dubai and is about to open a fourth one there in 2023. He also has planned to open a hotel in Zurich in May or June and has plans for more at other places which he said he can't reveal.
While Mulchandani has a Global business jet, he was blown away by the ACJ TwoTwenty when he first saw it. He was especially struck by the spacious cabin and the possibilities that it offers to fly small groups but at less operating costs. "When you look at it, yes, it is more money but it is at a long-term cost of ownership of ten years, the difference is minuscule compared to another jet", said Kabir Mulchandani. Airbus ACJ told AirInsight at an earlier event that the TwoTwenty comes at a price of $75-80 million.
Mulchandani will fly the aircraft for private use, but he is also working on a business concept for his FIVE Hotel groups. Post-Covid, there is a growing demand for traveling and this not only includes the leisure traveler on a low-cost flight but also those who can afford to spend a significant bit more. More a ticket price that rivals First Class with an airline, FIVE plans to bring its hotel guests to its hotels on the TwoTwenty. Or even ferrying guests between FIVE hotels all over the world, which shouldn't be a problem with the 5.650 nautical miles range ACJ offers for the plane. Mulchandani mentioned Tokyo, Cape Town, Singapore, or Los Angeles, wherever his customer is.
The hotel boss is getting the first TwoTwenty that has been produced and is going in the coming months to Comlux first for cabin outfitting before he takes delivery in early 2023. He has opted for a more traditional version of the interior that ACJ is offering on the program. While he had a look at the Cyril Kongo version that was launched in September during the Monaco Yacht Show, Mulchandani and his wife preferred the other Signature ambiances.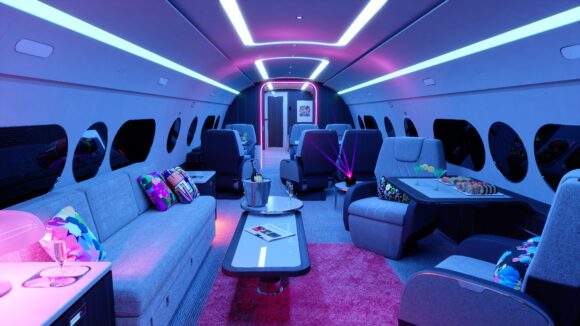 Animated picture of the ACJ TwoTwenty cabin configuration ordered by FIVE. (Comlux)
Airbus ACJ has four slots for the TwoTwenty on the production line in Mirabel, said CEO Benoit Defforge, which corresponds with the planned production rate of four per year. But he thinks that the aircraft will gain sales momentum when it is actually flying and could go to ten deliveries per year. "But that depends on the availability of the slots, said Defforge. Airbus plans to ramp up capacity from five to six A220s next year. AirInsight discussed ACJ with Head of Marketing Stan Shparberg in September.
Comlux will do the outfitting of the first six TwoTwenties. CEO Richard Gaona was very excited about the announcement of Mulchandani as his first customer, as he could even take a few more aircraft if the business concept proofs to be successful.
The changes for the TwoTwenty seem to be good. At the event on Tuesday night, there was a representative from the Saudi government who was 'blown away' by the aircraft and had already informed the royal family about it. That improved the party mood even more. 
Picture: Comlux' Richard Gaona, Kabir Mulchandani, and Benoit Defforge when cutting a plastic model of an 'ACJ TwoTwenty'. (Richard Schuurman)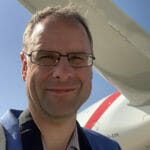 Active as a journalist since 1987, with a background in newspapers, magazines, and a regional news station, Richard has been covering commercial aviation on a freelance basis since late 2016.
Richard is contributing to AirInsight since December 2018. He also writes for Airliner World, Aviation News, Piloot & Vliegtuig, and Luchtvaartnieuws Magazine. Twitter: @rschuur_aero.