Last month, we talked about Africa offering a strong opportunity for the turboprop market. Now, we'll do the same analysis for the Latin American region.  As we can see in the following table, the turboprop commercial fleet is less than a quarter of the whole commercial fleet in Latin America.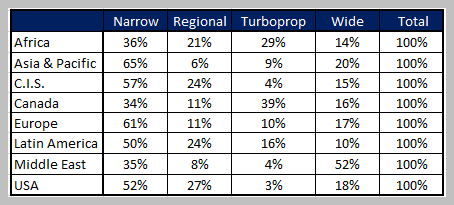 Like elsewhere around the world, the ATR family is the leading turboprop aircraft type in Latin America and the Caribbean. According to our stats, there are 232 turboprops in 16 Latin American and Caribbean countries. Of this total 75 are ATR-72 and 61 are ATR-42.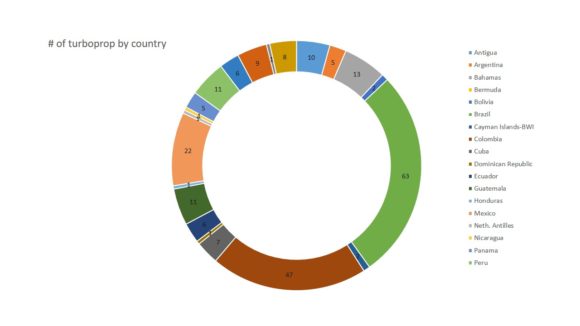 Colombia and Brazil are the largest markets for ATR aircraft in all Latin America, according to our data. 
Similar to what happens in Africa, the Embraer, Fokker, and SAABs turboprops are aging so are exiting markets. The EMB-120 maintains itself in large numbers due to its presence in regional militaries like Brazil. Also, Brazil has a deep connection with Brasilia so it won't let this historical plane leave so easily. 
Now, if we look at the turboprop operators, we find a few big names like Avianca and EasyFly, both of which operate ATR aircraft in Colombia, and Azul Linhas Aereas, which is also a big ATR operator in Brazil. In Mexico, the only carrier to operate turboprops is Aeromar.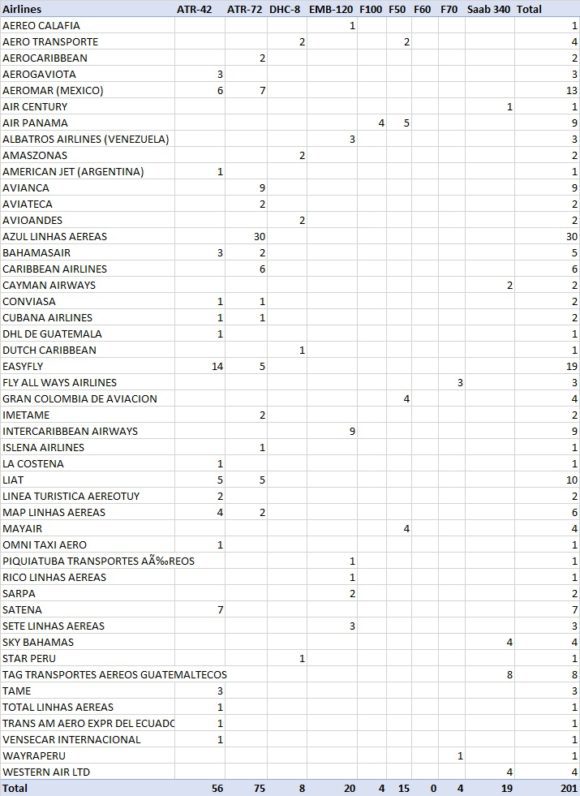 In the Caribbean, there are a few turboprop operators, like Caribbean Airlines, Bahamas Air, and the now-defunct LIAT. In this region, full of small islands and little runways, turboprop sales should have a much better performance as many airlines could use this type of aircraft for commercial operations. 
Analysis
The turboprop market should grow in Latin America. There are many underserved airports and cities across the region which lack the infrastructure to handle larger, heavier airplanes. Think about the Amazon communities across Brazil, Colombia, Peru, and Venezuela. All of these small communities need connectivity optimally provided by turboprops.
Plus, the average turboprop fleet in Latin America is aging. Additionally, some operators are closing up, as is the case of Aeromar in Mexico.  On the other hand, Azul Linhas Aereas should continue focusing a part of its business on connecting small markets with turboprop aircraft as it already does with its ATR and its newest business, Azul Conecta. 
In conclusion, there should be growth in the turboprop market in Latin America. It is a big market, with great potential.  As Embraer said in October of last year, there's a market for nearly 300 new turboprops in Latin America by 2038. Maybe the next two decades will be a toe-to-toe battle between ATR and Embraer.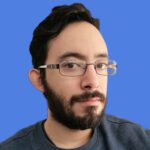 Daniel Martínez Garbuno is a Mexican journalist. He has specialized in the air industry working mainly for A21, a Mexican media outlet focused entirely on the aviation world. He has also published on other sites like Simple Flying, Roads & Kingdoms, Proceso, El Economista, Buzos de la Noticia, Contenido, and Notimex.