US Airline traffic in 2021 recovered consistently during the year, moving closer to but not quite reaching pre-pandemic levels.  There is still a long way to go. The following chart shows US passengers by month for 2019, 2020, and 2021 as reported by TSA.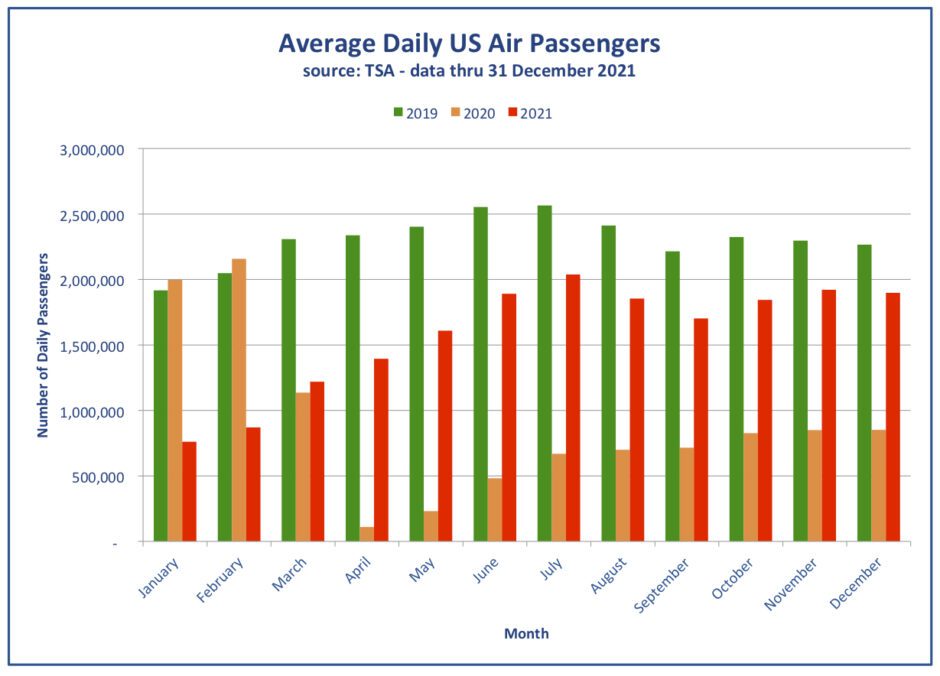 The first half of the year showed a significant recovery in traffic, with travelers returning in significant numbers. But that recovery leveled off in the second half of the year, following the seasonal ups and downs in a "constrained normalcy" scenario. Those constraints, combined with new virus variants, translate to still having a long way to go for a full recovery and making up the 17% deficit to pre-pandemic levels at year-end. 
While strong underlying demand exists for leisure travel, which has returned to pre-pandemic levels domestically, demand has not yet returned for business travel, resulting in more substantial revenue losses for airlines as their yield mix is changing.  International travel, with many countries restricting operations at different points throughout the year, which continues today, has also been weak, especially high-yield international business class.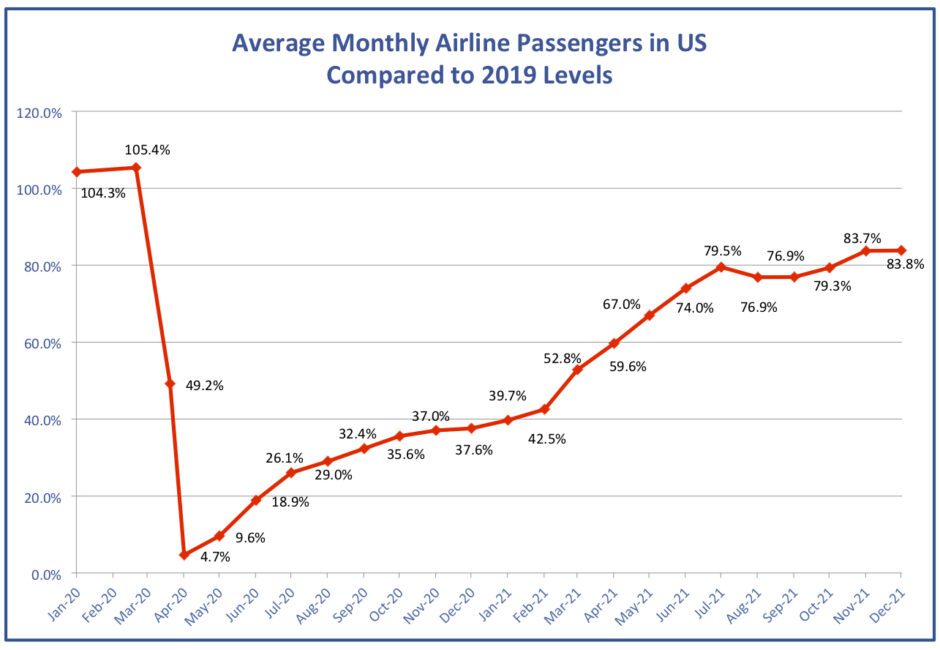 We expect a continued slow recovery in the first quarter of 2022 due to Omicron-induced fears, a return of some businesses to remote operations, and ongoing international restrictions.  While Omicron appears to be following the pattern seen by other pandemics with more contagious but less deadly variants creating herd immunity, this may take through the first half of 2022 to occur and enable the industry to return to normal by the second half of the year.  But that appears to be a best-case scenario.
Uncertainty and risk will continue to haunt the industry in early 2022, including how long the new variant will remain active, its degree of severity, and whether reduced quarantine periods can help with labor shortages.  Uncertainty makes planning difficult, forcing reactive rather than calibrated pro-active actions.  Keeping focused on long-term objectives is difficult in a crisis, but we are much closer to the end than the start at this point in the pandemic.  Riding out early 2022 and planning for a pandemic-free 2023 appears to be the most likely outcome as we look forward to the beginning of the year.