Seating changes from A320ceo to A320neo
[UPDATED]
After we did a story on the changes in seating from 737-800 to 737 MAX8, several messages came and asked about a similar analysis on the A320eo to A320neo.  Here it is.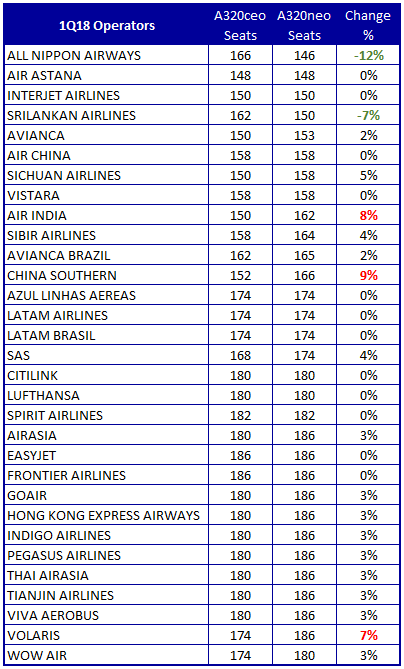 On average, operators have increased seating from 170 to 172. This is only 1.2%. But consider the A320 entered service as a 150-seater.  Today's A320neo is, on average, carrying 15% more seats.  Coincidentally this is almost exactly the same switch for the 37-800 to the MAX8. Clearly, these two compete head to head.

Since you may be wondering – the 737 cabin is 98.3 feet long compared to 90.3 feet for the A320.  Their respective cabin widths are 11.6 feet and 12.1 feet. In square feet/seat terms at 173 seats, the 737 offers 6.6 square feet compared to 6.3 square feet on a A320.  At 200 seats on WOW, the average seat has 5.5 square feet. Ryanair will also have 200 seats on their MAX8-200 offering 5.7 square feet on average. Draw your own conclusions.

17 out of 30 operators have increased seat counts from the ceo to the neo.
Two out of 30 decreased seat density – All Nippon is the star here at -12%.  The other airline is SriLankan at -7%.
12 out of 30 did not make any seat density changes moving from the ceo to neo.
The highest A320neo seat density is found at 186  on AirAsia, easyJet, Frontier, GoAir, Hong Kong Express, IndiGo, Pegasus, Thai AirAsia, Tianjin,  Volaris and WOW. All are ULCC or LCCs.
The lowest seat density is found on All Nippon at 146, followed by Air Astana at 148. It is noteworthy that Interjet and SriLankan are at 150 – the original A320 configuration.
A320 operators are as focused on revenue generation as 737 operators.  No surprises.  Airlines, especially in the LCC/ULCC segments, regard passengers as "self-loading freight" with an opportunity to extract ancillary revenues.  It's not personal, it's just business.  And don't blame the OEMs, airline customers want more density.
Travelers need to carefully weigh the tradeoff between low fares and flight length.  This is a serious tradeoff.  Take a look at this link.  "The blood clots of deep vein thrombosis can be caused by anything that prevents your blood from circulating or clotting normally, such as injury to a vein, surgery, certain medications and limited movement." (emphasis added)  Summer travel season in the northern hemisphere is about to kickoff.  Perhaps this information can help you with pricing that tradeoff.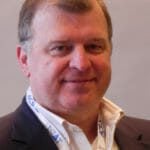 Co-Founder AirInsight. My previous life includes stints at Shell South Africa, CIC Research, and PA Consulting. Got bitten by the aviation bug and ended up an Avgeek. Then the data bug got me, making me a curious Avgeek seeking data-driven logic. Also, I appreciate conversations with smart people from whom I learn so much. Summary: I am very fortunate to work with and converse with great people.