The aviation industry (airlines and manufacturers) should do better in communicating with the general public which efforts it takes to reduce carbon-dioxide emissions and curb the negative climate footprint. This message was voiced by many airline executives at last week's World Aviation Festival in London. "We must demonstrate we are not the villains", Emirates President Sir Tim Clark summed up the feeling.
Aviation is very much in the spotlight for two to three years when the public debate about the negative effects of flying started. It features prominently in Scandinavia and Sweden, thanks to teenager Greta Thunberg openly questioning what current-generation decisionmakers are doing to save the climate. Her feelings have met wide support in Sweden, where a new word and movement was born: flygskam, or flight shame. The word spread during her recent trip to the US on a solar-powered sailing boat.
Elsewhere in Europe, the anti-flying lobby has been growing too. In The Netherlands 10-year old plans to open a new Schiphol-owned satellite airport in Lelystad have become a symbol for environmentalists to voice their resistance, supported by a fair number of parties in parliament. The change in public perception has made KLM start its 'Fly Responsibly'-campaign in June, asking travelers to consider carefully if flying is their only option.
In Germany, the public has become critical too, but it has got itself some support from an unexpected player: Lufthansa. CEO Carsten Spohr recently questioned 9-Euro fares charged by some of his competitors (Lauda and Ryanair).
Instead of avoiding the pink elephant in the hall, flight shame and the environment were on the table during almost each panel session at the Aviation Festival. It was Sir Tim Clark who was the first to raise the topic during his pre-festival media roundtable when he pictured the current worldwide uncertainties of the economy and the industry. "We are seeing a probable diminishing of airline growth, that won't be negative, but I see a possible percentage-points fall over the next 3-5 years. (…) Add to that the growing concerns about climate change which have accelerated in the last 2-3 years. Personally, I think that is quite right. We have to be very concerned about what happens to our planet. It is a manifestation of concern that is now shared by the G7 as well as by a lot of people. As an industry, we have to demonstrate that we are not the villains, but the shame campaign that's in Europe is something we have to deal with."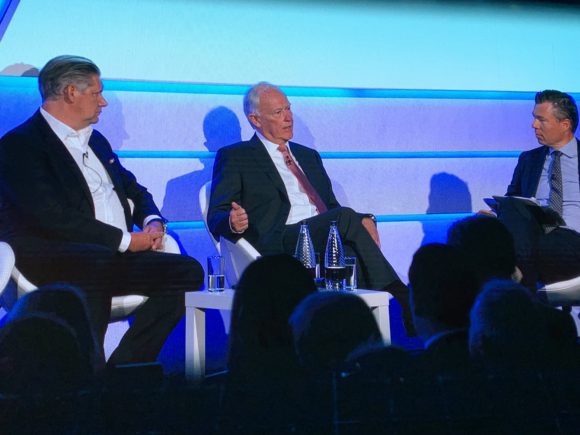 easyjet's Johan Lundgren (left) and Emirates' Sir Tim Clark (center) at Aviation Festival. (Richard Schuurman)
Reduced flying in Sweden
The growing opposition to flying is felt the strongest in Europe, as Clark says, but not at all levels. During its Q3-results presentation, Scandinavia's SAS reported its busiest ever June and July-months, at the same time noted that within Sweden traffic was lower thanks to the climate debate.
While the Baltic states are just around the corner, airBaltic has not experienced flight shame-effects: "We do not see this reflected in our bookings today, but we see the public discussion and we take it seriously", says CEO Martin Gauss. "Yes, we are flying in this region, but we can't see a difference yet in our bookings that this is coming from the CO2-discussion. We are serving the same markets, so we are competing, but it is something that seems to be very strongly focused on Sweden."
Easyjet's Johan Lundgren hasn't seen effects either: "No, we haven't seen that specifically. We have done some surveys internally in various countries. It is fair to say that there is a different level of awareness in different countries. It is higher on the mind of people in Scandinavia, Holland, Switzerland, but we haven't seen that people who are booking less because of this. I think people will take a big consideration of the means of transportation and who they will fly with when they will fly."
In France, there have been some effects on domestic routes. "On the short routes we are competing with the trains and for sure we can see people flying less, but on the longer distances we don't see it yet", says Nathalie Stubler, CEO of Transavia France. Is it because of flight shame or because the high-speed train is a good alternative in France, Air France last May announced it will reduce domestic capacity by 15 percent from 2021. CEO Anne Rigail feels the climate-debate within her country, fueled especially by the younger generation: "I am the mother of two teenagers and I can tell you the challenge at home is bigger than in the industry. The pressure will become bigger and bigger."
Elsewhere in the world, the debate has been picked up slowly. "Europe is more pronounced than the US overall. The challenge is that in the US there are not many options to travel. For US-consumers flying is in many cases the only option", says Jetblue's COO Joana Geraghty. A little more South in Mexico, a completely different trend is happening, says Volaris' Carolyn Prowse: "In Mexico, there are three billion bus passengers and we see them switching to air transport." Viva's Felix Antelo adds: "The debate is not as strong as it is in Europe, but it will be a matter of time. We have to be conscious of it."
Con Korfiatis of Saudi Arabia's flyadeal thinks the same: "The US and Europe are congested, Saudi Arabia is not, the aviation industry is still quite immature, so from that point of view it is not so much on the radar. Definitely, there is an awareness, people are connected globally, but as far as aviation is concerned there are some programs that are still in an embryonic stage. We do have a focus and it will get more formalized and structured as we move forward, but it is still early days at the moment."
Only limited effect
Listening to the aviation representatives, they say the effect of aviation on emissions is only limited. "To do nothing is simply not acceptable, we have an obligation and we have to deal with it", says Sir Tim Clark. "But the airline industry produces some two percent of carbon emissions, maritime produces probably a little bit more, automotive 16-18 percent. Cows produce the rest." Clark forgot to include the industry and the energy sector. In Lufthansa's latest policy letter they account for a combined 60.4 percent of worldwide emissions, with aviation contributing 2.8 percent.
IATA-president Alexandre de Juniac stresses the huge obligations the sector are under since agreeing in 2016 to the CORSIA off-setting program that will come into effect next year. It means airlines in most countries that participate have to be carbon neutral from 2020 and in 2050 have reduced emissions by 50 percent to 2005-levels. "These targets take into account the growth, with traffic probably to quadruple by 2050. We have committed to reduce the CO2-levels. It is possible if everybody does the job: the airlines, the manufacturers, the airports, the air navigation agencies. It is mandatory for us to succeed."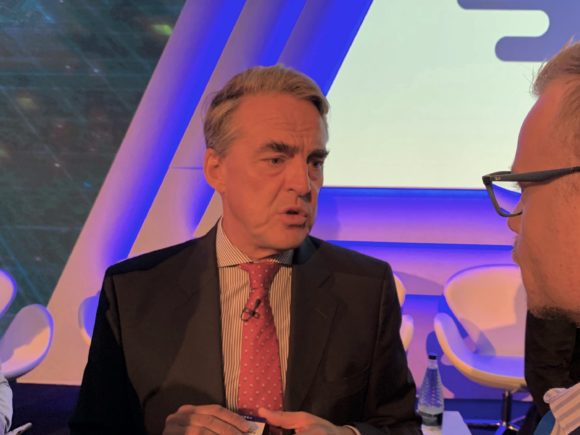 IATA Director General Alexandre de Juniac. (Richard Schuurman)
Environmentalists criticize CORSIA as being weak and non-binding, becoming compulsory only in 2028 in some regions in the world and discounting domestic travel. In short: CORSIA is not stimulating airlines to change their businesses. Virgin Atlantic-CEO Shai Weiss doesn't agree: "For airlines around the world and Europe, the framework of CORSIA starts to really bite financially from 2021 onwards. We calculated for ourselves that if we do nothing until 2035 we are talking about hundreds of millions in liabilities."
Various countries have or are about the introduce taxes on ticket prices or VAT on aviation fuel, saying these 'eco-taxes' will translate into environmental benefits. De Juniac is having none of it: "At the end of the day the taxes go into the general budget and are lost for what they are meant for. Taxes do nothing. When governments have successfully developed renewable energies they were not taxed but subsidized. What is driving the car industry to move to lower emissions? It is not taxes. They are regulatory aspects and secondly economic interests. Helping biofuels would be helpful. So if the governments would help us develop this that would be a very good incentive."
France's Eco Tax of EUR 1.5 to 18 for each domestic or international departure from 2020 will cost Air France some EUR 60 million extra. The airline opposes the ruling, but in London, Anne Rigail said: "Maybe we should accept Eco-Tax, but they should be aimed at investing into the future of air travel and biofuels but not into roads and rails."
New aircraft are the answer
All airline executives stress how much they are doing by having ordered thousands of new, more fuel-efficient aircraft, hence reducing carbon emissions. "The Airbus A350 and A330neo we will get have a tremendous benefit to the environment. When you look at CO2-levels the first thing you have to do as an airline gets the best thing in the skies", says Virgin Atlantic's Weiss.
airBaltic's Martin Gauss agrees: "We don't wait until we see something happening in the climate debate. We do something every day, not only since the discussion is there. We did it in 2012 by ordering the most modern aircraft for the future (Bombardier CS300/Airbus A220-300 – RS) and we will do all the steps needed to reduce CO2 as fast as we can with all the sustainability measures".
However, the benefits of new-generation aircraft and engines have taken their time to come along and manufacturers needed some convincing, says Sir Tim Clark: "If you look back at propulsion, from about 2006 the climate change and environmental concerns really started to do a hockey-stick in terms of global awareness, action, and engagement. The engine manufacturers remained slightly complacent given that they had multiple orders. Although they had the technologies available to them they didn't start using them until the airlines applied enormous pressure driven by the cost of fuel since 2008. We as Emirates expect them to deliver airplanes to the level of technologies that we believe they could do, given the application of technologies that we all have available to us. Only then we saw this in aircraft and engine design."
Be smarter in telling our story
Many passengers and the general public seem to be unaware that they have boarded an airliner that is 15-20 percent more fuel-efficient than the one they flew on last time. It is here that communications enter the picture. "We must be smarter about telling our story, recognizing that we also must do something about our emissions and are more forthright in how we go about telling people who are concerned that we continue to try and innovate through propulsion, through airframes and aerodynamics to try to makes these aircraft in the future far more efficient environmentally", says Clark.
Jetblue's Joanna Geraghty agrees: "We have a lot of opportunities to improve our communication. We have more efficient aircraft, electric ground equipment. It is not enough for the challenges we are seeing, but the reality is it is a complex industry with many players in it." Anne Rigail adds: "We don't like it to be blamed, but it shows we haven't communicated enough on our efforts. We are doing a lot and have reduced carbon emissions by twenty percent per passenger/kilometer since 2011, in absolute figures by seven percent. We have to deliver a new roadmap, but we have already many actions plans in place: renewal of the fleet, reduction of waste, the weight, optimizing routes, reduction of the use of engines on the ground, electric ground vehicles. Of course, we don't have the magic solution".
Says IATA's Alexandre de Juniac: "The good news is that the majority of people wants to fly, but they want to be reassured that we as airlines are doing the job. Within the industry, we know what we are doing, but outside nobody is aware, so it is our responsibility as IATA and airlines to talk to the outside world what enormous challenges and efforts we have accepted. The reason the flight shaming-campaign is having momentum is because people are not informed. Are very, very cheap flights to blame? Yes and no. You can argue it is too cheap to compensate for the costs of CO2-emissions, but it opens flying to everybody. From a social point of view, it is nice that this industry is not reserved only to the rich."
KLM's 'Fly Responsibly'-campaign was met with some raised eyebrows from within the sector as well as the international media, but listening to Clark and others it becomes clear many CEO's have embraced the message first spread by KLM's Pieter Elbers. But airBaltic's Martin Gauss says: "I don't see that people just fly for the sake of flying. If somebody books a flight ticket today it is because he wants to move from A to B. I wouldn't judge on somebody if he does that for business or leisure. If you think about what you do that is a very good step and I would encourage everybody to do so. I agree, you should be responsible, but it is one means of transportation. Especially over long distances that is the best means of transportation. There is no alternative and I don't believe going on a sailing boat is the solution to go to the US, so we will have to continue to fly to maintain the societies we have built up over hundreds of years to connect people."
Hybrid and electric still futuristic
For the next decades, the continued use of carbon-based fuels seems inevitable to all airline executives. Development of hybrid or full-electric propulsion is not ready yet and that results in the aviation industry being portraited as lagging behind the automotive industry, in which hybrid/full-electric is gathering pace quickly.
"We don't have electric aircraft and we are not sure if they will work, how long you need to recharge the batteries and how this will affect turnaround times", says Anne Rigail. Shai Weiss thinks: "There will be no change to the fuel itself as a way of energizing aircraft for the next 10-20 years".
"There are many good ideas but let us not overpromise", says Tim Clark. "I get worried about hybrid aircraft, I get worried about biofuels. I will be the first to shout of the top of every single building we can fly a 575-ton electric A380. I am more catered to the view that we need to talk about hydrogen. There will be smaller electric/hybrid aircraft over shorter distances, but I am not sure on how batteries for a bigger aircraft are on the horizon. Let us not kid ourselves, the holy grail won't be achieved overnight."
Some airlines have come up with new-technology initiatives. KLM and Delft University presented their Flying-V airliner, using conventional but high-efficient turbofans. SAS and Airbus announced a joint research project into future usage of large-scale electric aircraft. And easyjet has teamed-up with Wright Electric to develop a short-haul full-electric airliner.
Critics say this is only greenwashing, but easyjet's Johan Lundgren doesn't agree: "That's not true. If you speak to the leading authorities in this area and who work on this project, they are already testing prototypes. Wright is doing a 9-seater, they are looking at a prototype for a 50-seater as well. It's no greenwashing, it will come but it will take some time. Nobody is now arguing whether hybrid or electric technology will play a role. It will, but the question is when. And there are various possibilities and technologies. It is important that we as an industry are putting the pressure on the manufacturers and make sure this stays on top of the agenda, as we have our credibility to our consumers and customers."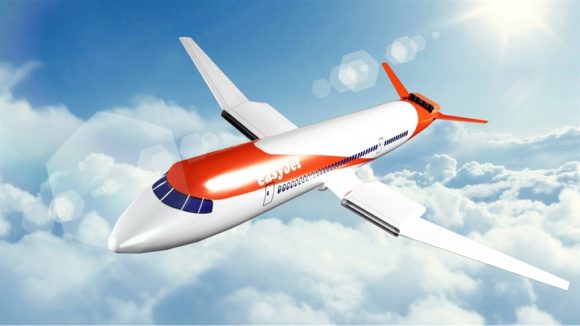 Concept-study of the Wright Electric-airliner for easyjet. (easyjet)
Lundgren thinks there is a quicker way for the aviation industry to gain environmental benefits, especially in Europe. That is through more efficient air traffic control. "As I said on the stage, one of the easiest ways to get carbon emissions down would be to introduce the Single European Sky (SES). It would reduce the carbon footprint by some twenty percent because of more efficient routing." He and other European airlines have voiced their frustrations multiple times about the lack of decision-making on this project, that is only possible if all countries take part.
Environment is top-priority
That the climate debate and flight shaming has changed the aviation industry is clear for everyone to see. "The environment is probably emerging now as close as to the top of the list", says Shai Weiss. "Safety and security are of course number 1. Our mantra is to become the most loved travel company line in the world. So you have to be a really good custodian of people and consumers. The environment comes very high in this."
Johan Lundgren doesn't think the sector has a perception problem: "No, it would be a perception problem if you are saying that you don't have an issue to deal with and within the industry there is no one saying that. We are having a directory for a number of years. I talked to the CEO of Airbus recently and we spoke only about the sustainability of the aviation industry. It means this absolutely op top everybody's agenda. It is a necessity of the industry."
"We are facing a lot of criticism, but first our business of flying has a purpose, is it for business or visiting families or friends. But we need to commit and ensure we meet our responsibility to reduce our environmental footprint by reducing fuel consumptions and CO2-emissions", Transavia's Nathalie Stubler thinks.
Alexandre de Juniac says: "Airlines should focus on whatever they can to reduce their carbon footprint. We should not deter or stop people from flying, we should tell them: 'You will fly respecting the planet, no worries. We are trying to do that on your behalf'."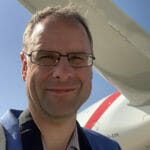 Active as a journalist since 1987, with a background in newspapers, magazines, and a regional news station, Richard has been covering commercial aviation on a freelance basis since late 2016.
Richard is contributing to AirInsight since December 2018. He also writes for Airliner World, Aviation News, Piloot & Vliegtuig, and Luchtvaartnieuws Magazine. Twitter: @rschuur_aero.