Singapore Airlines has ended its Q1 for fiscal year 2021 at a $-1.123 billion net loss as it saw traffic collapse by 99.6 percent, the airline reported on July 29. SIA is evaluating additional measures to adjust the size of its fleet and network, a process which could see one aircraft type become a victim: the Airbus A380.
The Q1 net loss compares to a $11 million profit in the same period last year. The operating result loss was $-1.037 billion. Revenues were only $851 million versus $4.102 billion in 2019. Expenditures were down by 61.6 percent to $1.888 billion but included $464 million in inefficiënt fuel inefficiencies.
Passenger numbers paint the difficult picture the Group has been in. Parent airline Singapore Airlines flew only 32.000 passengers, Silk Air 2.000, and Scoot 4.000, a drop of 99.6 percent compared to last year's Q1 at 9.358 million. The dire situation has forced the Group the liquidate its Thai subsidiary NokScoot and take a $127 million impairment ons even Boeing 777s.
Q2 isn't looking any better, with SIA forecasting to operate at only seven percent capacity by the end of September. Singapore Airlines is heavily dependent on long-haul traffic for which there is not much appetite while its regional and Asia Pacific-routes also feel the impact of reduced numbers of travellers.
Fleet size under review until end September
Out of a fleet of 220 aircraft, Singapore Airline Group has parked 119 in Singapore plus 29 at Alice Springs in Australia. This includes seven A380s that are expected to remain in deep storage for some time. The Board is announcing a review of the long-term impact the coronacrisis will have on the fleet size needed for a smaller network. This includes a careful look at its older aircraft, including the ninenteen A380s.
SIA will decide by the end of Q2 whether it will take a material impairment of some $1 billion on the A380s, potentially the oldest aircraft that have been in the fleet since 2008.
The five newest A380s joined SIA from October 2017 after the airline returned the five oldest to lessors. Only one of them has found life with a new owner (Hi Fly) while the first A380 ever to fly commercially has been scrapped, two more are most likely to follow an the remaining two have a most uncertain future.
Part of reviewing the fleet plan is deferring deliveries. SIA has reached agreement with Airbus about deferral of the last three A350-900s without specifying the new dates. The Group is still in negotiations with Boeing. Singapore has 29 787-10s and 20 777-9s remaining on order as well as 31 MAX 8s for Silk Air, three 787-8s and two 787-9s for Scoot.
By the end of Q2, SIA Group has $17.6 billion in liquidity available, an incrase of $8.3 billion since March. It raised $8.8 billion in June trhough a rights issue and secured financing of $1.7 billion against some A350-900s and 787-10s. Another $0.5 billion of unused loans and committed Lines could be tapped in.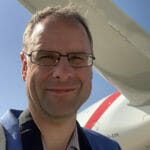 Active as a journalist since 1987, with a background in newspapers, magazines, and a regional news station, Richard has been covering commercial aviation on a freelance basis since late 2016.
Richard is contributing to AirInsight since December 2018. He also writes for Airliner World, Aviation News, Piloot & Vliegtuig, and Luchtvaartnieuws Magazine. Twitter: @rschuur_aero.