Tuesday, June 2. June is on the calendar, which means airlines have targeted a slow but progressive return to flying after two months of almost no activity. They include airlines in Europe but Singapore Airlines has planned a progressive return to business.
Meanwhile, ICAO and IATA are encouraging governments to adopt a roadmap towards a gradual and safe return to flying. We update our story again.
EUROPE:
IAG:
British Airways, part of International Airlines Group (IAG), is meeting ever stronger opposition to its plan to cut 12.000 jobs and impose new contracts on those remaining. On June 15, the consultation period with unions ends but so far there has been no sign of any agreement.
BA plans to continue to lay off the 12.000 jobs as announced on April 28 but threatens to add another 19.000 if no deal is reached. It wants staff (most of them in furlough) to sign up to revised contracts that would allow the airline to suspend staff for six weeks a year without paying salaries, which in some cases would lead to a 60 percent pay cut. Talks with pilots union BALPA are ongoing. Unions and staff have been putting pressure on BA as they get growing support from politicians and celebrities.
BA has justified the reduction and contract revision by saying it is facing the worst crisis ever that forces the airline to restructure. Parent IAG is in discussions about identical packages for some 1`7.000 employees with Iberia, Vueling, and LEVEL. Plans for these airlines have to be disclosed.
IAG cut capacity for April and May by 90 percent and hopes to return to 55 capacity in Q3. The Group has deferred all non-essential investments, imposed a hiring freeze, and will reduce capital spending to keep as much cash flow. It has deferred deliveries of 68 aircraft from both Boeing and Airbus.
IAG improved its liquidity position to EUR 9.5 billion. On March 30, it said British Airways extended a revolving credit facility of $1.38 billion for a year until June 2021. IAG expects approval from the Spanish government of a loan and aid package for Iberia and Vueling totaling EUR 1.1 billion.
Group CEO Willie Walsh had planned to retire after the Annual General Meeting on March 26, but will now stay on until the AGM in September. This allows his successor Luis Gallego to concentrate on Iberia for a few months more.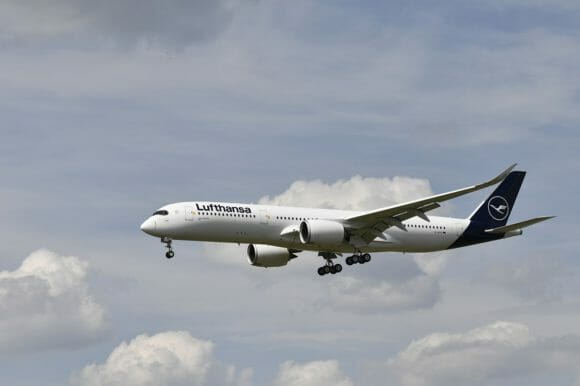 Lufthansa Group:
Lufthansa will significantly expand its route network compared to the almost no-flying period, it announced on May 28. In June, the group's airlines will operate 2.000 weekly services to 130 destinations.
Lufthansa will concentrate on European summer destinations, serving twenty of them from Frankfurt and 34 from Munich. The airline also offers 34 long-haul destinations again or 112 weekly by all group members.
This includes Austrian Airlines, which will resume operations from June 15 after a 90-day grounding. AUA will serve 37 destinations again. Brussels Airlines too will restart operations from June 15 and offers 59 destinations.
Eurowings will add forty destinations to its network and operate twenty aircraft.
SWISS will increase services to Italy again now that the country will open up its borders from June 3. The airline operates some ten long-haul services too. Edelweiss will fly 171 weekly services to 36 destinations. Air Dolomiti will restart from June 5 with a number of intra-Italian routes.
On June 1, Lufthansa's Supervisory Board approved the stabilization package with the German government. The Executive Board announced the package on May 25 but the Supervisory Board delayed a final decision two days later as it wished to study the conditions set out by the European Commission for the EUR 9 billion aid program. These included the surrender of 36 slots at Frankfurt and Munich. A compromise was reached on May 29 that covers 24 slots or the equivalent of eight aircraft, after which the Supervisory Board somewhat reluctantly accepted the revised package. Shareholders and competition authorities will now have the final say. The agreement with the German government's Economic Stabilization Fund will give the federal government a 20 percent-stake in the Group.
In April, the Swiss parliament approved a proposal from the Federal Council to help SWISS and Edelweiss with a package of state-guaranteed loans worth CHF 1.27 billion or 85 percent of the total CHF 1.5 billion rescue package. The aid is exclusive to the Swiss airlines and can't be transferred to the parent company Lufthansa. The package is subject to parliament approval.

SAS will cut its staff by 5.000. (SAS)
Air France-KLM:
Subject to the lifting of travel restrictions, Air France plans to increase its flight schedule from June again from the current three to four percent to 15 percent capacity. The focus will be on routes and frequencies within Europe, French Overseas Departments, and domestic routes in France itself but destinations in North and South America, Africa, the Middle East, and Asia will be served as well. Air France will use some 75 aircraft for this schedule and announce further updates for the summer schedule early June.
Since May 4, KLM has expanded its basic schedule too. It is running a European network with mostly the smallest Cityhopper Embraer fleet and some 737s. Long-haul flights are operated by its 777s to a limited number of destinations, while three 747-400M-Combi's continue to ferry medical goods between Amsterdam and Asia.
On April 24, Air France-KLM has been granted a state aid package to provide much-needed liquidity. The French government will provide EUR 7 billion in loan guarantees and direct aid, but only for the holding and Air France. The Dutch government will help KLM with a EUR 2 to 4 billion package that is still under negotiations with banks.
The aid follows on a political row over the bonus for both Group CEO Benjamin Smith and KLM CEO Pieter Elbers. Weeks earlier, Smith had said he would forego on 20 percent of his salary during the current situation. However, it was disclosed later that Smith would be eligible for a 122 percent bonus partly conditional on him succeeding in attracting government aid. This caused a row with amongst others the Dutch government, which made it clear it would not provide any state aid if board members still would receive bonuses. Under pressure, Smith refrained from his bonus, just as Elbers had done on his a few days earlier.
At the AGM in May, a majority of the shareholders voted in favor of Smith EUR 768.000 bonus over 2019 with the exception of the Dutch government.
Most of Air France's fleet is parked as is KLM's, which early-retired its seven Boeing 747-400s from passenger service March 29. From April 14, KLM has brought three 747-Combi's out of retirement and uses them for up to two months extra on dedicated cargo flights on an air bridge between Amsterdam and China. The Combi's are especially suitable for large-sized medical supplies and equipment from Philips.
Also grounded for six weeks are KLM's A330s and doubts circulate if they will re-enter service or are to be retired early like the 747s.
Air France said on May 20 it will retire all its nine A380s with immediate effect.
Both low-cost subsidiary Transavia Netherlands and Transavia France have suspended all flights until June 3.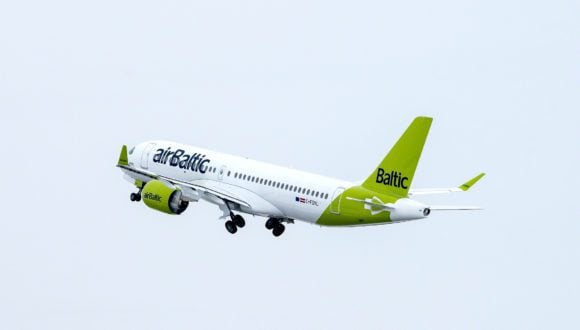 airBaltic's revised business plan is centered around a fleet of 50 A220-300s in 2023.(airBaltic)
airBaltic:
airBaltic has resumed international traffic to the Baltic States from May 18 after the governments have relaxed restrictions. Destinations include Amsterdam, Frankfurt, Oslo, and Copenhagen.
The airline has revised its long-term business plan and now expects to return to its pre-Covid strategy only in 2023. This year and 2021 will be years of only limited operations. It plans to operate a fleet of maximum 50 Airbus A220-300s by 2023. The airline confirms to Airinsight that the 2018-plan for 80 A220s has been shelved.
Also confirmed: 700 employees will be made redundant, but airBaltic hopes to hire them as soon as the situation improves. The plan confirms all its Dash 8-turboprops and remaining Boeing 737s will be retired.
The Latvian government granted a EUR 250 million investment in airBaltic, increasing its share from 80.05 to 91 percent.
LOT:
LOT Polish Airlines returned to business on June 1 as it restarted domestic operations to eight destinations. The airline has been grounded since March 14 after the government imposed a ban on all air travel. LOT will fly domestic-only services until June 15 and decide later on the return of international services. This depends on the lifting of travel restrictions elsewhere.
As the impact of the Covid-crisis became more apparent, LOT withdrew its plan to purchase Condor, the German subsidiary of Thomas Cook that continued operations after TC went bankrupt. LOT had planned to make Condor its leisure airline but in the current situation has no appetite for this investment.
Condor:
Condor has been bailed out by the German federal and Hessen state government, the airline announced on April 27. It will receive EUR 294 million in loans and EUR 256 million for refinancing an earlier bridging loan that was provided after Thomas Cook went bankrupt in 2019. The governments pledge their support as they see Condor as an operationally healthy airline before Covid-19.
SAS:
SAS recorded deep-red results for Q2 and confirmed its plans for a recapitalization and refunding of the airline that might include a (partial) bailout by the Swedish and Danish governments. The airline will reduce its workforce by 5.000. Affected would be 1.900 full-time positions in Sweden, 1.700 in Denmark, and 1.300 in Norway. On January 1, SAS had 10.445 full-time employees, so this restructuring means and almost 50 percent reduction.
SAS thinks it will take some years before traffic will have returned to the pre-Covid level, so the airline has to reduce in size. This Summer, there will be only limited activity.
SAS suspended all international routes from March 16 but will gradually resume its international schedule from June. Operating with thirty aircraft, it will fly on 25 routes to selected European airports as well as to North America again.
La Compagnie:
French airline La Compagnie will suspend all service between March 18 and April 12. The airline offers a business class product on its transatlantic network and has been hit by the Trump-imposed ban.
Virgin Atlantic:
Virgin Atlantic announced 3.150 jobs cuts and a reduction in operating size on May 5 as the airline tries to survive (see separate story). It continues to seek GBP 500 million in government loans which so far has been rejected. Founder Sir Richard Branson reportedly has offered the airline for sale as is struggles to attract fresh equity. Branson said on April 20 that Virgin will not survive without state aid. Branson insists Virgin will repay the loan: "It will not be free money." Earlier, Branson offered to provide GBP 250 million in liquidity to Virgin Atlantic.
Virgin has 85 percent in April and May. Its schedule has been affected by 80 percent. After the US-ban became effective in March, Virgin immediately said the service to New York Newark would be permanently terminated.
Staff has been asked to take up eight weeks of leave during the coming three months, with costs spread over the next six months to reduce costs. The package also includes the offer of a 6-12 months sabbatical and a one-time voluntary severance package. Cockpit and cabin crew unions have agreed to this.
Norwegian:
Norwegian reported on May 28 that it has successfully completed its financial restructuring plan that was announced in April. It has converted NOK 12.7 billion of debt into equity and secured NOK 400 million in cash through a public offering. This was conditional to the full NOK 3.0 billion state aid package from the Norwegian government which has been paid since. The airline also improved its equity ratio to 17 percent, well over the targeted minimal of eight percent.
Norwegian has also reduced its lease payments by $250-285 million by securing sale and leasebacks for a number of aircraft.
In Q1, Norwegian posted a net loss before tax of NOK -3.281 billion compared to -19.77 billion last year. Revenues were NOK 6.505 billion compared to 7.991 billion. In Q2, the airline has cut its network by 95 percent and operates only a skeleton domestic network with seven aircraft in Norway. This situation could continue until early 2021.
Around 7.650 staff have been temporarily laid off, but Norwegian hopes to hire them back again as soon as the situation has improved. It filed for bankruptcy for two of its cockpit and cabin crew units in Sweden and Denmark on April 20, which affects some 4.700 staff.
Icelandair:
Icelandair announced on April 28 it too will make serious cuts, slashing 2.000 jobs out of some 4.600 within the leisure group. With salaries the main cost, there is no other option than to reduce these expenditures. Remaining fulltime staff will have to accept a pay cut or work part-time.
The airline said on May 15 it has reached a new collective bargaining agreement with its pilots that runs until October 2025, with a similar agreement with technicians until January 2026. Iceland will reduce restrictions on international arrivals from June 15.
Finnair:
Finnair will expand its network from July onwards to 30 percent capacity, re-opening long-haul routes to Asia again. This includes Beijing, Shanghai, and Hong Kong but also key-routes to Japan (Nagoya, Osaka, Tokyo Narita) plus Singapore and Bangkok. From August, Tokyo Haneda, Delhi, and New York will be added.
Finnair's European network will concentrate on 27 destinations in July with five additional cities following in August. The airline had reduced its operations by 90 percent from April 1.
Finnair expects to lose some EUR 2 million a day in Q2 and has ready a number of scenarios on how to resume operations. The airline had EUR 833 million in cash available at the end of Q1 but could tap into additional funds by unlocking a EUR 600 million pension premium loan or offering its fleet for sale and leaseback.
Finnair plans to take delivery of new A350's as planned for this and the next two years but as it will revise its strategy a decision on new short-haul aircraft is to be deferred.
easyjet:
easyjet will resume limited operations from June 15, flying from 22 airports that include ten major ones in the UK and Northern Ireland. In Europe, it will resume flying in France (Paris CdG, Nice, Toulouse, Bordeaux, Nantes, Lyon, Lille), Portugal (Lisbon, Porto), Spain (Barcelona), and Switzerland (Geneva). New biosecurity measures like face masks will be in place for all passengers.
The company will come out of the crisis a much smaller one as it plans to reduce its workforce by thirty percent, it said on May 28. The airline has started consultation procedures. It continues to reduce costs on airport operations, maintenance, and marketing.
easyjet expects to operate a fleet of 302 aircraft at the end of FY21, 51 less than originally planned. The reduced fleet reflects fewer deliveries and returns to lessors. It expects to generate GBP 500-650 million in additional funding by sale and leasebacks of an unspecified number of aircraft.
The UK-based airline with subsidiaries in Austria, Switzerland, and Italy has GBP 3.3 billion in cash available, which according to its own scenarios should be sufficient. It successfully issued GBP 600 million of commercial paper through the Covid Corporate Credit Facility, as well as drawing $500 million on its revolving fund facility. It arranged two additional loans worth GBP 400 million by mid-April. Including recent initiatives, easyjet should produce another GBP 2.0 billion in cash.
On April 9, easyjet revealed it has renegotiated aircraft deliveries with Airbus for 24 A320neo-family aircraft. Deferrals include ten aircraft in FY2020, twelve in FY2021 (which means it will take no deliveries at all in this fiscal year), plus two in FY2022. The airline has the option to defer five more in FY22.
easyjet has also 24 aircraft due for lease renewal in the coming sixteen months until October 2021. This plus the deferrals give it the flexibility to adapt its fleet requirements.

Ryanair:
Ryanair plans to resume operations from July and expects to offer 40 percent capacity that month and 60 percent in August. Its Fiscal Year 2021 could see total passenger numbers drop by 50 percent compared to FY20.
The group will reduce its workforce from July onwards by 3.000 cockpit and cabin crew and impose salary cuts or unpaid leave on others. The airline is in negotiations with unions about a restructuring plan that also includes closure of a number of bases until traffic picks up again. The measures include all its subsidiaries like Buzz in Poland, LaudaMotion, and Malta Air in Malta.
After Austrian union vida refused to give in on a 30 percent pay cut for its Laudamotion members, Ryanair announced the closure of the Vienna-base from May 29. Lauda-aircraft have been ferried to the UK since May 27. The subsidiary is expected to continue to operate from Dusseldorf, Stuttgart, and Palma.
Ryanair has been operating at just one percent capacity in April and hopes to return to 50 percent in Q2, which at the airline runs from July-September. Final results for Q1 have to be processed but the airline expects a EUR -100 million net loss.
Part of the restructuring is resizing its fleet. Ryanair is in talks with Boeing to cut deliveries of the MAX 200 for the next two years as well as with lessors about reducing the Airbus-fleet of LaudaMotion.
Ryanair Group has some EUR 4 billion on liquidity, which it thinks is sufficient to cope with the situation until Q2. It hits out to other European airlines which are benefitting from a combined EUR 30 billion in state aid, which according to CEO Michael O'Leary is in breach with EU state aid rules and distorts the landscape.
Alitalia:
Alitalia will receive EUR 3.5 billion in state aid from the Italian government to keep the airline going despite its poor state. After Italy was the first country in Europe to be hit hard by Covid-19, the airline was forced to reduce its activities to just a selection of repatriation flights to bring Italians home. Until late March it operated on a limited schedule which includes two daily services to New York and London.
Under a government decree, the airline also operates at least one daily service to most domestic airports. Milan Linate has been closed since March 16.
Alitalia is one of many airlines that operate cargo flights to bring medical supplies from China, using Novosibirsk in Russia as a stop-over for changing crews.
WIZZ:
Wizz has been operating at just three percent capacity for most of April and May but has planned an aggressive ramp-up from July 1. From then, it will base five aircraft at Milan Malpensa and open up twenty routes, position three aircraft at Tirana (Albania) to operate fifteen routes, two aircraft at Larnaca (Cyprus) for 11 routes, and one aircraft in Lviv (Ukraine) for the operation of five new routes.
Wizz has implemented a raft of cost-cutting measures, including a spending cut, voluntary leave, and the management foregoing payment until late April. It has laid off 1.000 positions, 19 percent of its total workforce. The lease of 32 Airbus A320ceo's will not be renewed from FY2023. By late March, Wizz had a EUR 1.5 billion cash buffer. Wizz said on April 14 it had lost EUR 70-80 million in revenues in its Q4-period, resulting in a lower full-year profit of EUR 270-280 million.
In a webinar on May 26, CEO Jozsef Varadi said he expects Wizz to recover from the crisis within a year. He is seeing strong demand with passengers who want to fly again.
Aeroflot:
With Russia announcing a ban on all air travel from March 26, Aeroflot has been operating mostly domestic services and a very limited international schedule. In June the airline will gradually resume operations, especially through its Pobeda domestic subsidiary which has been flying most of May again.
Aeroflot has implemented large-scale cost-saving measures, including cuts in management and slashing capacity. It has re-deployed a number of passenger wide-body aircraft to cargo-only flights.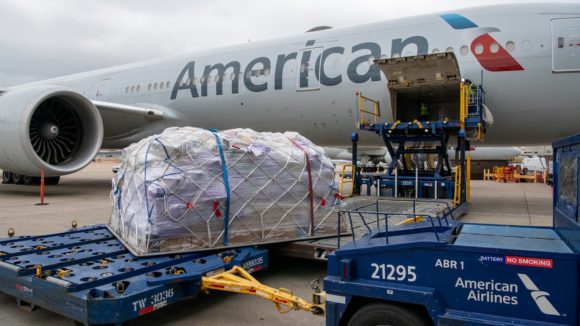 American is one of many airlines using passenger aircraft for cargo-only services (American Airlines)
NORTH AMERICA:
US airlines have been granted $25 billion in payroll support from the Department of Treasury. This should help them to support salaries during the current Covid-19 period as traffic has crashed but costs are continuing. The US Department of Treasury released details of the distribution of the Payroll Support Program on April 14, with funds coming from the Corona Aid, Relief, and Economic Security (CARES) act.
American Airlines was the first to announce it will get $5.8 billion, of which 4.1 billion in a direct grant and the remaining 1.7 billion in loan guarantees. The airline expects to receive $4.75 billion in a separate loan with the Treasury.
United Airlines said on April 20 it expects $5.0 billion in aid under PSP, of which 1.5 billion will be a 10-year loan. It submitted an application for a $4.5 billion loan under the CARES act.
Delta will get $5.4 billion and has received already 2.7 billion of this. The airline is also eligible for $4.6 billion in loan guarantees but Delta will decide in September if it will need this or cover its liquidity requirements from other sources.
Southwest will receive $3.2 billion, of which 900 million in loan guarantees. Alaska, Frontier, Allegiant, JetBlue, Hawaiian, and Skywest will also benefit from PSP.
The Department of Transportation denied requests from JetBlue and Spirit to suspend services until further notice. Both airlines need to maintain their schedules to nine and 25 destinations respectively.
American Airlines:
American Airlines revised its summer forecast and expects to operate its international network at 60 percent lower capacity during the summer peak. This includes -80 percent to the Pacific, -65 percent on transatlantic routes, and -48 percent to Latin America. AA has suspended 25 seasonal services until summer 2021. Auckland-Los Angeles is expected to be resumed in October.
On March 27, American said Domestic capacity would be down 60-70 percent in April and 70-80 in May year-on-year, while International is down 80-90 percent.
American will early retire its Embraer E190s, Boeing 757 and 767s, Airbus A330-300s, and Bombardier CRJ200s.
United Airlines:
United is losing $100 million in revenues a day since the impact of Covid-19 is evident, the airline said on April 3. It expects to reduce this to $40-45 million in Q2 as it has embarked on a cost-cutting program that also slashes $2.5 billion in Capex.
It reduced capacity from April by 80 to 90 percent but United expects to be at -75 percent in July. United is counting on a prolonged effect as it forecasts revenues to be 30 percent down in Q4 2020 compared to last year.
Hong Hong-based lessor BOC Aviation said on April 20 is has reached an agreement with United on a sale and leaseback of 6 Boeing 787-9s and 16 MAX 9s. United has $9.6 billion in cash available and has been granted $5.0 billion under the Payroll Support Program.
Delta Airlines:
Delta announced a gradual increase in its schedule on May 18. From June, the airline plans to increase services again to all its major destinations by offering daily flights again. To Europe, this includes Amsterdam, although London, Paris, and Frankfurt will not have daily flights. Also ramped up are services to Mexico, Seoul, Shanghai, the Caribbean, and Central America as well as Canada.
Delta has parked some 650 aircraft. It retired its final MD-88s and -90s on June 2 but announced the early-retirement of some Boeing 757s, 767s, and all its eighteen 777-200ERs too before the end of the year, despite these aircraft having received an extensive cabin make-over of late. Deliveries of some new aircraft have been deferred.
Delta will cut CAPEX by $3 billion this year. Some 37.000 employees have accepted voluntary unpaid leave. CEO Ed Bastian will forgo his salary for six months, with officers taking a 50 percent pay cut and managing directors and directors 25.
Alaska Airlines:
Alaska Airlines has cut capacity by -80 percent in April and May and expects further extensive reductions in June. It has parked 156 mainline aircraft.
Air Canada:
Air Canada has reduced its Q2-capacity by 85 to 90 percent and placed 15.200 employees on off duty status plus 1.300 managers on furlough. It expects to reduce capacity in July by -75 percent. In May, Air Canada announced its summer schedule that includes over 100 destinations in Canada, the US and worldwide as it noticed a strong demand for travel again.
The airline has identified an additional $500 million in cost savings by deleting all non-necessary spendings, deferring investments, and retiring 79 older Boeing 767s, Airbus A319s, and Embraer E190s with Air Canada and Rouge. The Q1-update published on May 4 didn't include any details on the deferral of deliveries of 17 Airbus A220s and six Boeing MAX 8s.
Westjet:
The Canadian airline has announced the suspension of all its transborder US and Hawaiian plus all international services from March 22. It negotiated a restructuring with pilot union ALPA that saves 1.000 jobs out of 1.700 that were laid off in April.
Air Transat:
Canada's Air Transat will suspend its services until June 30 following the government's travel ban. It hoped to restart services from June 1 but extended its grounding for another month. Air Transat continued to operate a range of repatriation flights until April 1. As a consequence, the airline has retired its Airbus A310s from service.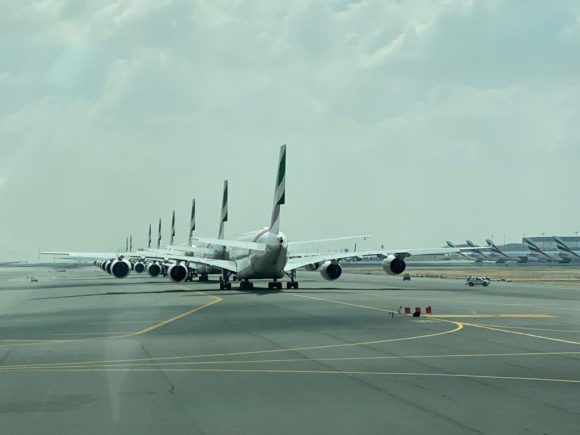 Emirates has parked 72 A380s at Dubai World Central.
MIDDLE EAST:
Turkish Airlines:
Turkish Airlines plans to resume operations to 19 destinations from June, having suspended all international operations from March 27. Initially, it operated a reduces passenger schedule but mostly cargo-only flights. Domestic services operated at reduced frequencies until April 8 until they were suspended, but these will be restarted too at 60 percent capacity. Turkish hopes to offer 99 destinations by September again.
Emirates:
Emirates has resumed more passenger services from May 21 to nine destinations, including London, Frankfurt, Paris, Madrid, Milan, Chicago, Toronto, Sydney, and Melbourne. Passengers will only be accepted if they comply with entry requirements of their destination countries.
Services are operated by the airline's Boeing 777s as the 115-strong Airbus A380-fleet remains grounded until July.
The airline was grounded on March 25 after a ruling by the government has forced all UAE-airlines to suspend operations for at least two weeks. Only cargo services were retained, which SkyCargo operates by using both its 85 full freighters and 11 777-300ERs from the passenger fleet. Interestingly, all cargo flights are operated out of DXB, although DWC is the regular airport for cargo services and has a vast infrastructure for this. Emirates started limited passenger service on April 5.
As the world's biggest long-haul airline, Emirates is feeling the effect of the dramatic drop in traffic. "As a global network airline, we find ourselves in a situation where we cannot viably operate passenger services until countries re-open their borders, and travel confidence returns", Emirates chairman Sheikh Ahmed said back in April.
President Sir Tim Clark said during a June 1-webinar that he personally thinks that the airline industry will recover once a vaccine has been found, hopefully in time before the summer 2021-schedule.
Emirates had grounded all its 115 Airbus A380s, of which 71 at Dubai World Central.
The airline group (including ground handling company dnata) will seek strict cost reductions, has asked staff to take up unpaid leave and will reduce salaries by 25 to 50 percent. Tim Clark and dnata's Gary Chapman will take a salary cut for three months.
Emirates confirmed on May 30 that making redundancies is inevitable as it will take much longer to exit this crisis. During the webinar, Clark said that his airline is not in a position now to buy new aircraft now, hinting at deferral of outstanding orders with Airbus (50 A350-900s and 8 A380s) and Boeing (30 787-9s and 115 777X).
Flydubai:
Emirates' little sister airline flydubai joined the other airlines in the UAE and has suspended all flights from March 24. The airline was allowed to fly repatriation services and has done 23 by April 8. The airline also used its 737-800s for cargo-only flights, most of them in the Middle East.
Staff will have a three-month pay cut until July in order to curb expenses.
Etihad:
Etihad hopes to be back at some 40 percent capacity by July 16, CEO Tony Douglas told CNN. Like Emirates, Etihad resumed limited passenger flights from April 5 after a two-week grounding. Initially, these were limited to Melbourne, Seoul, Bangkok, Jakarta, Manila, and Amsterdam the only destination in Europe. By April 24, Etihad added more destinations to this network for the May schedule that include Frankfurt, Brussels, Barcelona, Chicago, Singapore, and Tokyo. In addition, the airline runs cargo-only flights.
The airline will make job cuts in all departments, Douglas said, without specifying numbers. Reuters reported on May 21 that Etihad might ground its ten A380s permanently and was seeking cancelation of its outstanding A350-1000 order. This hasn't been confirmed.

Air Arabia:
Air Arabia had suspended all flights from March 24 but on April 15 announced a limited resumption of outbound passenger and cargo flights to destinations in the Middle East, India, Afghanistan, and Nepal.
Royal Jordanian:
Royal Jordanian has suspended all flights from March 17 until June 14 after extending the grounding for another time.
Qatar Airways:
Qatar plans to expand its passenger network to 52 daily flights by the end of May and to 80 by the end of June, it said on May 6. From May 20, it will restart three-weekly flights to Brisbane.
Qatar closed the country for non-Qatari nationals for two weeks from March 18, while anyone entering the country must go in a 14-day quarantine period. This made Qatar Airways, even more, a transit-airline to and from Doha.
By mid-March, Qatar Airways aggressively increased capacity to London, Frankfurt, and Perth by adding an A380 to the schedule. The A380's were replaced by smaller aircraft from early March. In an interview in mid-May, CEO Akbar Al Baker hinted at a prolonged or even permanent grounding of the A380-fleet.
Akbar Al Baker said to Reuters on March 29 that Qatar has sufficient liquidity to survive the crisis for a few more weeks, but will have to draw onto government aid if the situation continues longer. It traded seven Boeing 787-9s for $850 million in cash by mid-April.
Gulf Air:
Gulf Air returned to Pakistan on May 30, operating the first service to Karachi since March. The airline of Bahrain had suspended most services from March 18 but operated repatriation services for Bahraini nationals in mid-April. It plans to increase its services to Pakistan in the coming days.
Kuwait Airways/Jazeera Airways:
The national airline of Kuwait has suspended all services from March 13 until further notice after a decree issued by the government that locks down the country to foreign visitors. As a result, low-cost airline Jazeera Airways has also suspended all services. The airline offered its fleet to the government for repatriation flights to bring Kuwaiti home. Jazeera also operates cargo-only services.
Saudia:
Saudia has resumed a significant number of domestic and international services since May after the airline was grounded for weeks from March 21.
El Al:
Israels El Al will operate a limited schedule in June, offering flights on selected dates to New York, Los Angeles, Paris, and London only. Until then it has been operating repatriation services only since mid-March. Entry into the country is for nationals only.
Wizz Air Abu Dhabi:
Amidst a weak travel market, new low-cost airline Wizz Air Abu Dhabi has announced its plan to launch first services on June 3. The airline intends to operate to Rumania and Hungary first before adding Poland and Bulgaria from September 15, plus another destination in Rumania a day later.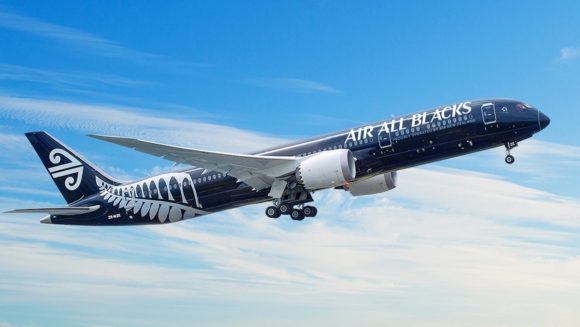 Air New Zealand expects to reduce its capacity by 85 percent. (Air New Zealand)
ASIA/PACIFIC:
The region has suffered since the outbreak of Covid-19 in China in January, with most Chinese and Asian airlines have drastically reduced capacity. As the virus seems to be more or less under control in China, air travel is slowly gathering pace again. However, strict immigration rules still apply or have been introduced by Australia and New Zealand in the wake of constant developments.
China:
The Civil Aviation Authority of China (CAAC) has imposed a restriction on international passenger flights from March 29, limiting Chinese and international airlines to one flight per carrier per week. Cargo services are not included in this ruling and may use passenger aircraft for cargo-only services.
This way, China tries to prevent the coronavirus to enter the country again through international traffic as has already happened.
As a consequence, China Southern has opted to operate its A380 from Guangzhou to Amsterdam on April 3, 10, and 17.
Domestic air travel in China is resuming more each day as travel restrictions have been reduced or even lifted completely.
ANA:
Japan's All Nippon Airways continues to suspend most of its international routes for June, offering only selected flights during the month to London, Mexico, Chicago, Sydney, Jakarta, Hanoi. It hopes to add more services from July 1.
ANA reported a Yen 27.655 billion net income for FY19, down 75 percent from last year. The operating income was -63.2 percent to Yen 60.806 billion while revenues were -4.1 percent to Yen 1.974,2 billion. Especially Q4 was impacted by the Covid-19 crisis with revenues down on average by -4.2 percent.
All Nippon has suspended its FY20 guidance. It has borrowed Yen 100 billion to improve liquidity and has secured a new credit facility of Yen 350 billion, in addition to an existing facility of Yen 150 billion.
Japan Airlines:
Like ANA, Japan Airlines will gradually increase services again. Only from June 14, the airline plans to ramp-up its domestic services. The schedule shows almost 4.300 canceled services until June 13 but this will drop to 601 on the 14th. International services have been ramped-up since June 1 but the number of canceled daily flights is about the same at 607.
JAL reported an FY19 profit of Yen 53.4 billion on April 30 compared to 150.8 billion the previous year. Revenues were down to Yen 1.411 billion from 1.487. The impact of Covid-19 was felt in the last two months of the fiscal year when Japan went into a state of emergency and air travel was discouraged. Domestic traffic was -55 percent, international -70 percent, and revenues ended up at Yen -19.5 billion instead of +19.8 billion as was expected.
JAL bolstered its liquidity position by Yen 57.7 billion but still plans to continue its share repurchase program. The airline plans to reduce revenue and capacity-related costs by 40 percent and fixed costs by Yen 60 billion. Capex will be reduced by Yen 150 million.
Virgin Australia:
Virgin Australia filed for voluntary administration on April 21 after it failed to get a $1.4 billion in government aid it requested a couple of weeks earlier. The airline will continue operating under a limited schedule while administrators from Deloitte try to find investors. By late May they were in discussion with a number of parties, including Indigo Partners.
Virgin Australia has cut domestic capacity by 90 percent by suspending operations to 19 destinations until June 14. This leaves 17 routes open. Its subsidiary Tigerair Australia has suspended all domestic flights with immediate effect from March 25.|
Cathay Pacific:
The Hong Kong-airline has been operating at just three percent capacity in April and May. Its March traffic dropped by 90 percent, in April pax numbers were down -64 percent. On one day in March, it flew just 302 passengers compared to an average of 100.000 a day in normal circumstances. This improved only slightly to 500 a day in April.
Cathay had already reduced capacity for April and May to just 4 percent, back then leaving an international network that included just one destination in Europe (London), one in the US (Los Angeles), plus Canada (Vancouver). Cathay Dragon's network is reduced to services to Beijing, Shanghai, and Kuala Lumpur.
The airline is doing anything to preserve cash. It will lay off almost 500 cabin crew based in the US, UK, and Australia, Reuters reported on April 16. To generate cash, Cathay sold six Boeing 777-300ERs in March in a sale and leaseback for $704 million. It also has expanded its cargo activities by offering capacity onboard passenger aircraft on a dedicated schedule.
IndiGo/GoAir/Air India:
Airlines in India have resumed domestic services from May 25 after the government relaxed restrictions. International services were set to follow from June 1, but the Indian government extended the ban until June 30.
Most Indian airlines like IndiGo, Go Air, and Air India had hoped to resume operations from May 4 in a phased manner but restrictions were extended again. India has been in a lockdown from April that has limited airlines to cargo-only flights.
Vietnam Airlines:
Hit by Covid-19 itself, Vietnam has imposed a ban on travel. Vietnam Airlines has suspended all international services and operates only limited repatriation flights. From March 21, routes within the ASEAN region will be discontinued and from March 23 to the UK and Japan, from March 24 to Germany and Australia
Air New Zealand:
Air New Zealand has resumed most domestic operations from May 18 after the country's alert level was relaxed. Services to Taupo and Timaru will be reopened from June 8. It has also run a domestic cargo network using its Boeing 787s. ANZ has seen a surge in demand for air tickets, although this still fairs poorly against pre-Covid levels.
International operations have been down -95 percent. Air New Zealand hoped to expand services from July 1 again but has extended its reduced schedule until August 31.
Qantas:
Qantas is operating its Domestic schedule at 5 percent capacity and International at just 1 percent. The airline expects this to continue until August but hopes of a relaxation of restrictions that will open up Domestic traffic a little sooner, it said on May 5. Qantas and Jetstar have been able to operate a limited Domestic schedule of 105 to 164 flights a week thanks to government funding for essential routes.
As most restrictions continue, Qantas will stand down some 25.000 employees until further notice. The Group bolstered its liquidity position by securing another $550 million against three Boeing 787-9s. This is additional to the $1.05 billion credit facility announced on March 25 by providing seven 787-9s as a guarantee.
On May 4, Qantas had $3.5 billion in liquidity, including a $1 billion undrawn facility. Weekly cash burn is expected to be $40 million by the end of June.
Singapore Airlines:
Singapore Airlines and its subsidiary Silk Air will slightly increase the number of destinations in June and July, having operated at just 4 percent capacity since April. This now becomes 6 percent. Reinstated services include Adelaide, Melbourne, Brisbane, Christchurch, and Auckland, Hong Kong, Medan, Cebu, and Osaka, as well as Amsterdam, Copenhagen, and Barcelona. These are additional to the very limited schedule flown in May.
During April and May, SIA and Silk Air have grounded 138 of 147 aircraft, with Scoot 47 of 49.
SIA secured additional funding on March 27. It has offered shareholders new equity of S5.3 billion and issued convertible bonds worth $9.7 billion, while at the same time finalizing a $4 billion bridge loan with DBS Bank.
SIA's major shareholder Temasek has supported the package and also has subscribed to the airline's transformation plan, which includes the fleet renewal plan. This is good news to Boeing and Airbus, as it seems to guarantee the order for the MAX, 787s, 777X, and A350s, although in an investor's filing on April 24 SIA said it is in the process of renegotiating terms and delivery dates.
Air Mauritius:
Air Mauritius filed for voluntary administration on April 22 as it has been severely impacted by travel restrictions. As the airline is highly dependent on tourism, is has seen no other option than to take this step. Air Mauritius was already in a restructuring program since early this year. It has extended the grounding until June 30.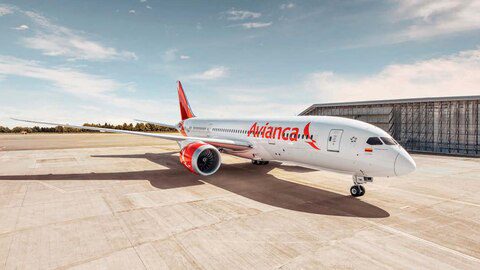 SOUTH AMERICA:
Most countries in South and Latin America have closed their borders to travelers from the EU, UK, China, South Korea, Japan, Australia. Argentina announced on April 27 that it will forbid all commercial air travel until September 1.
Avianca:
Avianca Holdings has filed for voluntary administration with a New York-court and plans to restructure its debt and airlines under US Chapter 11-legislation, the company said on May 10. Under Chapter 11, Avianca will continue to operate wherever that is possible. However, it will wind down Avianca Peru.
Avianca has suspended all international and domestic flights in Colombia from early April as most South American countries imposed travel bans.
Avianca has followed the path of other airlines by offering staff voluntary leave of its 21. 000 staff, cost-cutting of all non-essential measures, and a hiring freeze.
Chapter 11 is the best option to protect the essential air travel and air transport services, its CEO Anko van der Werff said.
LATAM:
Like Avianca, LATAM has opted for voluntary Chapter 11 bankruptcy protection, it announced on May 26. With the support of its two family-shareholders and Qatar Airways, the airline intends to restructure and recapitalize.
LATAM has been hit hard by the travel restrictions imposed by most countries in South America. It has cut capacity on its international network by 95 percent and on domestic operations by 40 percent. It will continue to operate under Chapter 11.
GOL:
Brazil's GOL has reduced its domestic network for Q2 by -75 percent, maintaining a network of 50 daily services out of Sao Paolo. The international network will be down by -100 percent. The airline has parked 120 aircraft.
In view of the expected reduction in future demand for air travel, GOL has canceled 34 Boeing MAX 8s on order.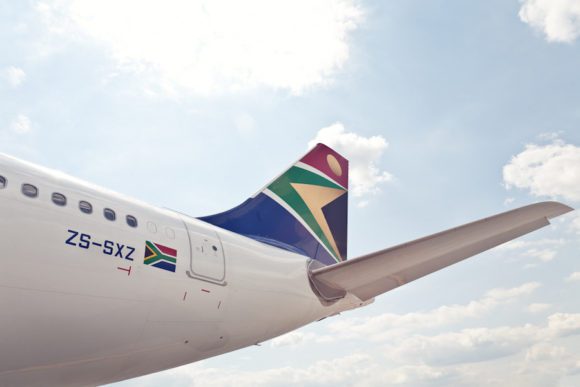 AFRICA:
South African Airways:
South African Airways filed for voluntary administration after the government announced it was unable and unwilling to bail out the airline. Already troubled for years, SAA has been fighting for her existence in recent months but now Covid-19 could deal the airline a fatal blow.
The two administrators will present their final plan on June 8, but according to a draft that leaked to media on June 1 they have suggested a state bailout for ZAR 21 billion of which 17 billion is set to pay debtors and the remaining for restructuring. The airline has planned to resume domestic operations from mid-June.
CEO Zuks Ramasia announced her resignation of the stricken airline from April 14.
The 4.800 staff have until May 1 to accept retrenchment packages after last weekend it was decided no application for liquidation would be made.
Ethiopian:
Ethiopian has suspended flights to 30 countries. It has concentrated on cargo-only flights since then, shipping medical supplies.
Kenya Airways:
Kenya Airways has suspended all international flights from March 25. This follows on a government directive to ban all incoming international passenger flights. Previously, the airline planned to reduce capacity by 70 percent. Cargo flights will continue.
IATA/ICAO
On June 1, the International Civil Aviation Organization (ICAO) Council approved a comprehensive framework of temporary measures for a safe restoration of airline operations. ICAO and IATA called upon governments to adopt the 'Takeoff'-roadmap so airlines can prepare to restart services.
Proposed measures include physical distancing where feasible or adequate risk-based measures, the wearing of face masks onboard aircraft, routine sanitation and disinfection, health screening and contact tracing, health declaration forms, and testing.
"This layering of measures should give travelers and crew the confidence they need to fly again. And we are committed to working with our partners to continuously improve these measures as medical science, technology, and the pandemic evolve," IATA Director General Alexandre de Juniac said.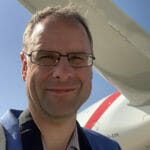 Active as a journalist since 1987, with a background in newspapers, magazines, and a regional news station, Richard has been covering commercial aviation on a freelance basis since late 2016.
Richard is contributing to AirInsight since December 2018. He also writes for Airliner World, Aviation News, Piloot & Vliegtuig, and Luchtvaartnieuws Magazine. Twitter: @rschuur_aero.