Spirit Airlines used a large part of its Q1 earnings call to further clarify why it opposes the unsolicited offer from JetBlue. The offer raised too many red flags and would harm the interests of Spirit's shareholders, it said on May 5. Spirit Airlines sees too many Red Flags in JetBlue's offer.
On May 2, Spirit said that it had rejected the original JetBlue offer and the enhanced offer made on April 29. CEO Ted Christie summed up Spirit's reasons during the investor presentation. The JetBlue offer is not superior to the merger agreement with Frontier Airlines announced on February 7 and will unlikely get approval from the regulators. The Department of Justice is already having strong concerns about the Northeast Alliance (NEA) between JetBlue and American Airlines on the grounds of less competition for consumers.
An acquisition of Spirit would reduce competition even more and eliminate a key competitor and opponent to NEA, says Spirit. JetBlue has stated that it is unwilling to terminate NEA but offered in its enhanced offer to it would divest some of its own assets and those of Spirit if the acquisition was to be approved.
Although JetBlue likes to be perceived differently, Christie said that "the JetBlue proposal represents a high-cost, high-fare airline buying a low-cost, low-fare airline with half the synergies coming from reduced capacity and increased fares." JetBlue says that in markets where it enters, its presence has a lowering effect on ticket prices from all competitors. But this 'JetBlue effect' isn't exclusive to the airline, said Christie.
The Spirit CEO presented three examples of airports where there has been a 'Spirit effect' and fares dropped as well: on the New York Newark and Boston routes to San Juan in 2019, and between Richmond and Fort Lauderdale in 2018. "JetBlue overstates the impact it has on legacy carriers", said Christie.
Spirit CEO Ted Christie showed this slide today to demonstrate that there is also a "Spirit effect' on ticket prices. (Spirit Airlines)
The JetBlue offer also poses significant risks to Spirits shareholders. "JetBlue hasn't protected them through their limited regulatory package and inadequate reverse termination fee given the significant closing risk." And even JetBlue's shareholders are at risk, said Christie, who stated that the airline has already lost $1.0 billion in value since it made its initial offer for Spirit in April.
Asked about the showstoppers for Spirit, Ted Christie summarized his objections like this: "This is a higher-fare, higher-cost airline buying a lower-fare, lower-cost airline, removing capacity and raising fares. Given this administration and this DoJ, which has a new approach, makes it clear that it wants to enhance competition. They also made it clear that traditional approaches to resolving issues of mergers such as divestitures will not be considered. So there were a number of red flags, which is why we have so much concern", said Christie. "Remember there is a tremendous risk for our shareholders in the course of this regulatory process and who bears that risk? The Spirit shareholder. We weren't comfortable with that risk."
Q1 net loss of $194.7 million
Spirit Airlines reported a $194.7 million first-quarter net loss on May 4, worse than in the same period of last year. That result doesn't tell the full story of the first quarter as demand recovered from mid-February. "Since mid-February, we've seen a dramatic improvement in demand trends, with March total revenue per passenger segment up nearly ten percent compared to March 2019", Christie said. Together with strong non-ticket and merchandise revenues, this bolstered non-ticket revenues by 14.8 percent compared to 2019.
Total revenues increased to $967.3 million from $461.3 million, of which $17.6 million was from other revenues. The $-194.7 million net loss compares to $-112.3 million in the same quarter of 2021. The operating loss was $-211.5 million versus $-102.5 million. Expenses more than doubled to $1.2 billion, with fuel up +157.9 percent to $369 million. Cash and cash equivalents ended at $1.6 billion.
Bookings for Q2 outpace those of the same quarter of 2019. In order to make sure that Spirit is not confronted again with more labor shortages, it has created more crew buffer and added crew bases in Miami and Atlanta that in the end should improve productivity and aircraft utilization. The airline has also offered various incentive pay programs to guarantee sufficient staffing to minimize flight cancellations. This effect is that this is leading to additional wage pressures. The positive side is that hirings have picked up.
Based in Florida, Spirit was specifically hurt by staff air traffic control shortages at the Jacksonville control center. The airline decided in mid-April to decrease some flying in Florida and increase the buffers in the schedule which resulted in additional capacity reductions. Airlines have also been briefed this week about plans for how to beef up ATC capacity in Florida. As a result, Spirit says it expects "to resume our planned capacity levels in the fourth quarter this year due to already-planned crew network changes set to deploy this summer and increased pilot hiring that has been happening throughout the year."
The 'yellow airline' plans to operate at 89.5 percent of 2019 levels this Q2, at 86 percent in Q3, and for now mentions just 65 percent in Q4. 
Spirit took delivery of three Airbus A320neo's in Q1, which brought the fleet to 176 aircraft. It has 117 aircraft on order with Airbus, including the A319neo, A320neo, and A321neo. Fourteen are scheduled for delivery this year as a sale and leaseback and seventeen next year. Another forty A320neo's and A321neo's are sourced from lessors through 2024. Financing for 103 aircraft that are due through 2027 still needs to be finalized, although it has an agreement in place with Airbus for backstop finance.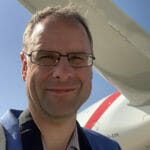 Active as a journalist since 1987, with a background in newspapers, magazines, and a regional news station, Richard has been covering commercial aviation on a freelance basis since late 2016.
Richard is contributing to AirInsight since December 2018. He also writes for Airliner World, Aviation News, Piloot & Vliegtuig, and Luchtvaartnieuws Magazine. Twitter: @rschuur_aero.